Marshmallow Coffee Recipe – The Sweetest Way to Enjoy Espresso
Tired of the same old coffee every morning? Has your morning brew lost its spark? What if I told you there's an instant way to transform your cup into an indulgent treat?
Enter Marshmallow Coffee. The marriage of the robustness of espresso with the sweet, fluffy delight of marshmallows.
Intrigued?
Let's break free of your coffee rut and dive into this enticing world of flavor.
What is Caffé Gammosa, aka Marshmallow Coffee?
Caffè Gommosa is simply espresso shots with mini marshmallows. You've already tasted the satisfying goodness of hot chocolate and marshmallows, but I bet you never thought about how marshmallows would go with coffee.
The origins of this recipe are not entirely clear, but most people say it came from America's Pacific Northwest. The Italian term "Caffè Gommosa" translates into "rubbery coffee", which comes from the melting marshmallows that combine with the coffee, giving it an almost rubbery texture.
Don't let its fancy name fool you though; this recipe is straightforward. Preparing it takes just as long as it does to brew your coffee, making it perfect for those busy mornings.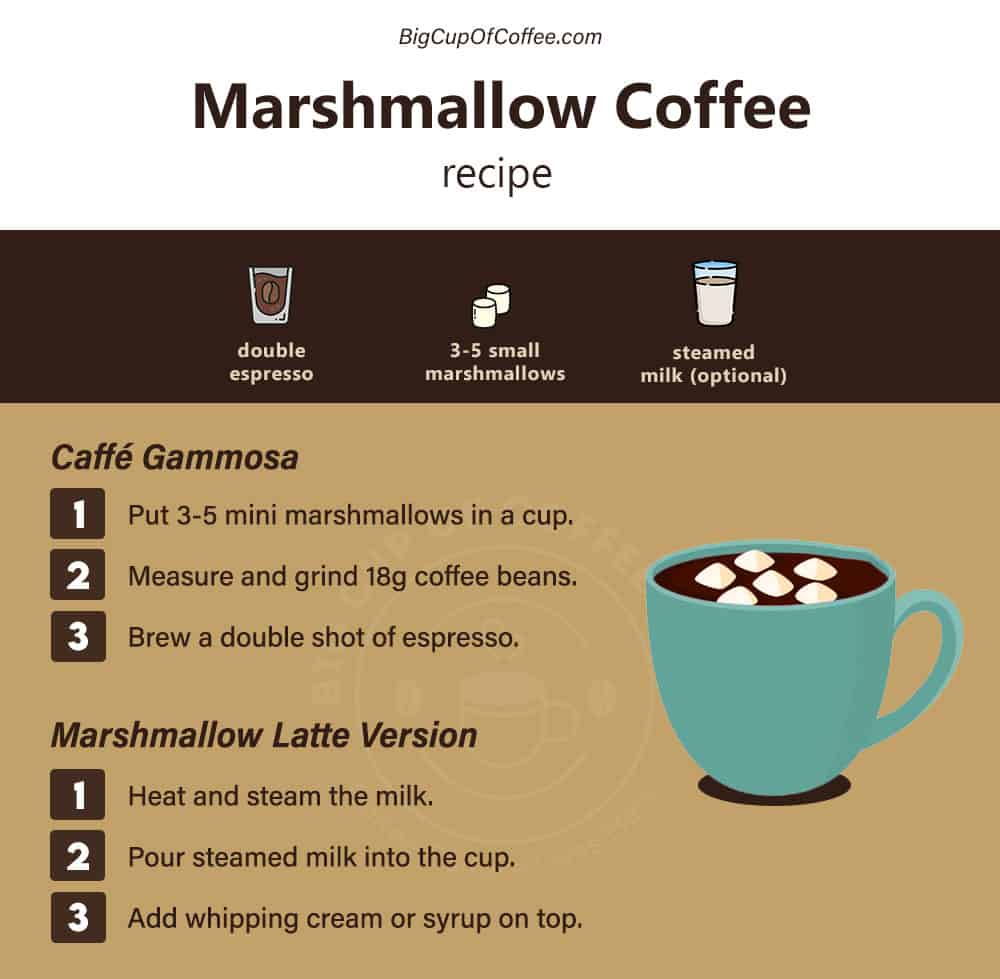 With only two ingredients – a double espresso shot and mini marshmallows – you can create a wide range of flavors depending on how strong or mild you like your coffee. Additionally, by tweaking the measurements slightly, you can adjust the sweetness level to your liking.
I discovered this recipe during a trip abroad while visiting a small local café in Washington. I was intrigued by their menu listing Caffè Gommosa and decided to give it a try after finding out what it was. I'm more of a black espresso guy, but I guess I was craving something sweet right there. I can't say I make this every day, but the "recipe" comes in handy when somebody craves something new.
Equipment and Ingredients
Here's everything you'll need:
Espresso machine – preferably one with a steaming wand for the latte version of this recipe
18 g of ground coffee – for the double espresso shot
60 ml of filtered water – the approximate amount for 2 ounces of brewed coffee
Three mini marshmallows – add sweetness to the drink
Optional: 120 ml of milk, whipped cream, simple syrup – garnish for the latte version
Step-by-step Guide to Making Marshmallow Coffee
There aren't many steps involved or complicated equipment needed, so even if you're a complete beginner to the joys of freshly brewed coffee, I guarantee these detailed steps will make everything easy.
1. Put 3-5 mini marshmallows in a cup
Place your marshmallows in a serving cup. Not only will they add sweetness without the need for extra sugar, but they will also provide a unique gooey texture when melted.
2. Measure and grind 18g coffee beans
Since this recipe only has 2 ingredients, you should really make them count. A medium-dark roasted bean works well with the Caffé Gammosa.
It's best to grind your beans fresh with a burr grinder, that truly brings out the taste of your coffee beans. For espresso, dial in a fine grind.
3. Brew a double shot of espresso
Set your serving cup with the marshmallows under the spout of the portafilter, and pull your shot. It should be ready in about 25-30 seconds. Once the last drop is extracted, you should wait for 15 more seconds for the marshmallows to become gooey before enjoying this sweet treat.
This is the caffé gammosa, you can drink it as it is, or turn it into a delicious marshmallow latte as outlined below.
4. Heat and steam the milk
Put 120 milliliters of milk into a pitcher. Ensure it's only half filled so you don't spill during steaming.
If you're using your machine's steaming wand, keep the tip just below the surface and heat it until it reaches 160 °F. Otherwise, you can follow my guide on other milk frothing methods.
5. Pour steamed milk into the cup
Once the milk is steamed, it's time to make the latte. Hold your cup with brewed coffee and marshmallows at a slight tilt, and from about 3-4 inches above, pour the steamed milk slowly and steadily into the cup. This technique ensures that the milk and coffee blend perfectly.
6. Add whipped cream or syrup on top (optional):
You can customize your drink by adding whipped cream or flavored syrup on top of the foam for even more sweetness and flavor.
7. Serve and enjoy
Your Instagram-worthy marshmallow latte is now ready to be served 🙂
What kind of cup should marshmallow coffee be served in?
If you're drinking caffe gommosa as it is, you should serve it in a demitasse cup. Otherwise, with the latte variant, you should use a latte glass.
Helpful Tips for Brewing
How else can you improve this cozy drink? Follow these tips:
The original gammosa coffee from my trip to Washington used one medium marshmallow, but I found it didn't soak through, so I'm using smaller marshmallows to make them melt more quickly.
If you don't want to use whole marshmallows but still retain the texture, you can use marshmallow fluff as an alternative.
A dash of cinnamon or nutmeg is also perfect for drinking this during autumn.
Latte mixed with vanilla is one of the best pairings out there.
I found this recipe versatile, and on hotter days, I like my latte served over ice.
Conclusion
Overall, whether you're looking for a new twist on your regular morning coffee routine or want to impress guests with something gourmet-like during brunches or dinner parties, the Caffè Gommosa is an excellent recipe to add to your collection.
Now grab your marshmallows and start brewing, and please let me know how it goes in the comments below.