Vanilla Latte Recipe – Everyone Loves This One
Brighten up your breakfast (or any time of the day) with my go-to vanilla coffee recipe.
It is easy, delicious, and super creamy. Plus, it will hardly take a few minutes to make.
So, let's dive in!
What Is A Vanilla Latte?
A vanilla latte is an espresso-based coffee beverage, that adds steamed milk, and vanilla in some form. Both vanilla extract and vanilla syrup can be used to create the desired vanilla flavor.
Some confuse vanilla latte with vanilla coffee. They are not the same. Vanilla coffee is simply brewed coffee with pure vanilla for taste.
Any coffee shop you visit, like Starbucks and Costa, will likely serve vanilla latte in the standard sizes of 8 ounces, 12 ounces, and 16 ounces. 
What You Need to Make Vanilla Coffee
You can also play around with the ratios of ingredients to create the flavor you love, but the essentials for a cup of vanilla are always the same:
Coffee beans or instant coffee
Vanilla extract or vanilla syrup
Hot water
Milk
Sugar (if you prefer)
Ice if you're making iced coffee
You probably have these simple ingredients in your pantry already.
How to Make Vanilla Latte
Making a vanilla latte at home can be surprisingly easy! All you need is coffee, milk of your choice (I prefer oat), and espresso. This is exactly how it is prepared in Starbucks, so I guess this is a Starbucks copycat recipe 🙂
Depending on your disposition, you can make either a hot or cold version of this vanilla coffee, which I'll touch on later.
Here are the detailed instructions on how to make a vanilla latte Starbucks style.
Preparing your espresso
Like all lattes, you'll need to prepare a shot of espresso for this drink. Or a double shot if you're adding more milk.
There are a lot of added flavors that will combine with the espresso, so you don't really need an espresso machine here.
Any method of making espresso will do, like strong Moka pot coffee, Aeropress espresso, or even instant coffee. As long as the result is a dense, strong coffee.
If you're grinding fresh (as you should be), you can use your favorite type of coffee beans for vanilla coffee. I prefer a dark roast here, as the intense coffee flavor takes on a nice cadence with the sweet vanilla.
You can even buy special vanilla coffee beans instead of normal beans, but I wouldn't recommend this. Vanilla oil residue will get stuck in your grinder, so you'll be drinking vanilla-tasting coffee for a long time.
Creating the Vanilla Coffee
Once the espresso shot is ready, pour it into your serving cup.
Now add vanilla flavoring to the espresso shot and mix well. You can use
vanilla extract,
vanilla creamer, or
vanilla syrup as per your preference.
The point to be noted is that vanilla extract is not sweet by itself; you will want to add sugar to it if you prefer sweet coffee.
Otherwise, the sweetness of the creamer or syrup should be enough.
Preparing the Milk
Once your coffee-vanilla mixture is ready, it's time to prepare the milk.
Whole milk makes the best foam, but you can also use oat milk. Just be careful with the other sweeteners here, oat milk is naturally sweet.
It's best to use steamed milk with a steaming wand for that perfect layer of foam and temperature, but you can also use DIY-frothed milk.
Here are some easy ways to froth milk at home. The whisk is my milk frother of choice.
Try to get rid of the big bubbles of the froth though, and create a more consistent, silky structure.
Serving
Finally, add your frothed milk to the coffee drink and serve. You can sprinkle some ground vanilla or cinnamon on top if you like.
Iced Vanilla Latte modifications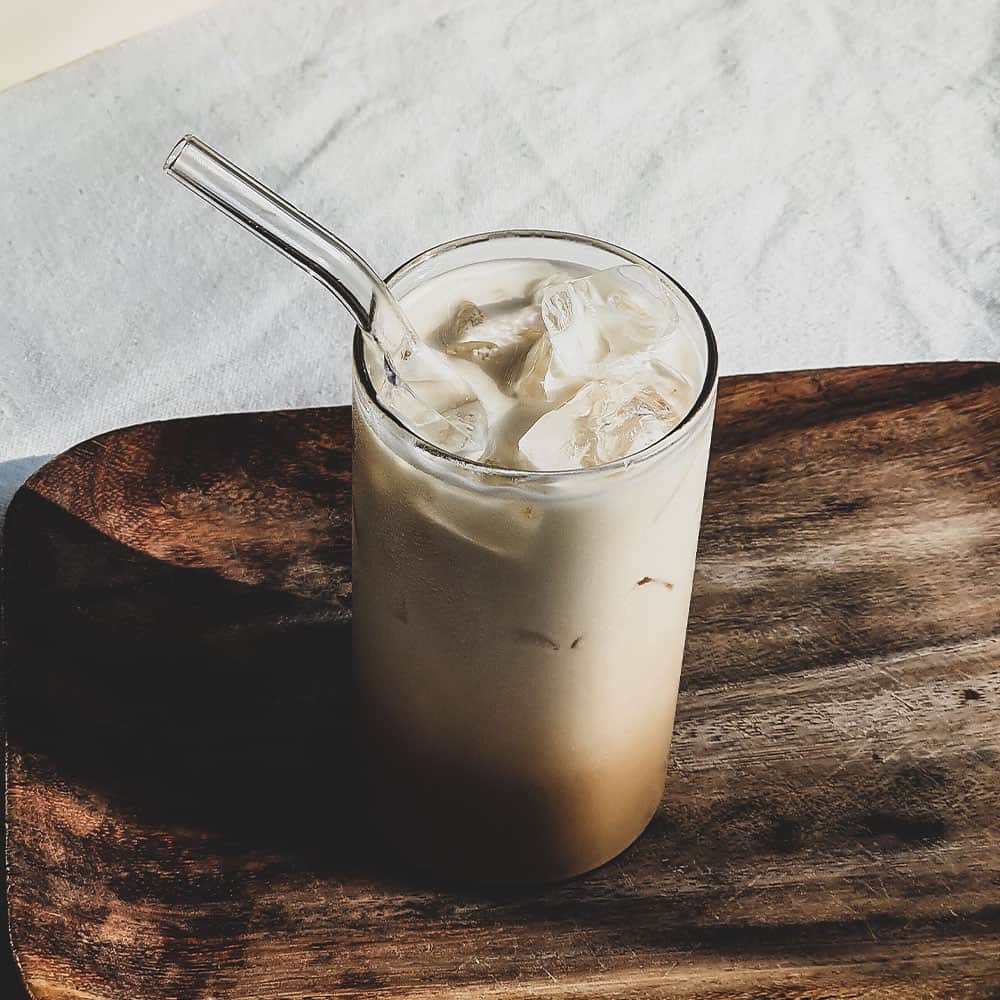 If you are making the iced version of this recipe, try preparing cold brew coffee concentrate the day before. It adds even more sweetness to this awesome coffee drink, and shortens your prep time.
And of course, don't steam your milk. If you want to make a cold vanilla latte, simply froth it while it is still cold.
Otherwise, all other elements of the recipe are the same.
What Kind of Cup Should Vanilla Coffee Be Served In?
Vanilla coffee can be served in any regular mug according to its serving size. Most coffee shops prefer serving it in a tall mug.
However, if it is cold vanilla coffee, it can be served in a glass mug to make its layers visible and look tempting.
Tips for Making Vanilla Coffee at Home
To perfectly make a cup of vanilla coffee, you must keep a few things in mind.
Here are some of my tried and tested tips for you that will take your coffee-making to a new level:
Ensure the steamed milk is not too hot or cold. It needs to have an optimum temperature (140 to 160 F) so that it complements the aroma and taste of the coffee beans.
When adding vanilla flavoring to the coffee, always add a little amount and taste it. You can always add more if you like, but you can't take any away once it's in there.
Try to grind coffee beans fresh.
Do not let your vanilla latte sit for too long because its taste will become bitter.
Frequently Asked Questions
Hopefully, you've learned enough from this vanilla latte recipe to whip it up on your own now.
Please let me know how it goes in a comment below!