The Best Espresso Beans in 2023: Top Coffee Picks of a Barista
Having worked as a barista for years, I know that dialing in the perfect espresso shot is no easy feat and various factors can make or break your final cup.
It all really begins with choosing the best coffee beans for your espresso. Let me tell you though, this shouldn't be complicated at all.
In this detailed guide, I'll spill my secrets and insights into finding the ultimate espresso beans that will transport your tastebuds straight to Italy from the comfort of your own kitchen.
TL;DR: Top 3 Espresso Beans for Home Baristas in 2023
If you're rushed for time, here is the essence of this article. My barista recommendations for the top espresso coffee beans are as follows, but you can read more about them, and a few more great beans further down.
1. Our Pick
Stumptown Hair Bender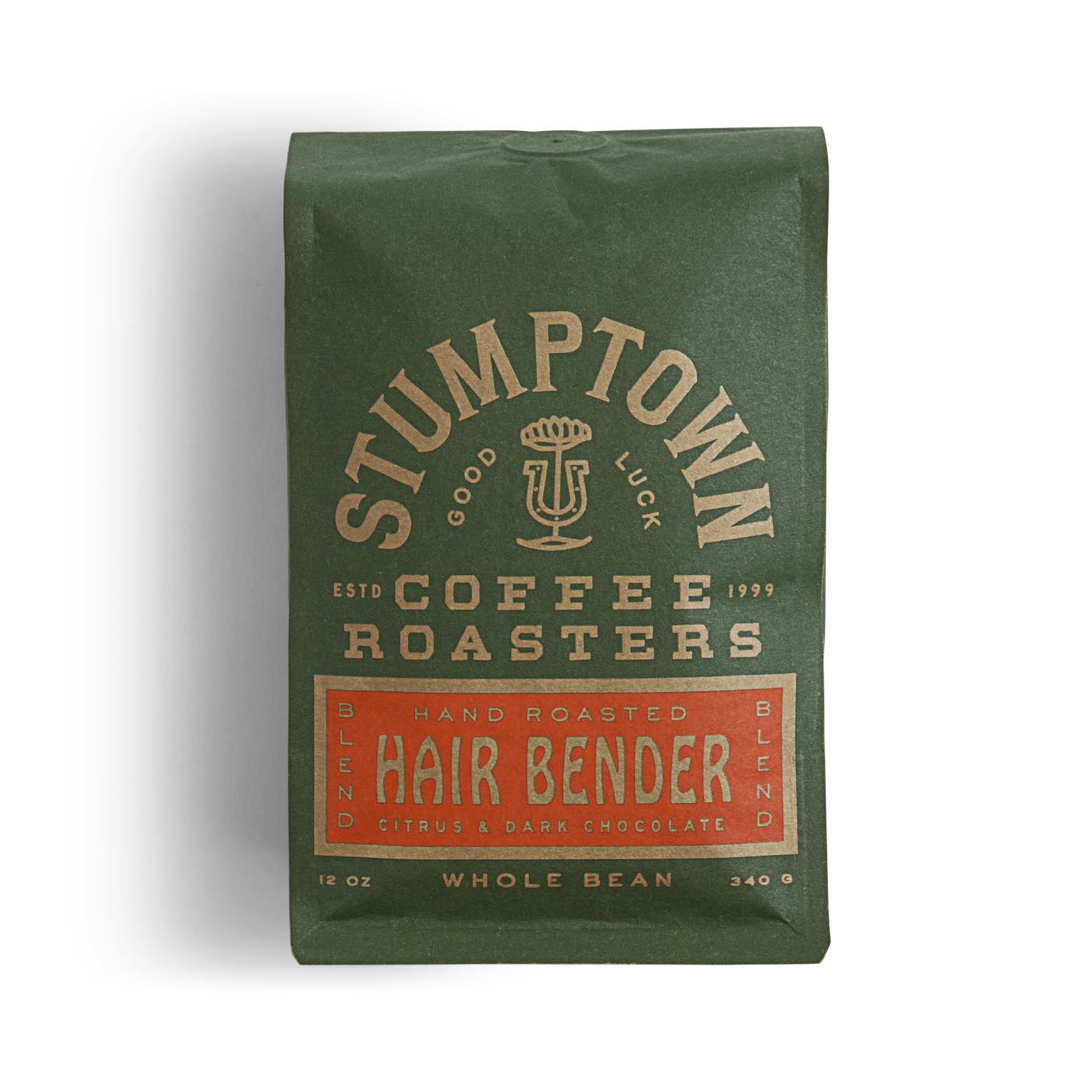 A blend of Latin American, Indonesian, and African Arabica beans, offering sweet citrus and dark chocolate notes.
Type: Arabica
Origin: Latin America, Indonesia, Africa
Taste: Sweet citrus, dark chocolate, raisin
Check it out
2. Great Blend
Coffee Bros Espresso Roast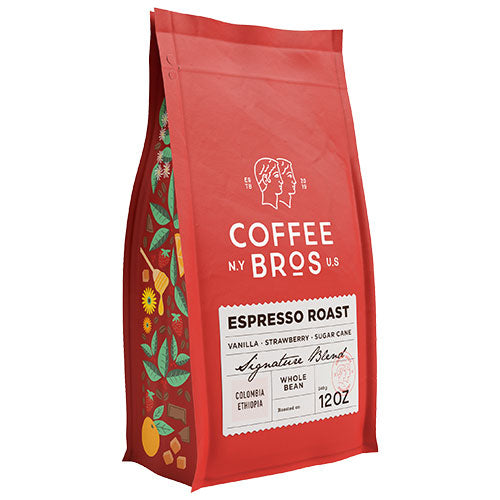 A medium roast from Ethiopia and Colombia with strawberry, sugar cane, and vanilla flavors. Very close for 1st place.
Type: Arabica
Origin: Ethiopia, Colombia
Taste: Strawberry, sugar cane, vanilla
Check it out
3. For Lattes
Cafe Cubano Volcanica coffee
A Latin blend of Brazilian, Colombian, and Guatemalan Arabica beans with chocolate, caramel, and nutty notes.
Type: Arabica
Origin: Brazil, Colombia, Guatemala
Taste: Chocolate, caramel, nutty finish
Check it out
Pay Attention to These 4 Things When Choosing Coffee Beans for Espresso!
When it comes to choosing the best espresso beans, these are the key factors you should pay attention to.
Roast Levels
Roast levels play a crucial role in determining the flavor and aroma of your espresso.
Classic Italian espresso roasts are dark-roasted, resulting in bold flavors with smoky undertones.
Third-wave espresso roasts tend to be lighter or medium-roasted. Lighter roasts highlight delicate origin flavors and can offer brighter acidity with fruity or floral notes; while medium-roasted blends strike a balance between richness and origin characteristics.
When purchasing from different coffee companies though, keep in mind that terminologies can vary especially if you're looking for a more specific roast.
For example, what Starbucks labels as "Blonde Roast" may actually be considered a dark roast by industry standards. I did buy a blonde roast bag of Starbucks beans once, it was nowhere near light roast. This is discussed online on several forums.
Read my guide on the different coffee roast levels to learn more.
Coffee Bean Freshness: Roast date vs Expiry Date
I can't stress enough how important ensuring your coffee beans' freshness is. You might come across both roast dates and expiry dates on the packaging, so let me clear up any confusion:
Roast date indicates when the coffee beans were actually roasted. I recommend consuming coffee beans three to five weeks after their roast date for maximum freshness.
Expiry date refers to a data the manufacturer thinks the coffee beans will start losing their quality/freshness. But this does not necessarily mean that expired coffee beans will make you sick or taste terrible. I've noticed they tend to use a 1 year expiry most of the time.
Supermarket coffees usually just have an expiry date on them, and won't be fresh at all by the time you get them.
Check out my guide on how to store coffee beans to ensure freshness in your cup.
Coffee Bean Type: Arabica vs Robusta
The type of coffee beans that you choose is also important. Between the two main species, Arabica is more premium in quality and price than Robusta.
If you like your coffee mild and smooth with delicate flavors, opt for high-quality Arabica beans. But if you're looking for a bold and strong shot of espresso with added crema and an extra jolt of caffeine, consider adding some Robusta into your blend.
Specialty coffee only uses Arabica, but many espresso blends add about 10% Robusta for their crema. This is an interesting topic for baristas, since crema does look great, but it doesn't benefit the flavor of espresso. In fact, crema is bitter by itself.
Sometimes you can also find unique varietals of Arabica like Geisha, SL28, and Pacamara. These less common beans can provide exotic and complex flavors that you definitely won't find in grocery store coffee, so they are worth trying and documenting.
Here is a list I wrote on the difference between Robusta and Arabica.
Single Origin vs Blends: Which is Better for Espresso?
If you're someone who loves exploring different flavor profiles and experiencing the unique nuances of coffee from specific regions, then go for coffee beans labeled "single origin". This label signifies that your espresso is made from beans all hailing from the same region. Specialty beans can even be tracked back to the coffee farm level, which makes comparing different beans from different farms in the same country all the more interesting.
Ultimately though, I think blends are better for espresso. Specialty coffee advocates will not like me saying this, but I think that by merging various coffee beans with complementary taste profiles into one blend, you'd get richer and more consistent cups each time.
Here are factors that affect your blends:
Origin: Coffee beans from various regions have a noticable effect on the taste of espresso:

The Latin American regions such as Brazil, Colombia, and Guatemala share hints of chocolate or caramel with nutty undertones.
Africa's Ethiopia and Kenya are known for their fruity and floral sweet notes.
Asian countries produce beans with hints of earthiness and a subtle dark chocolate flavor.

Species: As previously mentioned, Arabica is not as strong but it presents more nuanced tastes whereas Robusta leads to a more intense espresso. These two actually work well together given the right blend (max 10% Robusta), so I advise trying out various proportions of these coffee beans until you stumble upon that perfect mix.
The Best Espresso Beans of 2023: Perfect Your Shot With These Options
Here are my top picks of the best coffee beans for espresso today. This list changes as beans come and go, as just like wine, they differ by year.
Make sure to check back every now and then!
1. Stumptown Hair Bender – Best Overall
If you're searching for a coffee blend that bursts with complex flavors, then check out Stumptown Hair Bender. This blend combines coffees from Latin America, Indonesia, and Africa to create a truly unique taste experience.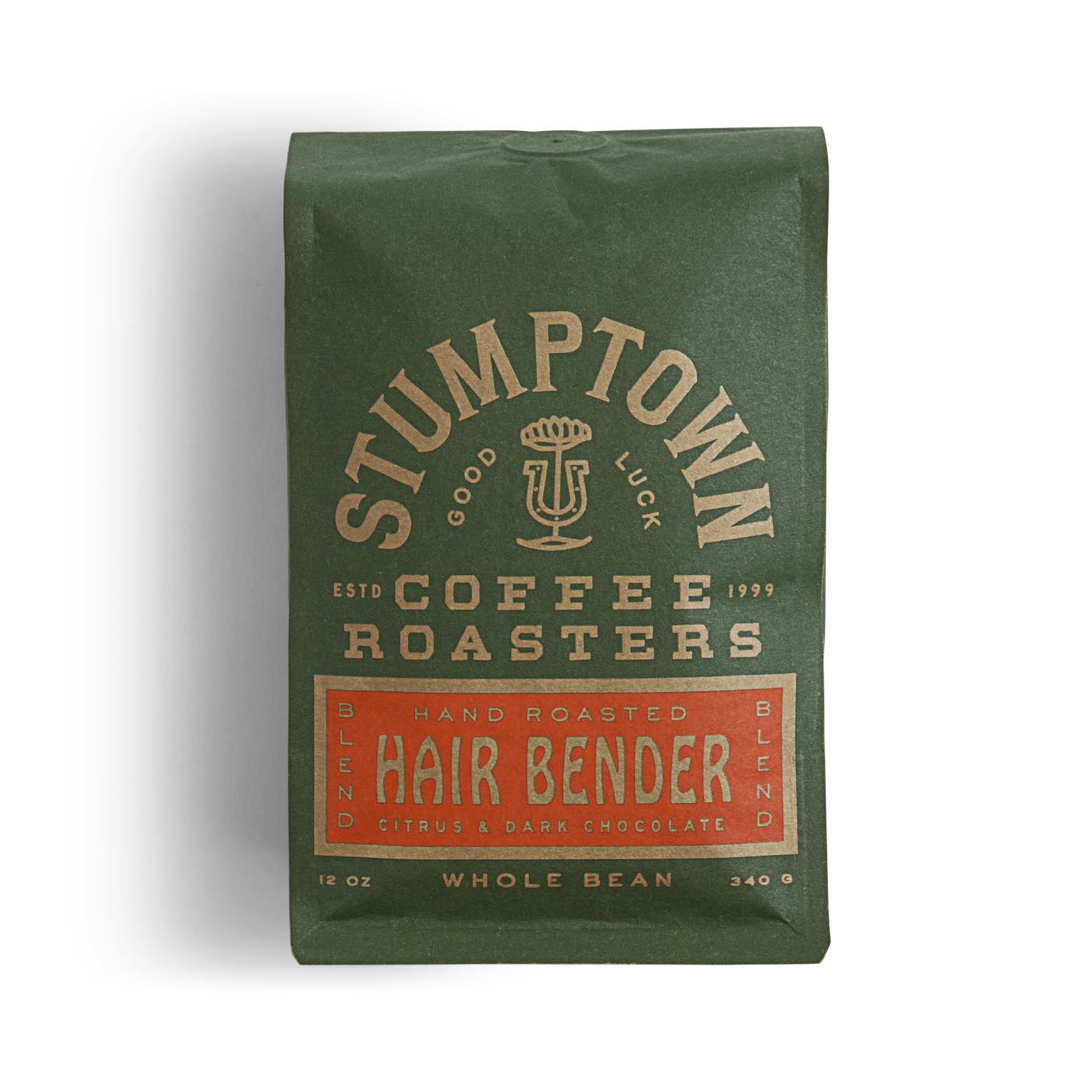 A medium roast blend of coffees from Latin America, Indonesia, and Africa, Stumptown Hair Bender offers a complex flavor profile with hints of sweet citrus, dark chocolate, and raisins, resulting in a balanced and smooth espresso with a touch of acidity.
Hints of sweet citrus mixed with notes of dark chocolate and raisins are captured in every sip. The blend results in a balanced and smooth coffee, while maintaining enough acidity to keep things interesting. A few friends of mine commented that it's too mild though.
Overall, the smoothness and balance of this coffee's rich flavors can translate to an espresso shot that you can be really proud of.
Coffee specifications
Type: Arabica
Origins: Latin America, Indonesia, and Africa
Processing method: Washed
Roast: Medium
Taste: Sweet citrus, dark chocolate, and raisin
2. Coffee Bros. Espresso Roast – Great Blend
The Coffee Bros Espresso Roast yields a deliciously smooth and flavorful espresso. With a medium roast profile, you get a balanced taste but it doesn't overwhelm your palate. There are flavor notes of strawberry, sugar cane, and vanilla that add sweetness to each sip.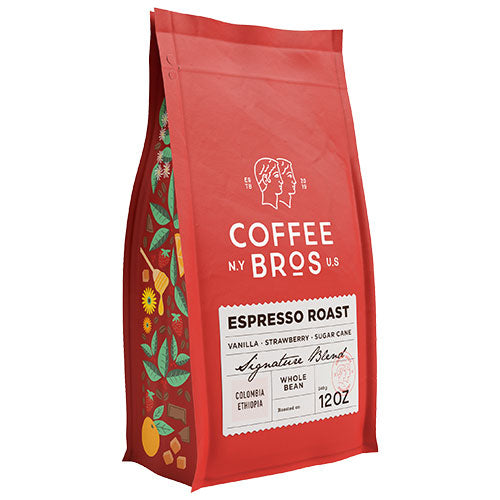 Coffee Bros Espresso Roast
With flavor notes of strawberry, sugar cane, and vanilla, the Coffee Bros Espresso Roast boasts a medium roast profile that strikes a perfect balance, offering a smooth and sweet espresso experience.
While the price is on the higher side (the reason it came in 2nd on my list), you can expect your beans fresh as they are roasted to order, which for me is very well worth the investment. So if you're aiming for a top-notch espresso with natural sweetness and a smooth finish, Coffee Bros Espresso Roast should be high on your list.
Coffee Specifications
Type: Arabica
Origins: Kayon Mountain Farm in Shakiso, East Guji (Ethiopia), and Colombia
Processing method: Natural/Washed
Roast: Medium
Taste: Strawberry, sugar cane, and vanilla flavors
3. Volcanica Cafe Cubano – Dark Latin Blend
Volcanica's Cafe Cubano delivers a bold and robust espresso into your cup. While keeping the acidity low, you can expect flavors of chocolate, caramel, and nutty notes to satisfy your palate.
Cafe Cubano Volcanica coffee
Volcanica's Cafe Cubano offers a bold and robust espresso with low acidity, featuring rich chocolate, caramel, and nutty notes that harmoniously blend together for a full-bodied, strong espresso experience.
The dark roast also brings out the full-bodied goodness of the beans hailing from different regions, creating a nice harmony from the flavors produced by each origin.
While Volcanica Cafe Cubano is slightly more expensive than your average dark roast, but you may find that the extra cost is worth it.
Coffee Specifications
Type: Arabica
Origins: Brazil, Colombia, and Guatemala
Processing method: Washed
Roast: Dark
Taste: Chocolate, caramel, nutty finish
4. Volcanica Coffee Tanzania Peaberry – Best Peaberry Espresso
The Tanzania Peaberry Coffee is a fantastic choice for home baristas looking to level up their espresso. Shots pulled with these beans give off flavors of dried fruit, savory chocolate, and even orange, resulting in an intense and fragrant cup of coffee.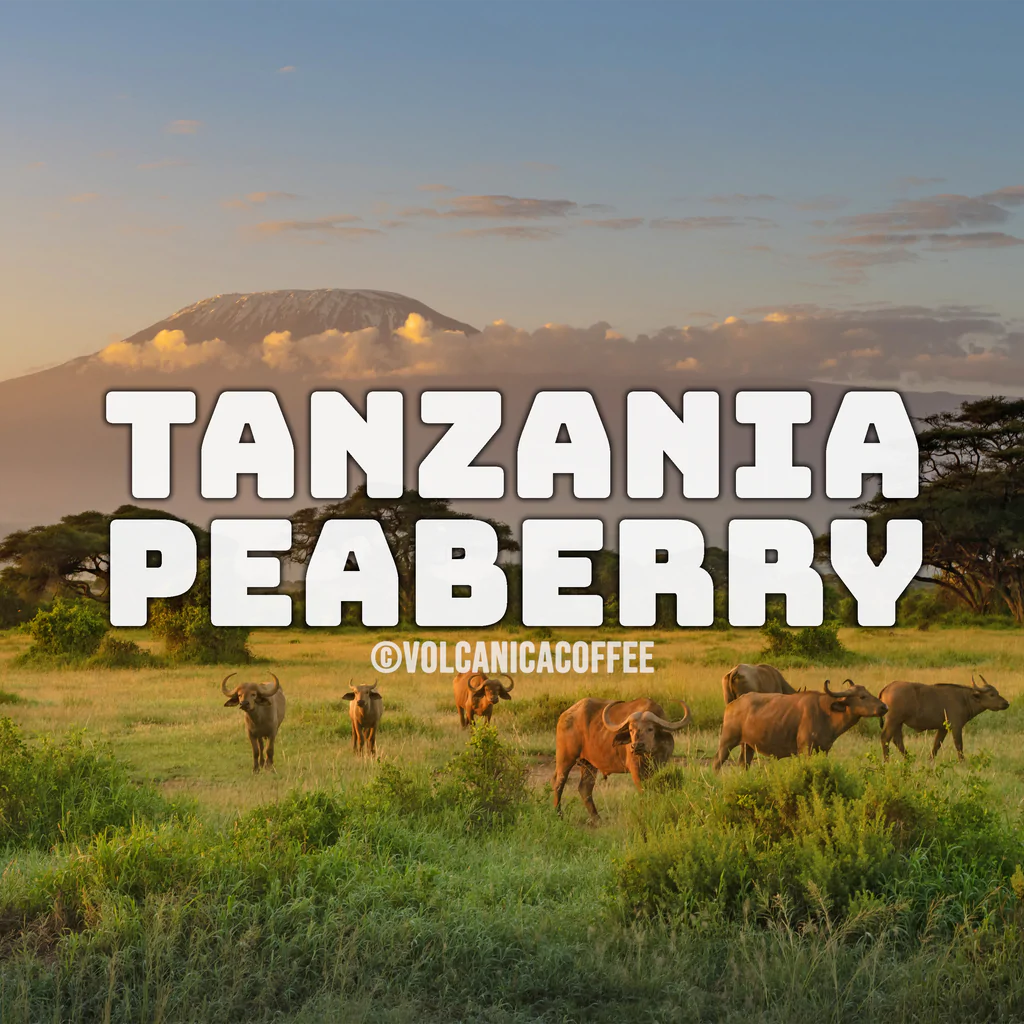 Volcanica Coffee Tanzania Peaberry
Grown on the Nitin Estate in the Ngorongoro Crater, these beans have a low acidity profile and a rich body complemented by intense flavor notes of dried fruit, savory chocolate, and a hint of orange. These unique peaberry beans, manually separated from the crop, are cultivated between 1,050 to 2,500 meters above sea level in volcanic soil near Mount Kilimanjaro, resulting in a distinctive coffee experience.
Since peaberries are uncommon among coffee cherries, you can expect a higher price. But with its complex flavors unique to peaberries combined with low acidity, this coffee is definitely worthy of your next cup of espresso.
Coffee Specifications
Type: Arabica
Origins: Nitin Estate in Ngorongoro Crater, Tanzania
Processing Method: Washed
Roast: Medium/Light Roast
Taste: Rich body with acidic notes, mellow winy overtones, and hints of dried fruit, savory chocolate, and orange.
5. Volcanica Jamaican Blue Mountain – Premium Choice
This Jamaican Blue Mountain Coffee from Volcanica hits all the right spots for coffee lovers with its full flavor, balanced taste, and prominent fruit notes. On top of that, you can expect a tempting aroma to fill your kitchen when you brew your espresso.
Volcanica Jamaican Blue Mountain Coffee – Clifton Mount Estate
Cultivated at the renowned Clifton Mount Estate, this bean offers a harmonious blend of flavors with a balanced profile featuring prominent fruit notes and light acidity, all wrapped in a strong and intense aroma. Recognized as one of the world's finest coffees, it is meticulously dried on concrete slabs in the famed Blue Mountains of Jamaica, a region with a rich history of coffee production dating back to the 18th century.
This coffee is JACRA-certified as 100% Jamaican Blue Mountain Coffee from Clifton Mount Estate, known for producing some of the best coffee beans in Jamaica. It is also direct trade, Kosher, and Rainforest Alliance certified.
Product Specifications
Type: Arabica
Origin: Clifton Mount Estate in Jamaica
Processing method: Washed Process
Roast: Medium
Taste: Nuts, chocolate, and a rich body with a smooth finish
6. Lavazza Barista Gran Crema – Good Value from Italy
The Lavazza Barista Gran Crema is a richer and more robust choice for your espresso, featuring a velvety consistency and appealing floral aroma. Taste it and the coffee hits your palate with a perfect balance of bitter and sweet notes.
Lavazza Espresso Barista Gran Crema
This coffee blend is a medium-dark roast coffee blend delivering a full-bodied taste with aromatic notes of honey, roasted coffee, dark chocolate, and spices. The beans are a blend of high-quality Arabica beans from Brazil and Honduras, complemented by African Robusta for extra crema and a slight touch of bitterness. It is great for Italian espresso prepared in espresso machines and moka pots.
This coffee's medium-dark roast brings extra depth to your beverage with a subtle smokiness that isn't excessively strong. I realize the smoky taste does not always appeal to everyone, but overall, Lavazza Barista Gran Crema's captivating aroma, silky consistency, and harmonious flavors will have you coming back for more.
I've been to Italy many times, and I love the coffee culture there. These beans give me that authentic Italian espresso vibe. It is very different from a specialty coffee, but great in its own darker roast way.
The only problem with this coffee is that you don't really know the roast date, but the darker roast makes it more forgiving.
Product Specifications
Type: Arabica and Robusta blend
Origins: South-East Asia, Africa, and Central-South America
Processing method: Washed
Roast: medium-dark
Taste: Full-bodied with aromatic notes of honey and roasted coffee
7. 100% Kona Private Reserve – Pure Hawaiian Kona
This product from Koa Coffee features a proprietary blend of 100% Kona beans and introduces exceptional flavors to your cup that are unique to those found on the slopes of the Mauna Loa Volcano in Hawaii.
Koa Coffee PRIVATE RESERVE 100% Kona
This secret blend of 100% Kona Coffee is an absolute treat. It combines different grades of Kona coffees grown on the slopes of a volcano, and is roasted to medium to perfectly bring out their flavor. The end result is an incredibly smooth and rich cup of coffee with no bitterness.
The coffee beans produce toasty undertones and hints of cocoa alongside ripe fruit and just enough coconut to go perfectly with its rich and creamy consistency. The medium roast enables these intricate tastes to stand out without overwhelming one another, making it a great option for leisurely savoring every sip of your coffee.
So if you're willing to splurge on a luxurious cup of coffee, this is right up your alley. It costs considerably more than your average coffee though, so even if it won't make your daily driver, I suggest you try it sometime.
Product Specifications
Type: Arabica
Origins: Grown on the slopes of the Mauna Loa volcano in Hawaii
Processing method: Natural
Roast: Medium
Taste: Smooth and velvety with notes of cocoa, ripe fruit, and coconut
8. Organic Ethiopian Yirgacheffe – A Fruity Option
If you like your coffee fruity and fair, this Organic Ethiopian Yirgacheffe is easily a must-try. It has Fair Trade and USDA Organic certifications that add to the appeal if you're all for sustainable coffee.
Ethiopian Yirgacheffe Coffee Organic
This Ethiopian Yirgacheffe, known for its complex origin and exotic flavor profile, is a USDA organic coffee with pleasant acidity. This is how Ethiopian coffee should be. Hailing from the Gedeo Zone in southern Ethiopia, it's a single origin coffee grown at an altitude of 2000 meters, offering distinct floral and fruity notes like lemon, blueberry, and blackberry.
Flavor-wise, it has outstanding hints of citruses like sweet tangerine and lime with a bright and powerful acidity. Along with its mild body, I really like how this medium roast makes my cup of coffee refreshing while serving me my caffeine needs.
It is not for everyone though, the citrusy taste is mistaken for sourness by some. Regardless, I really think you should put it on your espresso bucket list.
Product Specifications
Type: Arabica
Origins: Ethiopia
Processing Method: Washed
Roast: Medium
Taste: Hints of bright citruses like sweet tangerine and lime, with a powerful and bright acidity and a dry, lemon tea finish.
9. Trade Coffee Subscription – Endless Variety
If you crave convenience and variety, try subscribing to Trade Coffee. You get new coffee sent to your door at a schedule that's right for you.
This service offers personalized picks based on your preferences, and with over 450 unique coffee beans at their disposal, they sure have something for everyone.
Sourced from third-wave coffee roasters across the US, each bag is delivered fresh on a schedule that works for you. Not only can it cater to your taste, but it's also perfect if you want to explore different coffee beans in search of new favorites.
As with any coffee subscription, there might be occasional misses if you're trying new beans. Overall though, Trade Coffee offers superb quality that adds variety to your espresso shots.
Check out my Trade Coffee subscription review to learn more.
Drinking Espresso with Milk? You Have More Leeway
If you like adding milk to your espresso to make lattes, cappuccinos, and other similar drinks, then you have more flexibility when choosing your coffee beans.
Milk has a unique ability to mask some of the subtleties and nuances of the coffee's roast and origin flavors. This means that even if you use slightly cheaper coffee beans, less complex blends, or even old roasts, your drink can still taste great when combined with milk.
When it's about milk-infused coffees though, darker roasts tend to work better as the bold and robust coffee blends well with the creaminess of the milk.
So if you're going to drink your espresso with milk mixed in, don't stress too much on your coffee beans. Just be mindful of these factors for a perfect shot:
Use fresh coffee beans
Follow proper brewing techniques
Medium to dark roasts work best
I avoid light roasts with espresso-milk drinks
The Buzz Around Specialty Coffee, Sustainability, and Organic Products
The rise of third-wave coffee has brought attention to the importance of sourcing high-quality beans from ethical and environmentally-conscious producers.
There are certifications and tags that can assure us buyers that the coffee we buy is sustainable:
Fairtrade: Ensures that farmers receive fair wages; Fairtrade premiums go to projects that improve the farmers' communities and farming practices. To learn more, read my roundup of Fairtrade facts.
Organic: Producers met the strict guidelines for growing and processing their coffee without the use of concerning pesticides.
Rainforest Alliance: Protects forests, human rights, and the livelihood of farmers.
Bird Friendly: Coffee trees are shade-grown maintaining the habitats of animals. Check out some of my favorite shade-grown coffee beans.
Direct Trade: Roasters form direct relationships with farmers, ensuring fair prices for their crops. Read my guide on direct trade to know more.
So take pride in choosing specialty coffee, because you're supporting farmers who prioritize environmentally friendly methods, fair trade relationships, and transparent supply chains.
The Cost of Coffee Beans
The cost of coffee beans is getting pricier for various reasons, that's why we really want to get the most out of our money when buying coffee.
To give you a better grasp on what goes into your espresso's price tag, here are factors that ultimately affect its price:
Specialty coffee: Specialty coffee is grown under specific conditions that promote sustainability and is produced by skilled farmers who prioritize quality over quantity, causing additional expenses along the supply chain.
Single origin coffee: While single-origin coffees often showcase unique flavors, they tend to be pricier due to their limited availability, especially if they're Arabica. Blends allow roasters to create consistent flavors and profiles at lower costs.
Drum-roasted coffee: Picking drum-roasted coffee also adds to the price because the even heat distribution results in higher quality and more desirable flavors.
Avoid super cheap coffee though: Overly cheap coffee beans can mean low-quality or old stock, so steer clear of these beans if you don't want a disappointing cup.
Grind Yourself or Buy Pre-Ground?
Another question that comes up when buying beans for espresso is whether to buy pre-ground or whole coffee beans.
While each has its own pros and cons, it's best to buy whole beans and grind them yourself. When coffee beans are ground, they immediately start oxidizing and losing flavor compounds, so grinding right before brewing ensures that your espresso is in peak freshness. You can really tell the difference between an espresso you make from freshly ground coffee, and one you make from the same beans, but let it sit for 30 minutes.
For an espresso grinder, your best option is an electric burr grinder that can produce finely ground coffee consistently.
The only reason to get pre-ground coffee is if you really prioritize convenience. If you don't have the time and resources to invest in a grinder, you can compromise on the freshness and pick pre-ground coffee for your espresso.
One tip I can give you with pre-ground coffee is to use a pressurized basket, which can improve your coffee even if you're using grounds that aren't fresh from the grinder. Here is an article on espresso portafilters baskets for the details.
Tips for Brewing and Tasting Great Espresso
To further perfect your espresso at home, here are a few tips and tricks I've picked up working as a barista:
Learn to dial in your espresso as I describe step by step here, and take time to experiment with different variables such as grind size, water temperature, and extraction time until you find the right combination for you.
Stir your espresso for an even distribution of flavors in your cup.
Drink sparkling before sipping on your espresso to cleanse your palate and appreciate the nuances in your coffee.
Familiarize yourself with a taste wheel or flavor profile chart. These tools can help you appreciate and understand your espresso better.
Frequently Asked Questions (FAQs)
Here are quick answers to some of the questions about espresso coffee beans:
What beans do Italians use for espresso?
Italians typically use dark roast coffee beans for their classic espresso. These blends often consist of Arabica and Robusta varieties sourced from different regions around the world.
Many think that the Italian espresso is made with coffee from Italy, but Italy does not grow coffee, simply imports it from countries along the coffee belt.
Do espresso blends have more caffeine?
Contrary to popular belief, darker roasts used in espresso blends actually contain slightly less caffeine compared to lighter roasts. The longer roasting process leads to a breakdown of caffeine molecules, resulting in lower levels of this stimulant in your cup.
Espresso beans vs regular coffee beans: Is there a difference?
Espresso beans are specifically blended and roasted for use with an espresso machine. If they are marketed as ground espresso beans, they are actually finely ground to ensure maximum extraction during the short brew time. Regular beans can be used in an espresso machine, but they may not produce the same flavor and intensity as beans specifically intended for espresso.
Can I use regular coffee beans in an espresso machine?
Yes, the coffee beans that you use on a drip coffee maker can work with an espresso machine. But keep in mind that with a coarser ground coffee, espresso tends to be weaker and less concentrated. If using regular beans, it's best to adjust your brewing parameters accordingly to ensure optimal extraction.
What do espresso blends taste like?
Espresso blends offer a wide range of flavors depending on the specific bean composition and roasting technique. Generally, these blends provide robust and bold profiles with pronounced notes of chocolate, caramel, nuts, and sometimes fruity undertones, especially with specialty coffee beans. The blend allows for balance and complexity when brewed under high pressure.
So, which beans should you try?
Now that you know which coffee beans to pick, you're one step closer to pulling that perfect shot. I encourage you to explore and experiment until you pull that espresso shot that's tailored to perfection based on your tastebuds.
I think it's also important to try different beans and see what you like more than others, so go ahead and try all of my recommendations.