Our 15 Best Dark Roast Coffee Beans in 2023
What's the difference between dark roast coffee and all the others? Is there more caffeine in dark roast? Is it stronger? We'll help you find your favorite dark roasts, learn all you need to know about the roasting process, the flavors, how much caffeine, and where to find some to try for yourself.
We've spent hours researching and testing the best dark roast coffee beans to save you time and money. Our goal is to provide you the best roast for the best price. As always, please consider buying beans that come with a certification and are roasted in a sustainable manner.
If you want the TL:DR (Too Long Don't Read) here are our top roasts:
---
Our Essential List of The Best Dark Roasts Coffee Beans
Dark roast coffee is made from roasting a green coffee bean in a prescribed temperature and method. During the roasting process, the coffee bean absorbs heat in which the colors become darker. The color is not an accurate way to test a roast because of the variation in coffee beans used in the roasting process. Italians have been roasting espresso for years, the french roast is dark too. Whatever you call it, dark roasts have been a staple for coffee drinkers for many many decades.
If you wish to find out what dark roast coffee can make the coffee experience better than a light roast, we suggest starting with an "entry-level" dark roast and working your way up.
Here are our top dark roast coffee picks for you to brew at home. We looked at cost, availability, sustainability (certifications), and public opinion to build our list.
1. Editors Choice: Fresh Roasted – Organic Dark Brazilian Nossa Senhora de Fatima Coffee
Fresh Roasted LLC is one of the best brands you can purchase based on taste, quality, certifications, and price-points. They are often at the top of our lists as you simply can't beat what they offer for the price. Plus, Fresh Roasted uses cutting-edge roasting technology. This technology helps in enhancing the flavor and quality of the coffee beans. To maintain the freshness of their coffee beans. They roast per order and follow the Julian Calendar system.
The Organic Dark Brazilian gets nearly 5 stars on the Fresh Roasted website. And for good reason, it's under $13 and people love the taste. It's single-origin, Fair Trade, organic certified, and you're supporting a social eco mission when you buy directly from the Nossa Senhora de Fatima farm.
Ricardo de Aguiar Resende and his wife, Gisele live on and own the Nossa Senhora de Fatima farm. The couple has poured their soul into developing social programs and have implemented housing for their workers and a school with a full educational program for the farmer's children. They have worked endlessly eco-preservation of the farm. This includes replanting native trees, using strictly composted organic fertilizers, and becoming organically certified.
Species/Varietal: Arabica
Roasting Location: Sunbury, PA USA
Origin: Minas Gerais, Brazil
Tasting notes: raisin, woody, baked peaches
Aroma: bold
Recommended brew styles: Auto-drip and French Press
Certifications: USDA Organic certified and Fair Trade
*10% Coupon code is included when you use the link below.
2. Best Organic Fair Trade: Fresh Roasted Black Knight Coffee
If you want to fill your cup with an excellent everyday blend from a reputable and sustainably-minded company then look no further than Fresh Roasted Black Knight. This variant of roasted coffee is bold in flavor and has an intense caramelized sugar finish. Plus, it's organic, Fair Trade, and has close to 4.8 stars ranking with near 500 reviews. You really can't go wrong with this brew.
Cupping Notes: bold, caramelized sugar, plantains
Certifications: Fair Trade Certified, USDA Organic
Roast Body: Bold
Roast Level: Dark
Aroma:

bold and full bod

y
Artisan Blend: Central America, Indo-Pacific
Recommended brew styles: Auto-Drip, Espresso, and French Press
3. Best Espresso: Volcanica Espresso Dark Roast
The Volcanica Coffee Company has its own delectable version of whole bean dark roast coffee in the guise of Volcanica Espresso Dark Roast. This whole bean espresso coffee has a perfectly balanced blend of Central and South American Arabica coffee beans. It has light acidity that ranges between 3.5 to 4.2.
The Espresso version of Volcanica has a dense caramel sweetness that complements its smoky undertones. So if you want a medium to a lightly caffeinated cuppa, you can grab this one in 16 oz packs. You can keep it warm and keep its great taste on the burner for up to 20 minutes. Read more about Volcanica in our full review here.
Species/Varietal: Arabica
Roasting Location: Suwanee, GA USA
Origin: Central and South American
Tasting notes: Sweet Caramel, Signature Dense Intensity, Light Acidity, and Spice
Aroma: caramel
Recommended brew styles: Espresso
Certifications: Kosher
4. Best 100% Kona: Koa Coffee Estate Dark Roast Whole Bean
Kona coffee is a rare coffee experience only native to the Hawaiian Big Island. Authentic Kona coffee only grows on the slopes of two volcanoes: the Mauna Loa and the Hualalai in the best growing conditions. Like a premium-grade Ethiopian coffee, the best Kona is cultivated at an elevation ranging from 500 to 3,000 feet.
Estate Kona Coffee is a specific term that means you are getting Kona Coffee that is the product of one Kona Coffee farm, never mixed with crops from other farms. This Estate Kona is from a high elevation, single estate farm, and a classic taste of Hawaii.
This classic dark roast is lower in caffeine than lighter roasts and perfect for drinking after dinner or into the evening. It's an estate blend that is a mixture of Kona officially graded extra-fancy, fancy, and Kona Number 1. Learn more about Kona Coffee in our Best Kona Coffees Review.
Species/Varietal: Arabica – Kona
Roasting Location: Honolulu, HI, USA
Origin: Single origin
Tasting notes: smooth and unique flavor
Aroma: smooth
Recommended brew styles: Auto-drip, French Press, Pour-over
Certifications: 100% certified kona
5. Most Caffeine: Deathwish World's Strongest Ground and Whole Bean Coffee
Death Wish Coffee Co. does not literally wish for your passing. But this "world's strongest" coffee is giving you a fair warning that their ground and whole beans coffee grinds are bolder in taste but never bitter.
This Death Wish brand of coffee is made from selected arabica and robusta coffee beans. It is 100% natural and is USDA-certified organic coffee. Deathwish's World's Strongest ground and whole bean coffee have 1 calorie per cup. It has no added carbs, gluten, and protein so your diet is safe.
To enjoy a good Deathwish cuppa, the recommended brewing ratio for their ground and the whole bean is 2.5 tbsp for every 6 ounces of water. This allows you to experience a good Deathwish caffeine kick that is low in acidity.
Species/Varietal: Arabica and Robusta
Roasting Location: Saratoga Springs, New York, USA
Origin: Single origin
Tasting notes: subtle flavor notes of cherry and chocolate
Aroma: smooth, bold, low acidity
Recommended brew styles: French Press and Pour-over
Certifications: USDA Organic certified and Fair Trade
6. Best Decaf: Volcanica Dark Roasted Decaf Sumatra Mandheling
The Sumatra Mandheling of Volcanica Coffee is a dark roasted coffee that has undergone a decaffeination process called the Swiss Water Process. It's a process that is taste-driven which aims to maintain the unique flavor characteristics of the coffee bean used to roast this rare Indonesian coffee.
It has a rich heavy body with flavors that is close to earthy cocoa. To enjoy this decaf coffee with mild acidity make sure to set your coffee maker to espresso and place the right ratio of water and coffee printed on the packaging.
Species/Varietal: Arabica
Roasting Location: Suwanee, GA USA
Origin: Sumatra, Indonesia
Tasting notes: exotic flavor with an intense syrupy aftertaste and an earthy richness
Aroma: robust, full-bodied
Recommended brew styles: Auto-Drip, Espresso, French Press
Certifications: Kosher
7. Best Social Mission: Grounds and Hounds – Alpha Blend Dark Roast
100% premium organic arabica coffee beans hand-picked from Colombia, Guatemala, and Sumatra. Don't let this blend fool you, it packs a punch and is a must-try for all dark roast lovers. It's a great everyday dark roast to drink and perfect for using with your French Press or as a drip coffee.
If you're not familiar with Grounds and Hounds, they are a fully mission-driven business. 20% of all their profits go to animal rescue organizations to promote adoption and animal welfare. For more information, read our full Grounds and Hounds Review.
***Save 15% by using the coupon code: BigCupofCoffee. ***
Species/Varietal: Arabica
Roasting Location: Chicago, Illinois, USA
Origin: Colombia, Guatemala, and Indonesia.
Tasting notes: hints of cocoa, vanilla, and nutmeg.
Aroma: smokiness and smooth
Recommended brew styles: French Press, Cold Brew, or Percolator.
Certifications: USDA Organic certified
8. Best Sumatra: Cooper's Cask Coffee – Sumatra Dark Roast
Fairtrade. Check. Organic. Check. Grade 1 Sumatra beans from Indonesia. Check. Constantly close to 5-star reviews. Check.
Cooper's Cask Coffee is an up-and-coming roaster from Rhode Island. They've been launching their single-origin small-batch roasts since 2014. If you sign up for their newsletter, you can save 10% as well.
CCC offers their satisfaction guarantee, if you're not satisfied with their coffee beans or coffee taste within 30 days, they'll give you a free refund. For more information, read our full Cooper's Cask Coffee Review.
Species/Varietal: Arabica – Grade 1
Roasting Location: Rhode Island, USA
Origin: Sumatra, Indonesia
Tasting notes: Woody Earth, Dark Chocolate, and Dark Cherry with a hint of tobacco
Aroma: rustic earth tones
Recommended brew styles: Auto-drip, French Press, Moka Pot
Certifications: USDA Organic certified and Fair Trade
9. Best Sustainable: Tiny Footprint Coffee – Nicaragua Segovia Dark Roast
100% Organic shade-grown carbon negative coffee. Tiny Footprint has been blazing the trail in defining what it means to be sustainable. For every purchase of their coffee, they donate to plant trees in the Educadorian Mindo Cloud Forest. They don't just try, they do. One thing we love about this coffee is that it seems to taste great with all brewing methods including as a drip coffee.
Their Nicaragua Segovia dark roast constantly ranks high online and people seem to love it. Plus, Tiny Footprint has partnered with a group of family-owned farms organized as Promotora de Desarrollo Cooperativo de Las Segovias (PRODECOOP) to support local social missions. PRODECOOP provides producers with financing, training, and technical assistance to improve coffee quality. They also strive to improve the quality of life for coffee producers and their families through projects promoting income diversification and education.
For information and to find other great coffees from Tiny Footprint read our full Tiny Footprint Review.
Species/Varietal: 100% Arabica
Roasting Location: Brooklyn Center, MN, USA
Origin: Nueva Segovia, Nicragua
Tasting notes: bright apricot, fig, and spice
Aroma: chocolate
Recommended brew styles: Auto-press, French Press, Pour-over
Certifications: USDA Organic certified and Fair Trade
10. Real Good Coffee Co – Dark Roast Coffee Beans
Real Good Coffee Company is known for producing high-quality coffee at reasonable prices. Their USDA-certified single-origin organic dark roasted coffee beans are no exception. It's rated very high on Amazon and people love the taste. It's not too dark, yet too light. Just right.
It's worth mentioning that Real Good Coffee walks the walk with its packaging and recycling. Their packages are 100% recyclable. You can also save 10% if you sign up with their newsletter.
Species/Varietal: 100% arabica whole beans
Roasting Location: Seattle, WA, USA
Origin: Indonesia
Tasting notes: hints of spice and bold roasted notes
Aroma: rich and smooth
Recommended brew styles: Auto-drip, Espresso, French Press, Aeropress, Pour-over, and Moka pot.
Certifications: USDA Organic certified
11. Koffee Kult Dark Roast
If you're looking for freshly roasted gourmet beans, the Koffee Kult Dark Roast is worth brewing. Their exotic raw coffee beans are imported from rainforest-friendly farms in Guatemala, Sumatra, and Colombia.
The Koffee Kult Dark Roast is brown in color and has no oil in beans. The whole beans are aromatic from opening the bag to brewing it in your coffee maker. The taste is rich and bold with some hints of cocoa and cinnamon with a twist. With its palatable richness, you won't feel the need to add sugar, cream, or milk to boost its taste. Just enjoy it as it is.
The ratio to make a good cup of Koffee Kult Dark Roast coffee is 1 tbsp per cup. If you want to make the taste a bit extra, you can add another 1-2 tbsp per cup of dark roasted coffee beans.
Species/Varietal: Arabica
Roasting Location: Hollywood, Florida, USA
Origin: Multiple origins (Guatemala, Sumatra, Colombia)
Tasting notes: a hint of cinnamon with a bright long finish
Aroma: heavy body, smooth
Certifications: Organic and Fair Trade (we cannot confirm their beans are certified).
12. Fresh Roasted – Dark Guatemalan
The Dark Guatemalan coffee is a dark roast coffee with an aromatic, spicy body with a smooth finish. The Guatemalan coffee beans used in this variant are meticulously hand-picked to ensure the quality of the best dark roast and are one of those types of coffees you need to try for yourself. It is 100% Arabica coffee beans with no additives or artificial flavors.
Species/Varietal: Arabica
Roasting Location: Sunbury, PA, USA
Origin: Guatemala
Tasting notes: spicy flavor with a fair amount of acidity
Aroma: spicy body with a smooth finish
Recommended brew styles: Auto-Drip, Espresso, French Press, and Pour Over
Certifications: USDA Organic certified and Fair Trade
13. Kicking Horse 454 Horsepower
"Velvety, earthy and spirited." This is how the Kicking 454 Horse Power coffee is described on its website. To give coffee drinkers a heads-up on what to expect from Kicking Horse's best coffee. The 454 Horsepower of Kicking Horse has a heavy body that smells like cacao nibs with a hint of nutmeg.
This variant of Kicking Horse Coffee is an organic coffee, Kosher-certified coffee with coffee beans imported from sustainable farms in Indonesia, Central, and South America. For a good cuppa of Kicking Horse Coffee in the morning. The recommended ratio per cup if you're using a drip machine is 2 to 3 tablespoons.
Species/Varietal: Arabica
Roasting Location: Invermere BC, Canada
Origin: Multiple origins (Indonesia, Central, and South America)
Tasting notes: Heavy body, sweet tobacco,
Aroma: cacao nibs, peats with a hint of nutmeg
Recommended brew styles: Drip, French Press, Pour-over, Cold brew
Certifications: USDA Organic certified and Fair Trade
14. Cafe Don Pablo Subtle Organic Dark Roast
If you want to drink coffee and take a sip of chocolate at the same time the Cafe Don Pablo Subtle Organic Dark Roast is for you. The dark roast version of Cafe Don Pablo has a full-body, deep, and rich chocolate flavor with a hint of honey and caramel.
It is 100% non-GMO and is made from pure Arabica coffee beans originating from the Marcala region in Honduras. The intense roastiness tasted in every cup of Cafe Don Pablo organic dark roast comes from the full caramelization of the natural sugars in the bean. So rest assured that there are no artificial sweeteners added to this whole bean coffee brand.
Species/Varietal: Arabica
Roasting Location: Miami, FL, USA
Origin: Honduras, Sharing Certified Program(TM)
Tasting notes: with notes of honey, caramel, and cocoa.
Aroma: Rich and chocolaty, velvety body, and low acidity.
Recommended brew styles: Auto-drip, Espresso
Certifications: USDA Organic certified and Non-GMO
15. Deadman's Reach Coffee by Raven's Brew
"Served in Bed, Raises the Dead"
This whole bean roasted coffee of Raven's Brew will surely make you rise from your bed with its strong and smooth body with no bitter aftertaste. The Deadman's Reach is a high-speed blend of rich dark bittersweet chocolate and hazelnuts with a sweet bite.
Air roasting method is used to ensure the coffee beans are roasted evenly and to avoid scorching. As this might affect the overall taste of the coffee bean. That is why Deadman's Reach coffee is one of the barista's choices for a bold espresso.
Species/Varietal: Arabica
Roasting Location: Alaska
Origin: Multiple Origin
Tasting notes: a hint of dark bittersweet chocolate and hazelnut with a sweet bite
Aroma: Heavy, full body
Recommended brew styles: Auto-Drip, Espresso, French Press
Certifications: None
The Best Ways to Brew Dark Roast at Home
To make a good cup of joe, you don't have to be a professional barista. You only need two things: dark roast coffee to brew and a machine to use. To brew your favorite cuppa at home, you should be familiar with the methods of brewing dark roast. These are by using espresso machines and French Press.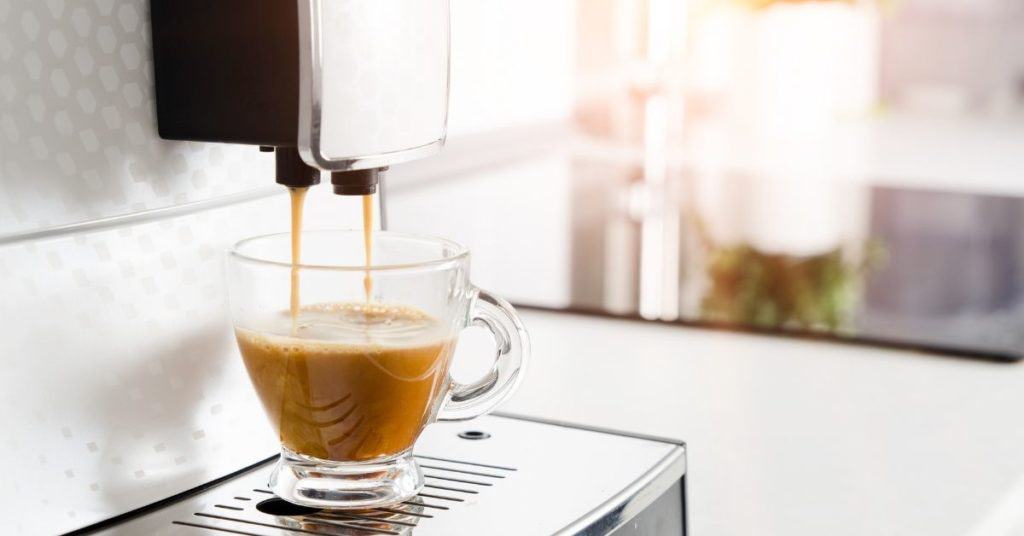 Espresso Machines
Ever wonder why espresso roast is so dark? To make a good espresso, the roasting level of coffee beans matters. Each level of roasting determines the taste and aroma of the coffee. Before the roasting, coffee beans are green, soft and smell grassy.
When the raw coffee beans are roasted, the process transforms the beans into a crunchy coffee bean with a pleasant aroma, flavor, and color. As the coffee beans absorb heat and eventually change color from green, light brown, medium brown to dark. The oils start to surface as the temperature peaks highest.
An espresso roast becomes so dark because it is roasted to the internal temperature between 465 to 480°F. Such roasting temperature is applied to bring out the distinct flavorful profile of the roasted coffee bean.
Through roasting, the nuanced flavors become undetectable. As the roasted coffee bean becomes darker, its unique flavor and notes become distinct.
Espresso machines are used to extract the thick concentration of the coffee from the whole beans or finely-ground coffee beans. In the first phase of dispersal, an emulsion of oil droplets is extracted. Suspended solids from the pressurized coffee beans are then extracted in the second phase. While in the last or third phase, what is derived are layers of bubbles or foam.
So when you make an espresso, what you seek to get from the espresso machine are the products of the three phases. That becomes the base of every coffee drink such as cappuccino, macchiato, mocha, latte, and americano.
French Press
The French Press is the European way to caffeinate, where the soaked ground coffee is directly poured into the hot water. To make your french pressed brewed coffee, pour your favorite grounds in the carafe. Afterward, fill it with boiling water according to the ratios instructed by in the packaging of the grounds.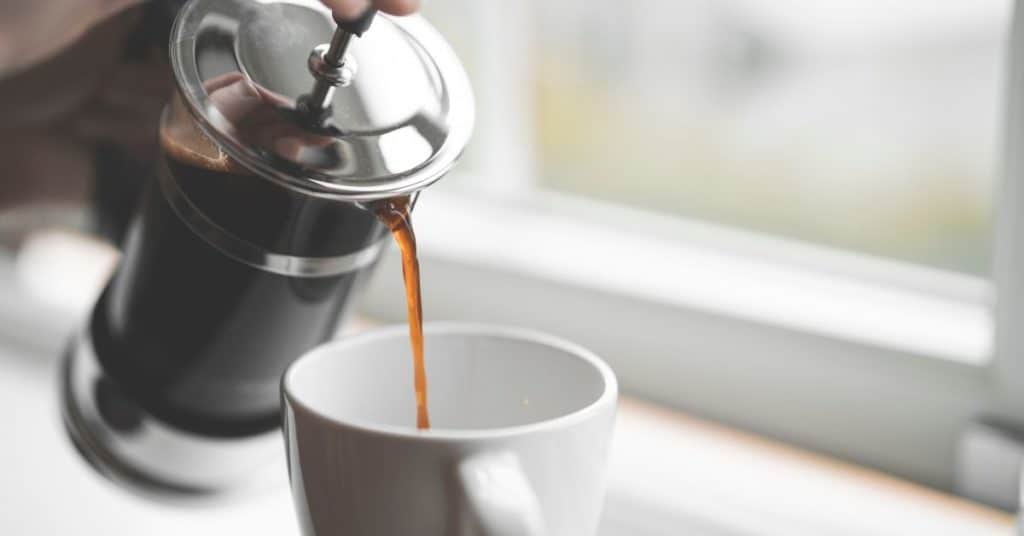 Give a quick stir to make sure that the coffee grounds and the water combined and saturated. After four minutes, place the lid on and slowly apply pressure to the plunger. Press all the ground coffee through the water until it reaches the bottom of the carafe.
Once the grounds sit at the bottom of the carafe. Decant your French Pressed brewed coffee to your cup or a thermos to avoid sludging and over-extraction.
Read more about using a French Press in our tutorial.
What's the Best Method for Tasting the Dark Roast Flavors?
To do a coffee tasting or coffee cupping, the standard procedure applied is sniffing the roast before it is loudly slurped. Slurping enables the coffee to spread widely at the back of the tongue.
In tasting the coffee, what is evaluated in each cup is the cleanliness, sweetness, acidity, mouthful, and aftertaste. You can apply the basic procedures of coffee tasting. You can smell, slurp and spit the coffee.
But if you really want to understand coffee, you have to pay more attention to the categories that make a good roast coffee as you do the coffee tasting. These are sweetness, body, acidity, flavor and finish.
The procedures explained.
Smell: Your nose can detect thousands of scents. You already know the scent of flowers, bark of a tree, citrus fruits, and more. But if you smell these on coffee. It means that this coffee contains the same compounds that you smelled from the food and things you associate with it.
Slurp: When you slurp the coffee. You allow it to spread all over the tongue. Each taste bud contains 50 to 100 taste receptor cells that respond to various taste qualities. This will allow you to determine what the coffee tastes like.
Aside from this, you will be able to feel the weight of the coffee as it spreads in your mouth. This will help you decide if the coffee is easy to drink or not.
Spit: Instead of swallowing the coffee, what most coffee roasters do in coffee cupping is to spit out the coffee after tasting. Spitting the coffee enables you to experience the aftertaste of the coffee.
To taste the coffee notes with accuracy, what coffee roasters usually do is to use two spoons. A roaster will take a spoonful of coffee from the cup and pours it into another spoon to cool. This is done to avoid burning your tongue since hot water is poured into the freshly roasted coffee grounds into the cup.
What is Dark Roast?
As the name implies, dark roasts are coffee grounds or whole beans that are dark brown in color and, sometimes, almost black due to roasting. You'll know that you brewed a dark roast in your coffee if you noticed a sheen of oil on the surface of your coffee cup.
Science of Dark Roast Coffee
When coffee beans are heated, they undergo chemical and physical changes that give the coffee beans color, aroma and flavor. During the roasting process, the sugar inside the coffee bean caramelizes. The aromatic oils we see when the coffee is brewed comes from the fats within the coffee bean.
The flavors you'll taste in dark roast originates from the roasting process. The presence of bitterness, smokiness or burnt taste in the dark roast is common. Since it undergoes the roasting temperature of 240°C (464°F) and is roasted further beyond the second crack.
Flavors: Why do people like dark roast coffee?
Have you ever heard Starbuck's described as " burnt" or "over-roasted"? People who drink dark roast coffee aren't actually after the caffeine content of their joe. Between light roast and dark roast, the latter is most preferred because it's how coffee is traditionally perceived.
Not surprisingly, light roast coffee maintains the natural flavors of the green coffee bean – fresh, grassy, more earthy. On the other hand, dark roast tastes smoky and bitter with a little hint of sweetness.
Aside from the "coffee flavor" that dark roast gives, the taste of dark roast can also be enhanced. You can add milk, creamer or sugar to balance the smoky and acidic flavor of the coffee which makes dark roast more appealing. Something you can't do with a light roast.
Types of Dark Roasts:
Buying dark roast can be daunting, especially if you're not a casual coffee drinker. That's because dark roast goes by with its popular types such as French Roast, Italian Roast, Continental Roast, and Spanish Roast. But most of the dark roasts are used as the base for many coffee blends.
French Roast: Among the scale of darkness on the roast, the French Roast is one of the darkest. It is a double-roasted coffee with an intense smoky-sweet flavor with color that resembles dark chocolates.
Italian Roast: This type of dark roast has passed the second crack. It has a burnt flavor, but less caffeine content. It is darker and oilier compared to French Roast.
Continental Roast: This type of roast originated from the French and Belgian roasting tradition. It is roasted as high as it can get and is even darker than the typical Espresso roast.
Spanish Roast: A Spanish roast is nearly a black bean, which has passed the second crack. When brewed, you'll notice a shiny surface that comes from the oil of the bean. The roasting method used in Spanish Roast destroys the coffee bean's caffeine content. As a result, it has a thin body and a charred flavor.
Is Dark Roast Coffee More Bitter?
When a dark roast has passed the second crack, it becomes more flavorful. It no longer bears the original flavor of the green coffee bean but produces a more unique character. After being roasted, the dark roast loses its brightness as it gains bitterness. Yet, dark roast becomes full-bodied.
Compared to light roast and medium roast, coffee beans roasted dark are much more bitter but have few to none of the caffeine content.
Is Dark Roast Coffee Healthier? What are (if any) the health benefits?
In short, drinking dark roast coffee is beneficial. It contains a high concentration of melanoid. It is associated with antioxidant, anti-inflammatory, anti-cancer, and anti-hypertensive properties. Compared to light roast, the dark roast is more effective in replenishing the body's vitamin E and glutathione in the blood.
Another health benefit that you can gain from drinking dark roast coffee, is that it helps in burning fats to lose weight, according to a 2019 study.
Is there more or less caffeine in a dark roast coffee?
Caffeine. Is it safe? Is it healthy? Am I drinking too much? Is there any relationship between caffeine and dark coffee?
In a 2019 study determining the caffeine intake of college students, researchers found that 92% of the students consume caffeine in any form, with daily consumption of 159 mg/day. The leading reasons derived are to stay awake, they like the taste, to socialize, to improve focus, and to get energy.
The sudden increase in the number of coffee drinkers is also evident in a Kantar survey. Since 2003, the estimated 43% of teen coffee drinkers had doubled. These are numbers-driven partly by teens' choice of sweet coffee drinks over soda.
Actually, older consumers aged between 50 to 64 years old remain the leading coffee drinkers in the US, with a coffee intake of 226 ± 2 mg/day. Most of them prefer dark roast coffee. That's because the taste can be altered with the addition of milk or cream and sugar, which is more pleasing than with light roast.
Surprisingly, Dark roast coffee has less caffeine compared with light roast and medium roast. That's because dark roast coffee beans had lost their natural properties from the long roasting process done with the green beans.
On the other hand, light roast and medium roast still have higher amounts of caffeine due to the length of time in roasting the beans. (Breakfast Blends are often lighter roasts so that they provide more of a morning caffeine kick!)
It's also handy to know that decaffeinated coffee beans are a shade darker than regular coffee beans. In this case, don't rely on the color of your beans to know their roast level.
Conclusion
Whether you choose the light or the dark side of the coffee beans this tasty beverage that has been part of our daily routine will always have something to keep us motivated and on-the-go.
---
If you would like to learn more about our favorite coffees check out our annual review of the best coffee beans. You can also consider roasting your own coffee beans at home by following this simple guide.