The Breville Infuser: Can it Brew the Perfect Espresso?
Breville might've thought they aced the best at-home solution to brew a third-wave coffee. Is the search over with Breville Infuser? Be the judge as we share with you the features, settings, and setbacks of this semi-automatic coffee machine highlighted in this Breville Infuser review. Read and learn why Breville highly recommends it for an at-home third-wave coffee brewing experience like no other.
We've spent hours researching the Breville Infuser to save you time. Through Reddit and Facebook groups we've got the details to help you decide if it's the right machine. Hint, it's not perfect, but it does make mighty fine espresso.
Make sure to read the What You Need to Know Before You Buy section find out the important details about the Breville Infuser.
Top Rated
Breville Infuser Espresso Machine
The Breville Barista Express delivers third wave specialty coffee at home using the 4 keys formula and is part of the Barista Series that offers all in one espresso machines with integrated grinder to go from beans to espresso in under one minute.
DOSE CONTROL GRINDING.
OPTIMAL WATER PRESSURE
PRECISE ESPRESSO EXTRACTION
MANUAL MICROFOAM MILK TEXTURING
ESPRESSO MACHINE WITH GRIND SIZE DIAL
ESPRESSO MAKER WITH BUILT-IN COFFEE GRINDER
Check Latest Price
Learn More
We earn a commission if you make a purchase, at no additional cost to you.
Our Quick Review
Quick Review: Breville Infuser
Pros
Features galore
Cafe style foam
Rated #1 semi-automatic espresso machine
Cons
Can be hard to clean
Descaling is a pain
Summary
The Breville Infuser allows homebrewers to have the third wave specialty taste experience. Its pre-infusion function makes single and double-shot espresso simply delectable, adding the freedom for complete volumetric control to produce a balanced tasting coffee. The downside is that it is pricey for its features than other options in the same category.
Coffee Quality & Versatility
4
Overview
The Breville Infuser is a semi-automatic espresso machine for coffee drinkers who value quality-tasting coffee over quantity. It's a coffee machine that gives complete freedom in customizing the volumetric control and uses correct pressure through pre-infusion to brew delicious coffee.
About Breville
"We're the Food Thinkers!" is a powerful mantra that pushes creative trailblazers of Breville to manufacture and innovate tools for a fantastic kitchen experience. Breville is a household name connected to the most trusted home appliance in Australia. Its fame as a household product resembles that of Colgate for toothpaste or Kleenex for tissue. Name any kitchen product, and people will automatically mention Breville first, then any brand-specific.
As mentioned, Breville is the fruit of constant product innovation and manufacturing of a small home appliance company in Australia founded in Sydney (where the headquarter is currently located) in 1932. Aside from state-of-the-art coffee machines, Breville is also a home appliance manufacturer of toasters, blenders, microwaves, toaster ovens, and kettles.
Overview of the Breville Infuser
The Breville Infuser Espresso Machine allows coffee drinkers to prepare delicious espresso using the automatic espresso machine's pressure gauge. Its brewing process revolves around pre-infusion with the correct pressure and volume control to extract more balanced espresso flavors. Though it can brew barista-quality espresso, it still lacks maintenance and cleaning because it seems that Breville missed out on providing the best procedures to do it.
The Good
This infuser espresso machine highlights volume control and accurate pressurized infusion. Other noticeable features of the Breville infuser that you won't find in other Breville coffee machines include manual micro-foam milk texturing, flexible shot controls, and maintenance indicators.
Likewise, it has manual override settings from the shot selection to dosing that would bring joy to anyone who loves curating their cuppa and experimenting with latte art. These valuable features allow users to make great coffee with ease without going awry from preparing a palatable third-wave coffee.
Unlike the Breville Barista Touch, the interface on this machine is all analog. There's not touch screen fancy schmancy going on here.
The Bad
The Infuser requires great patience because figuring out the dosing can be quite a challenge. It's a rare feature to find in espresso machines, but still, trial and error are necessary to achieve that perfect cup you're aiming for. Other than this, the device should have a definitive guide for the cleaning and descaling process of the espresso machine to ensure that the machine will work for more years.
If you're on the fence about going for a "better" machine with Breville, the Infuser does not have a built-in grinder. You'll have to upgrade to the Barista Express or Barista Touch to get that.
The Bottom Line
Though Breville has promising features that make it a candidate for a perfect coffee maker, it still has some room for improvement, such as cleaning and maintenance. Descaling is such an essential feature because it can affect the quality of water for coffee brewing. Yet, it's one of the maintenance details that Breville missed out on by not providing a definitive guide about it.
The Infuser's Water Reservoir
There's a lot of trade-offs when considering buying a home espresso machine. One of these is the water reservoir. Some espresso machines come in big water reservoirs that won't fit in small kitchen spaces. Others have a small water capacity that's not enough to make an enjoyable pot of coffee. For a coffee lover, these are uncompromising experiences.
Yet, Breville Infuser is one of the exemptions with its 61oz water reservoir. The water capacity of Infuser allows homebrewers to prepare espresso as many shots they want. Not only that it has a high volume capacity, but the reservoir also comes with a filter to sieve the impurities out.
Also, it is recommended to place your Infuser espresso machine nearest water supply and a vast clearance space for convenient refilling for households that consume coffee in copious amounts.
Maintenance Indicators
Cleaning and maintaining the Infuser should put into practice. The front panel's maintenance indicators will remind you when it's time to clean and upkeep your drip tray. The light-up alerts users when it's time to pause the brewing time and start the cleaning cycle.
You can descale and clean espresso machines with hot water and vinegar. However, Breville Infuser comes with its cleaning system, where cleaning discs, tablets, and brushes are included in the packaging when you buy the unit. Though it has an Allen key that enables you to access the most recessed areas of the unit, better not poke into the device's inner workings.
Consequently, cleaning the Breville Infuser presents many learning curves because it takes a lot of practice to successfully prep and cleans the espresso machine properly.
Features of the Breville Infuser
If you're eyeing to add Breville Infuser to your kitchen space, here are the features that require your attention. This part is an essential read because the elements can help you identify if the semi-automatic machine matches how you prepare coffee and how you'd like your coffee to taste after brewing it using this coffee maker.
Performance and Quality
The Infuser coffee machine is an impressive home espresso machine for its brewing consistency. It has a pre-infusion function that evenly coats the fresh coffee beans with low-pressure water at the beginning of the extraction to better the shots' overall tasting. Not all Breville products have infuser functions. It's a rare feature in an espresso machine.
Another notable feature is the 15 bar Italian pressure pump used and the 1600w stainless steel Thermo coil single boiler system. This boiler system has PID control to keep the pressure and the temperature stable while extracting the coffee beans. These are vital features of a home espresso machine that guarantees a flavorful shot.
The Breville Infuser espresso maker also has some downsides too. If you're the type of homebrewer who wants control in the shots you make, the machine is not for you. The Infuser has fine-tuned settings that work automatically, so you don't have complete control over the espresso-making.
The manual steaming wand may provide you with a decent foam for latte art, but switching between steamed and frothed milk for cappuccinos and lattes won't be that smooth. Likewise, you might want to consider investing in a heavier and sturdier tamp so you will be able to tamp appropriately.
Volumetric Control
The Infuser espresso machine has a preset for espresso extraction that guarantees one or two-shot flavorful cup sizes. The volumetric control gives you the freedom to experiment with the settings and override the presets as well.
You can do the following if you want to be adventurous with your espresso shots:
Push the program button at the front panel.
You'll hear a beep sound, and the button light flashes to signal that the settings are about to change.
Select the shot volume that you want to customize to start the extraction.
Push the button again once you meet the desired volume.
And you can have the same settings on your next brewing cycle as the Infuser remembers the settings you previously used.
PID Temperature Control for Precision Brewing
The Breville Infuser uses the Proportional-integral-derivative or PID temperature control for a precise brewing. It is a heating system that keeps tabs on any changes in temperature during the extraction. When the Infuser detects any difference, it automatically adjusts to compensate for the altered temperature.
At the end of the extraction, the temperature is stable, and you got a palatable espresso shot in your cup. With Infuser, you can still adjust the baseline temperature and set it to operate between 195 and 205 degrees.
Powered by a Thermocoil Heating System
This Breville home espresso machine uses the Thermo coil heating system. It keeps the water circulating in the machine at an even temperature for a stable extraction. When the water goes from brewing to steaming, the water temperature switches quickly. With the time reduction, it takes a little time to produce espresso.
Design
15-bar Italian Pump
The 15-bar Italian pump in this home coffee machine has a commendable feature in producing a balanced tasting espresso. The 15-bar pump allows you to have complete volumetric control over the presets, manual overrides, and re-programmable volumes. Thus a much flavorful espresso shot lands in your cup.
How the Pre-Infusion Process Works
The Breville Infuser is famous for its pre-infusion function you won't easily find in any home espresso machine. So how does it work with Breville's?
With the pre-infusion function, the brewing process begins with hot water application to the ground coffee beans at low pressure. Such a process permits the ground coffee to expand slowly. As it expands, the tiny gaps in the puck were filled in, which encourages an even coffee extraction once the primary brewing commences.
The snag of it, though, is that it takes overall brewing longer. Yet, it ensures a more flavorful espresso extraction that's definitely worth the wait.
Usability
Steaming milk with the Infuser
If you want a delicate microfoam for your latte drinks, the Infuser's steaming wand can make it for you. The steaming wand has a full 360-degree rotation that gives you the freedom to adjust for different sizes of cups, mugs, and frothing jugs. So if you have plans of mastering latte art, the Infuser can provide you with the micro-foam on any container as your canvas.
You can also use the steam wand as a water supply for other hot drinks like teas and hot chocos and ready-made soups as well. To switch from steam to hot water function, just turn the knob on the side of the coffee maker.
Auto Purge
The Infuser also features an auto-purge function. It works by cooling the heating system in preparation for the next brew after it has prepared drinks previously.
Durability
The Breville Infuser prides itself on its durable stainless steel housing. Take note that stainless steel is resistant to corrosion and rusting. Plus, the stainless steel finishing gives a modern look to this kitchen appliance.
Aside from the housing, the drip tray, cup warmer, and the boiler's heating elements are also made of steel. The only part of the espresso machine that isn't made of steel is the portafilter made of chrome-plated brass, while the brew group is made of aluminum which is also durable.
The downside of having steel as the primary component material of the Breville Infuser is that the steel's heating element is not as efficient as brass or copper, which are thermally conductive. Thus, it takes more time to heat up.
Specifications
Bar Pump: 15-bar Italian Pump
Water Tank Capacity: 61 oz
Technology: Thermo coil heating system
Power: 1650 watts
Dimensions: 13.7 x 11.5 x 13.2 inches
Weight: 17 lbs
Pre-Infusion Function: Yes (gradually increases water pressure spread grinds evenly as it expands).
Purge Function: Yes (automatically adjust water temperature after steam)
Settings: Single or double shot, volumetric control, and manual override.
Voltage: 110-120 Volts
Warranty: the 1-year limited product warranty
Accessories Included
When you buy an espresso machine, it usually comes with filter baskets and coffee scoops as added accessories. With the Breville infuser, it includes the following accessories:
Single & dual wall filter baskets – 2 sets (pressurized and non-pressurized)
Coffee scoop
Stainless steel milk jug
Cleaning disc & tablets
Cleaning tool & Allen key
Water filter holder & filter
The unit also includes a razor dose trimming tool, water filter, holder, and stainless-steel milk jug in its package. Cool! Whether you're a beginner or a coffee maker expert user, the razor dose trimming tool is an essential accessory if you're aiming for the right balance in the espresso shots you make.
Likewise, quality water contributes to a better-tasting coffee, so the inclusion of the water filter sounds reasonable as an added accessory. The addition of the milk jug also frees you from the hassle of finding a container for your attempt to master the micro-foam art.
What You Need to Know Before You Buy
Like any other shopper, I usually search for the item online, read the actual reviews of people who bought it ahead of me before actually buying it after days of contemplation. So if you're planning to buy Breville Infuser, here's what I have filtered that you need to know about this espresso machine before you buy it.
Breville Infuser has a rare brewing feature, which is the pre-infusion function. As defined by Michael Teahan, a longtime espresso pro, pre-infusion is a method where the coffee grinds in the puck are pre-soaked in the water at reduced pressure and slightly higher temperature. The pre-soaking process allows the coffee grounds to saturate evenly to lessen any effect of channeling.
The Infuser can also customize espresso shots and not just pre-measured shot volume. The pre-infusion pressure created from holding down the espresso button produces a palatable coffee cup until it lets go.
Compared to other espresso machines like Gaggia and Silvia, which use standard parts, Breville infusers' replaceable parts are hard to find.
The Breville Infuser can last for years, but the Gaggia Classic pro is the better option for a reliable espresso maker in terms of long-term service and flexibility if that's your biggest dealbreaker.
You can program your preferred shot length with Breville Infuser. Yet, you can't alter its pre-infusion time unless you use the manual mode setting.
The Infuser uses a 54mm portafilter, far from the standard 58mm that most espresso enthusiasts recommend. However, you can still pull out a good espresso by working around the coffee to water ratio and the espresso shot pull times.
The Breville Infuser is a beginner-friendly espresso maker because it has all the technology that Rancilio Silvia and Gaggia Pro lacks. It brews coffee, steam milk, and heat water quickly – everything entry-level users need without breaking their bank.
The Infuser doesn't have a cold touch wand or a lever to open and close the espresso. It only has a button for the pre-measured volume settings.
This coffee machine requires more care, especially on the quality of the water you'll use to make espresso and maintain the machine. There aren't many DIY fixes you'll find online.
FAQs
Is the Breville Barista Express worth it?

Yes. Though Breville Barista Express doesn't have a high-end espresso machine's features, you can still prepare a delectable coffee. The installed grinder might not be the best, but it can give you the best shot. Yet, you won't be able to get the same results when you do back-to-back shots with Breville's Barista Express.
How do you use a Breville infuser espresso machine?
For the initial start-up of the Breville Infuser espresso machine, here's what you should do:
1. Make sure that the water filter is securely fitted inside the water reservoir.
2. Fill the water reservoir with cold water up to the MAX mark. Make sure that you pushed down the reservoir completely to lock it in place.
3. Plug the machine into the electric outlet that supplies 110/120V.
4. Switch the machine ON by pressing the POWER button. Doing it correctly will make the button light flash, and the machine starts heating.
5. Don't panic if you hear a pumping sound. It means that the 15-bar Italian pump is working.
6. Once the machine has reached its operating temperature, the POWER button's lights will stop flashing and go on standby mode, ready for the 'flushing mode.'
7. Water flush your machine without the ground coffee to condition your coffee maker. Press the 2 CUP button in the control panel to run hot water in the Infuser's group head for 30 seconds.  
8. For 10 seconds, activate the hot water. 
9. Repeat the flushing mode process until the water reservoir gets empty.
Once you have conditioned your Breville Infuser, here's what you can do to brew your first espresso shot with this semi-automatic coffee machine:
Fill the water tank to the MAX mark. Make sure that the water filter is in place before you plug the cord into the outlet.
1. Press the POWER button ON, and it will flash as the machine starts to heat. Once the proper temperature is reached, all the buttons in the panel will illuminate.
2. Carefully remove the portafilter from the grinding cradle and put your ground coffee. Gently tamp down the grounds. Use the Razor precision dose trimming tool when you trim the puck for consistent extraction. Re-attach the portafilter.
3. Pre-program the machine to the desired number of shots. 
4. Position your mug in the drip tray and wait for your shots to land in your cup.
Which Breville espresso machine is the best?
The best Breville espresso machine depends on your espresso preference. If you want a flexible semi-automatic espresso machine that can rival the high-end options, the top pick is the Breville Barista Express. For espresso aficionados, it is user-friendly and has automatic functionality in terms of grinding coffee beans with its stainless steel conical burr grinder and programmable settings.
 
How do you reset a Breville infuser?

Reset the machine to the default 1 CUP and 2 CUP shot volumes by pressing the PROGRAM button and hold it until the device beeps three times. Once you hear the beep, release the PROGRAM button.
How do I clean my Breville infuser?

You'll know it's time to clean/descale when its button lights start flashing. The process involves back-flushing, which is different from descaling.
1. Here's what you got to do:
Insert the following into the portafilter in order: 1 CUP filter basket, supplied cleaning disc, and one cleaning tablet.
2. Secure the portafilter into the group head.
3. Place a big container underneath the group head.
4. Ensure that the water reservoir is filled with cold water up to the MAX mark and the drip tray is empty.
5. Turn off the machine by pressing the POWER button.
6. Press the 1 CUP and 2 CUP buttons simultaneously while holding the POWER button at the same time. Hold the three buttons for 10 seconds.
7. If done right, the cleaning cycle will start. It will take 5 minutes before it finishes. Water will pour down the group head and will signal its end when you hear three beeps.
8. Detach the portafilter and check if the cleaning tablet dissolved. If not, repeat the steps until the tablet dissolves.
Alternatives
Breville Barista Express Espresso Machine
The Breville Barista Express is a semi-automatic espresso machine that features dose control grinding, optimal water pressure, precise water extraction, and manual microfoam milk texturing. It has a built-in, conical burr coffee grinder and options for grind size presets.
Built-in Grinder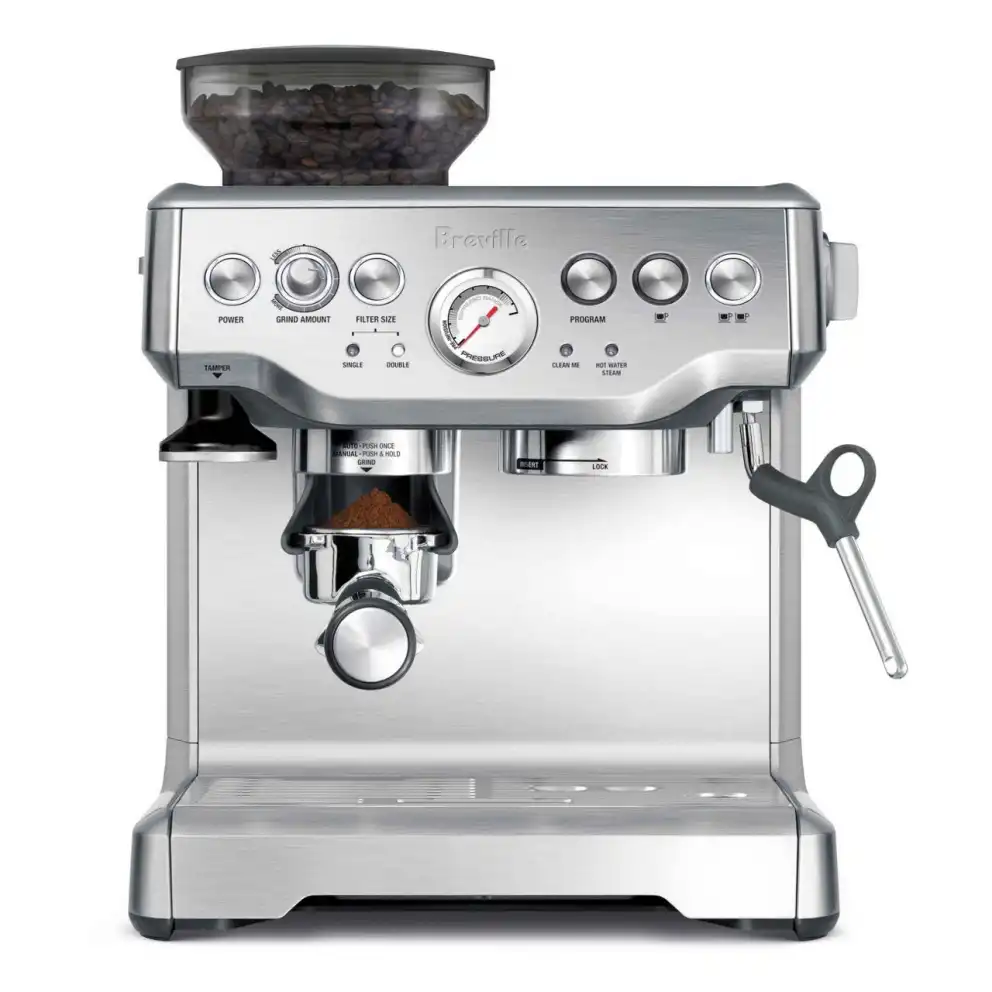 Breville - The Barista Express Espresso Machine
The all-in-one espresso machine. Create third wave specialty coffee at home –from bean to espresso– in less than a minute. The Barista Express™ allows you to grind the beans right before extraction for full flavor and precise temperature control (PID) ensures optimal espresso extraction. Be hands on like a barista with manual microfoam milk texturing to deliver authentic café style results in no time at all.
Check Latest Price
Learn More
We earn a commission if you make a purchase, at no additional cost to you.
De'Longhi 15-bar Pump Espresso Maker
The De'Longhi Espresso Maker flaunts its two separate thermostats for individual control of water and steam pressure, rapid cappuccino system for instant brewed coffee, manual frother, 3-in-1 filter holder, convenient detachable water tank, and removable parts for ease of maintenance.
Calphalon Temp IQ Espresso Machine with Grinder & Steam Wand
The Calphalon Temp IQ has pre-programmed settings for single and double espresso shots, thermoblock heating technology, PID temperature control, 58mm size portafilter, and detachable 2.8L water reservoir. It's a party coffee maker.
Best Mid-Level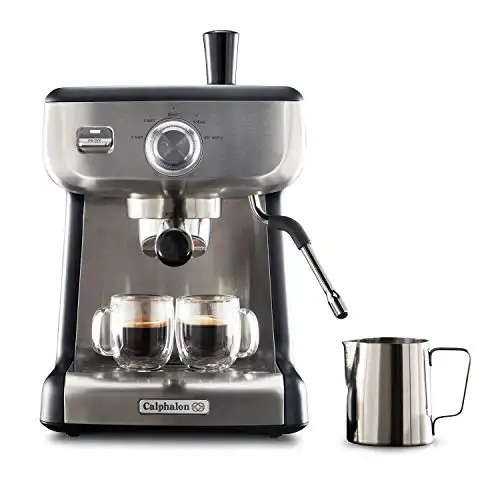 Calphalon Temp iQ Espresso Machine with Steam Wand
15-Bar Italian pump delivers the right amount of pressure for maximum flavor extraction and produces a beautiful layer of crema for your Espresso
Dial interface for selecting steam, hot water, and pre-programmed single and double shots
58mm café-sized porta filter holds more grounds and ensures even water dispersion and extraction for robust flavor
Thermoblock heating technology and PID temperature control delivers even heat for consistently great-tasting Espresso, and pre-infusion gently blooms The espresso grounds for optimally extracted Espresso
Removable 2.0L water reservoir with hinged lid for easy filling
Cup warming tray for espresso-ready cups and steam wand froths milk for creating cappuccinos, lattes, and other drinks, just like in coffee shops
Includes stainless steel milk pitcher, tamper,and cleaning pin (Cleaning Pin located in the 'Accessories' storage area under the Drip tray )
Check Latest Price
Learn More
We earn a commission if you make a purchase, at no additional cost to you.
Verdict
The Breville Infuser allows homebrewers to have the third wave specialty taste experience. Its pre-infusion function makes single and double-shot espresso simply delectable, adding the freedom for complete volumetric control to produce a balanced tasting coffee. The downside is that it is pricey for its features than other options in the same category.
If your budget is more limiting, give the Calphalon Temp IQ a go as it offers reasonable quality on a mid-level budget. Finally, if you're on the fence about forking out a lot of money for a Breville, the De'Longhi 15-bar Pump Espresso Maker is a solid choice.
Top Rated
Breville Infuser Espresso Machine
The Breville Barista Express delivers third wave specialty coffee at home using the 4 keys formula and is part of the Barista Series that offers all in one espresso machines with integrated grinder to go from beans to espresso in under one minute.
DOSE CONTROL GRINDING.
OPTIMAL WATER PRESSURE
PRECISE ESPRESSO EXTRACTION
MANUAL MICROFOAM MILK TEXTURING
ESPRESSO MACHINE WITH GRIND SIZE DIAL
ESPRESSO MAKER WITH BUILT-IN COFFEE GRINDER
Check Latest Price
Learn More
We earn a commission if you make a purchase, at no additional cost to you.
Learn more about other Breville coffee machines and tools that can help you make the best coffee at home:
Espresso Machines:
Breville Espresso Machine Comparison Guide: A Must Read Before You Buy
Coffee Makers:
Grinders:
Milk Frother: