Breville Precision Brewer Review: Is It Still A Good Drip Coffee Maker in 2023?
The Breville Precision Brewer is a Specialty Coffee Association (SCA) certified drip coffee maker that has all the bells and whistles of a high-end coffee machine. This home brewing machine allows you to prepare the perfect coffee with precise temperature control and brewing time.
The Precision Brewer Thermal (the glass model is available too) coffee maker features automatic presets, six brewing modes, and customizable settings, which will be discussed further below. So if you're on the hunt for the best drip coffee maker for around $300, dig in further in our Breville Precision Brewer review and see what makes this coffee maker ideal for you.
Breville Precision Brewer Review 2023 Summary
The Breville Precision brew settings allow you to customize the temperature and brew time. It will enable you to take full control of the bloom time flow rate and temperature flow rate so you can prepare coffee that suits your palate. For a top-of-the-art drip coffee machine of around $300, the Breville Precision Brewer is an excellent buy if you want to brew a single cup or large pot of coffee with many customizations to your heart's desire.
Main Features & Benefits of the Breville Precision Brewer
To know if the Breville Precision Brewer is for you, let's take a look at the nitty and gritty of this coffee maker:
Carafes
The Precision Brewer comes with two options for the carafe: thermal and glass. The thermal costs about $40 more than the glass carafe. In our research, the thermal carafe offers the highest value in terms of heat efficiency as the machine doesn't have to be turned on. The glass on the other hand will require you to keep the machine running to heat the coffee from the bottom.
It's worth noting that a sealed enclosure also keeps the coffee fresher and delays the onset of acidy flavor. After about 15 to 20 minutes, volatile acids in the coffee start to exit, and oxygen starts to combine with the coffee oils, resulting in a more bitter and sour-tasting brew. In our opinion, the thermal carafe is the better option.
Technology
One important factor to a delicious cup of morning joe is in the temperature of water used. When you look into the process of brewing coffee, all drip coffee makers prepare coffee by heating water and releasing hot water through the grounds to drip to the carafe sitting on the plate below.
In the case of Breville Precision brewer, you can prepare coffee with your preferred water temperature and brew time. The water temperature is adjustable between 197 and 204 degrees. Such a feature made Precision Brewer to be shortlisted by the SCA.
The Breville Precision also has the "showerhead technology." This piece of technology enables you to maximize the coffee grounds by spraying hot water evenly in the filter rather than letting the water drip into the center.
The coffee you prepare with Breville Precision can be tastier than coffee brewed with the usual cheap drip coffee maker. The machine is optimized to allow bloom time and other tweaks to your preferred taste. The brewing chamber holds the water based on your preset. Thus, it permits you to extract the full flavor of the coffee grounds in your command.
Six Presets
Both Precisions with glass carafe and thermal carafe have six brewing modes, five of which are preset. The sixth is called MyBrew, which you can customize to your liking.
To understand how these presets prepare coffee, here's a short overview of each setting:
Gold Cup
The Gold Cup setting allows you to prepare coffee according to the SCA's technical requirements. This setting automatically adjusts the brewing time and brew temperature. To get the perfect cup, follow the instructions for the Gold Cup in terms of grounds to water ratio.
Fast
If you want to prepare a pot of coffee for everyone, just tap the Fast setting. It will prepare a pot of delicious coffee half the time it takes for a traditional set to brew coffee. The Breville coffee maker takes 6 to 8 minutes in its standard-setting, while the Fast setting takes only 3 to 4 minutes to brew coffee.
Strong Brew
Adding an extra kick to your coffee is made easy with Breville Precision's strong brew preset. The coffee maker in this preset automatically boosts the strength of the coffee without the need for any manual adjustments. For a much stronger coffee, you can add more grounds in the filter than the usual water to grounds ratio.
Iced Coffee
The Over-the-Ice preset requires a more robust coffee to counteract the melting of ice. When you choose this preset, you have to add twice as many grounds as the average ratio. Also, you have to leave the beverage for at least 2 hours to cool before serving. In this setting, you can prepare 20 oz of coffee.
Cold Brew
Cold-brew is different from iced coffee in terms of process and taste (check out our blog for the full discussion about cold brew). Cold-brew is prepared out of concentrated coffee extract that is steeped for some time. The same extract can also be used for making desserts, cocktails, and other iced drinks.
As a preset to Precision Brewer, it takes 14 hours before you can serve it. However, if you want a more potent cold brew, you can steep the grounds for up to 24 hours.
MyBrew
With MyBrew preset, you're the God of your coffee. You can fine-tune your Precision Brewer's brew settings by customizing the parameters such as the brew temperature, bloom time, and flow rate. In this way, you can achieve the taste of the coffee that suits your palate – whether it's earthy, floral, fruity, etc.
Some Breville Precision users shared on Reddit the golden nuggets of brewing their morning joe to perfection. Here are some of the shared custom settings worth considering when you choose the MyBrew setting:
"I use 1 minute bloom, max bloom volume, 98 degrees, and minimum flow. This is for a 20 gram/340 ml brew. I found that the bloom volume is a bit inconsistent at such small doses, so I set it to maximum just to be sure. Lower temperatures with darker roasts."(Wiz_Kalita)
"I have the Breville precision brewer from Australia. I like my fruity, jammy Ethiopians in a 1:16.67 ratio of coffee to water using the cone filter or pour-over attachment.
Bloom time: 50sec Brew temp: 85deg Flow rate: Slow" (The_Bat_Signal)
"Bloom time 45s, Bloom vol 3, Brew temp 98, Flow rate 2.
I reduce temp to 95 for dark roasts.
I use a Wilfa Svart grinder and usually go around the 'A' to 'P' on the Aeropress area. (This will only make sense if you have the same grinder!). This depends on how much coffee I'm making and how dark the roast is. I go coarser for bigger batches and darker roasts." (MuShuHugh)
PID Temperature Control
Craft coffee takes a whole new level with Breville Precision Brewer's PID temperature control. The PID control allows you to adjust the temperature with precise digital temperature control. The Thermo coil heating and pump system make up the PID control, enabling the brewer to have temperature adjustability and precision that is far better than the usual horseshoe-shaped element system.
Pour-Over Adapter
The Precision Brewer comes with a pour over mode, but Breville highly recommends using its adapter accessory for the best-tasting drip coffee. However, it isn't included when you buy a Breville Precision coffee maker, as you'll need to buy a separate pour-over adaptor kit.
Likewise, the traditional filter basket assembly is also removable. Alternatively, you can use a coffee dripper, where Hario V60 and Kalita Wave are the highly suggested drippers. Yet, these are some of the fun options that you can do if you want to automate your pour-over experience with Breville Precision fully.
Single Cup Brewing
If you'll be brewing coffee for one, the Breville Precision coffee maker has a single-cup brewing option. The coffee maker has a unique single-cup technology that permits you to brew your coffee beans directly into your mug. Using this mode, you can brew coffee up to 20 ounces.
Though this machine can brew a single serving of a cup of coffee, it has a fantastic steeping technology that operates automatically. It can brew coffee as quickly as Keurig without any pod waste. Although it works wonders with travel mugs and large pots, it's best to brew coffee for a single serving in an inverted bowl rather than a small cup to prevent splashes.
Filters
The Breville Precision Brewer comes with a flat-bottomed filter basket holder. It is compatible with gold-toned filters and standard paper filters. However, if you prefer using a cone filter adapter, it's best to use the #4 paper filters if you're aiming to brew small quantities of drip coffee.
Steep-and-Release Technology
Precision Brewer Thermal's steep-release technology is one of its innovative features you'll find only in the Breville coffee maker. This feature allows you to control water and coffee grounds contact time, especially when you're brewing a single-serve of 20oz cups of coffee.
Also, this feature is helpful when you prepare for a cold brew because it guarantees that the full flavor of the coffee grounds is adequately extracted by controlling the contact time of water and coffee grounds.
Specifications
Volume Capacity: up to 60 ounces /12 cups
Dimensions: 12.4 in x 6.7 in x 15.7 in
Capacity per Brew Cycle: can brew up to 60 ounces or 12 cups given that each cup of coffee is 5 ounces. If the coffee volume is increased to 8 ounces per cup, one brew cycle can prepare about 7.5 cups of coffee.
Warranty: It has a 2-year limited product warranty
Power and Voltage: it operates in 1650 watts (110-120 Volts)
Accessories
The Breville Precision Brewer has the following accessories:
Thermal Carafe
Coffee Spoon
Cone filter basket insert
Mesh basket filter
Flat bottom basket filter paper pack (10 filters per pack)
Water hardness test strip
Use and Care
The Breville Precision Brewer is a versatile coffee maker. Yet, it requires a learning curve for you to figure out how each of its settings can give you a perfect cup of craft filter coffee. The instructions that come with the Precision brewer might be overwhelming. Still, Breville makes the coffee maker's interface easy to operate with just two knobs and an intuitive, easy-to-read screen.
Cleaning and maintenance of the Precision Brewer Thermal is not rocket science. You can wipe the unit's exteriors with a soft cloth, while the removable parts of the coffee maker can be washed with warm soapy water.
For a long-lasting carafe, Breville recommends emptying and rinsing the carafe and lid after each use. Likewise, descaling the coffee drip machine regularly can help you maintain the quality of craft-filter coffee you prepare.
When it comes to a specific brand of descaling solution for your coffee brewer, a Breville customer representative advised that any descaling solution meant for coffee pots can be used. However, if you prefer a proven-safe, homemade descaling solution to clean your coffee machine, you can use the 50/50 mixture of water and white distilled vinegar.
If you dread the time, it takes to descale a coffee machine, where usually it takes hours to finish. The Precision Brewer thermal coffee maker descales for a matter of 15 minutes. So there's no excuse for you not to descale your coffee machine.
What You Need to Know Before You Buy
Finding the best drip coffee maker for your daily morning coffee needs can be tough. So rather than swim in the ocean of Breville Precision Brewer reviews on the internet to find the answers, we filtered out what you need to know before you ship it out.
---
SCA Home Brewer Certification
The Specialty Coffee Association Certification is given to coffee machine manufacturers who passed the strict requirements of brewed coffee quality, determined by the SCA committee. The said SCA Home Brewer Certification program was developed by a group of coffee science experts and professional coffee tasters and evaluate coffee brewers based on the following criteria:
Proper water temperature
Brewing time
Capability to brew coffee within and beyond the SCA Golden Cup recommendations
The Breville Precision Brewery machine was awarded SCA certification in 2017.
About Breville
Breville is a household name connected to the most trusted home appliance around the world. Its popularity as a household product resembles that of Colgate for toothpaste or Kleenex for tissues. Name any kitchen product, and people will automatically mention Breville first, then any brand-specific. There's a reason they are well-known as they've been around nearly a century.
Breville is the fruit of constant product innovation and manufacturing of a small home appliance company in Australia founded in Sydney (where the headquarter is currently located) in 1932. Aside from state-of-the-art coffee machines, Breville is also a home appliance manufacturer of toasters, blenders, microwaves, toaster ovens, and kettles.
Their coffee-related products tend to focus on innovation and technology. You'll see that their grinders [link], Nespresso machines [link], and espresso devices all have state-of-the-art functionality.
Breville Precision Brewer Alternatives
Technivorm Moccamaster (10-cup Coffee Maker)
The Technivorm Moccamaster is a party-type of coffee maker because it allows you to prepare a 40 oz pot or 10 cups of coffee in 4 to 6 minutes using one switch. Although it's pump-free, it can still prepare a delicious coffee with the water's correct temperature. Best of all, this coffee machine can last a lifetime as the device is made of BPA/BPS/BPF and Phthalate-free plastics as well as durable aluminum and stainless steel. Surprisingly, it comes with a 5-year warranty and they encourage home DIY fixes for any problems, unlike Breville. A quick google search will result in a marathon of comparison with the Breville Precision Brewer vs the Moccamaster. You can't go wrong with the Moccamaster and it's highly related in Reddit group forums.
Best Alternative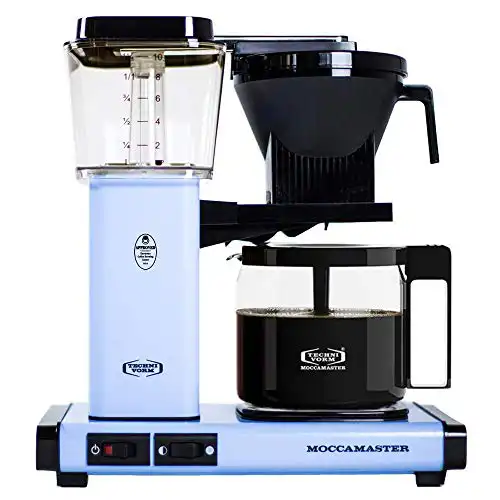 Technivorm Moccamaster
Perfect Coffee Every Time: This pump-free coffee maker heats water to the correct temperature for coffee extraction
Easy to Use: The Moccamaster brews a full 40 oz pot of coffee in 4-6 minutes using one switch
Quiet and Safe: The Moccamaster KBG quietly brews your coffee and automatically turns off after 100 minutes
Quality Materials: Moccamasters last a lifetime. We use BPA/BPS/BPF and Phthalate free plastics and durable stainless steel and aluminum
Delicious Coffee and Peace of Mind: Moccamaster coffee brewers have a 5-year warranty
Check Latest Price
Learn More
We earn a commission if you make a purchase, at no additional cost to you.
Bonavita One-Touch Coffee Maker
The Bonavita One-Touch is an 8-cubic inches coffee maker made of stainless steel. It features an optional pre-infusion mode, where it wets the freshly ground coffee to degas the beans before it is brewed. Likewise, it features a powerful and precise 1500w water heater, which maintains the optimal brewing temperature of 91°-96°C.
Bonavita One-Touch Coffee Maker BV1900TS
The Bonavita coffee maker offers a compact design that can brew a full carafe in about 6 minutes. It features a 1500W heater to maintain an optimal brewing temperature for flavor extraction and a stainless steel thermal carafe. The machine is also designed to mimic artisan pour-over brewing and an optional Pre-Infusion Mode to enhance the flavor of fresh roasted coffee.
Verdict
The Breville Precision brew settings allow you to customize the temperature and brew time. It will enable you to take full control of the bloom time flow rate and temperature flow rate so you can prepare coffee that suits your palate. For a top-of-the-art drip coffee machine of around $300, the Breville Precision Brewer is an excellent buy if you want to brew a single cup or large pot of coffee with many customizations to your heart's desire.
If you're wanting something more reliable and worth the investment, check out the Technivorm Moccamaster.
Other Breville Machines That May Interest You
Espresso Machines:
Breville Espresso Machine Comparison Guide: A Must-Read Before You Buy
Coffee Makers:
Grinders:
Milk Frother: