Tested: Best 5 Cup Coffee Makers in 2023
If you ever find single-serve coffee machines yield too little brew while the bigger brewers produce just too much coffee for you, then 5-cup coffee makers are here to save the day.
With their small sizes and ability to make multiple cups, these machines hit the right spot for frequent drinkers who still want to save some kitchen space.
I researched and tried some of the most popular models, here are the best 5-cup coffee makers you can buy in 2023.
If you're short on time, here are my top 3 picks:
1. Top Pick
Bonavita BV1500TS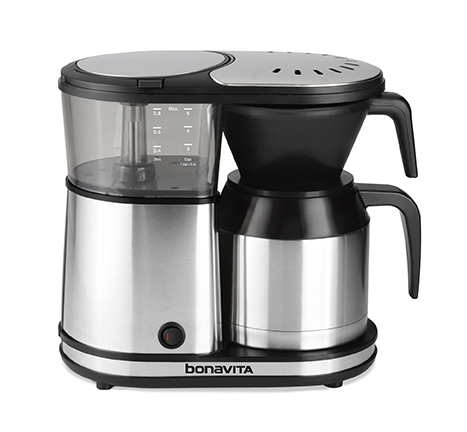 The Bonavita 5 Cup Drip Coffee Maker features 1100 watts of power, a double wall thermal carafe t...
1100 w heater
Thermal carafe
Showerhead for even saturation
Check it out
2. Runner Up
Zojirushi EC-DAC50 Zutto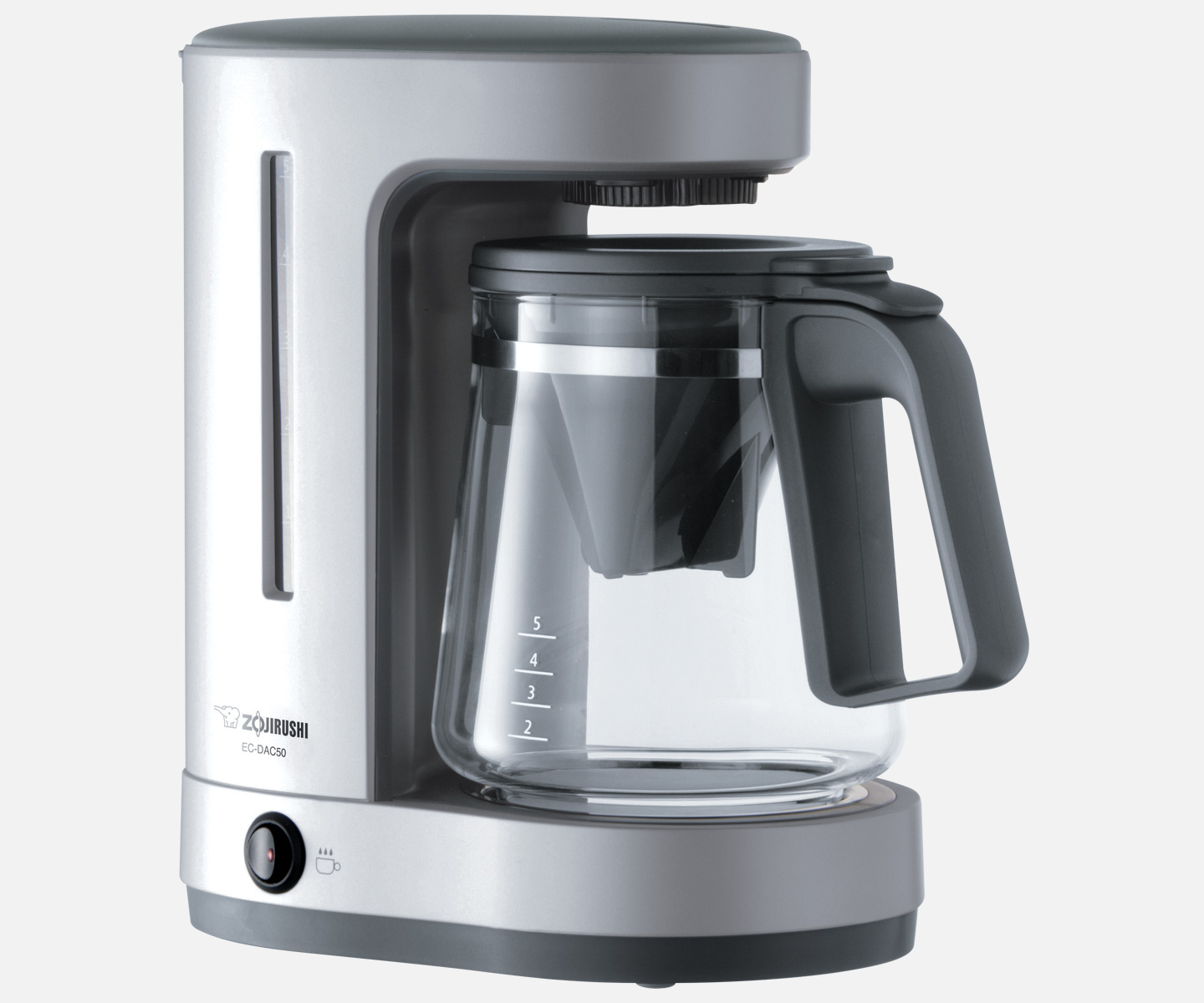 This automatic drip coffee maker features a compact design with a removable water reservoir and a...
Built in water purifier
Removable water tank
Great design
Check it out
3. Budget Pick
Capresso 5-Cup Mini
The compact Capresso 5-Cup coffee maker features a programmable timer, goldtone filter to elimina...
Programmable start time
Keep warm function
Goldtone filter
Check it out
What is a 5-Cup Coffee Maker?
A 5-cup coffee maker can produce 25 to 30 oz of coffee and is smaller in size compared to the standard 12-cup machines.
The term "cup" here is not the unit of measurement (that's 8 fl. oz per cup), but instead refers to the number of servings you can make, which is generally 5-6 oz per cup of coffee, hence the 5-cup coffee machine's 25 oz yield.
Why Choose a 5-Cup Coffee Machine? Isn't it too small?
Getting a 5-cup coffee maker brings you a number of advantages over its single-serve and bigger counterparts:
1. It saves space
After placing a 5-cup coffee maker in my kitchen, I must say it felt refreshing to the eyes. The compact size of this device makes me feel like I have more room to move as I prepare my cup, making my morning ritual a lot easier.
2. It's convenient
If you need to brew multiple cups at once, then this beats manual or single-serve brewers in convenience, hands down. It's really ideal for small gatherings and offices.
3. More environment-friendly
Compared to other automatic brewers, opting for a 5-cup coffee maker can really reduce your footprint. Single-serve machines from brands like Keurig leave a lot of waste due to their pods (so use a reusable K-cup instead), while bigger drip machines often have leftover coffee.
With a 5-cup coffee maker, you get just enough coffee and you don't have a pile of pods in the wake of your coffee cravings.
The 5 Best 5-Cup Drip Coffee Makers in 2023
If you're ready to jump into the world of 5-cup brewers, here's an overview of my top 5-cup coffee makers in the market today:
1. Bonavita BV1500TS
2. Zojirushi Zutto
3. Capresso Mini
4. KRUPS Simply Brew
5. Mr. Coffee Mini Brew
Features
– Pre-infusion mode
– 1100W heater
– Dishwasher-safe
– Integrated boiler system
– Charcoal water filter
– Removable water tank
– Programmable Timer
– Cup Warmer
– Brew Pause
– Automatic Keep Warm
– No Drip Pause
– Grab-a-Cup Auto Pause
– Lift and Clean Filter Basket
Filter Basket
Flat bottom
Cone
Reusable GoldTone filter
Reusable basket
Flat bottom
Material
Plastic, stainless steel
Plastic
Stainless steel, Glass
Stainless steel
Glass, Plastic
Carafe
Thermal carafe
Glass carafe
Glass carafe
Glass carafe
Glass carafe
Weight
5 lbs
4.64 lbs
2 lbs
2.78 lbs
2.93 lbs
Dimensions
12.3 x 6.2 x 10.6 in
5 x 8 x 10 in
6.25 x 8 x 10 in
5.71 x 8.07 x 10.08 in
10.7 x 9.8 x 7.2 in
1. Bonavita 5-Cup One-Touch Coffee Maker BV1500TS (Editor's Choice)
The Bonavita 5 cup coffee maker is highly recommended by coffee snobs on Reddit for its temperature consistency, compactness, and ease of use.
Its pre-infusion mode helps in saturating freshly roasted ground coffee which allows degassing before the brewing cycle starts.
You can enjoy cups of coffee the whole day without worrying if the coffee will get cold or not because its carafe is made of durable stainless steel. Other detachable parts including the carafe lid, showerhead, and filter basket are dishwasher safe for convenience of cleaning.
It's a coffee maker to last as the Bonavita One-Touch 5-cup coffee maker offers a 2-year warranty.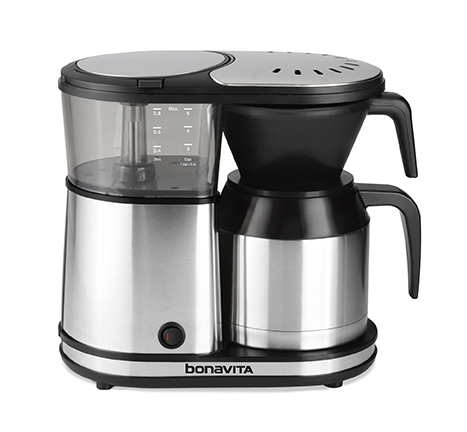 The Bonavita 5 Cup Drip Coffee Maker features 1100 watts of power, a double wall thermal carafe to keep coffee hot, and SCA certification for optimal coffee extraction.
This pour-over style coffee maker mimics the hand-crafted flavor of manual brewing in a fast and convenient automatic drip coffee machine.
Bonavita 5-Cup Coffeemaker Features
1100W heater delivers brewing a temp of 198°-205°F (91°-96°C)
Stainless steel thermal carafe
Pre-infusion mode for blooming coffee
Filter basket: Flat bottom
Material: Plastic and stainless steel
Dimensions: 12.3 x 6.2 x 10.6 inches
Weight: 5 pounds
2. Zojirushi EC-DAC50 Zutto 5-Cup Drip Coffeemaker (Unique Design)
The Zojirushi 5-cup drip coffee maker stands out in both its sleek look and impressive features. Interestingly, the conical basket goes into the carafe, not inside the machine.
This coffee maker can prepare up to 5 cups of coffee that is automatically kept warm by its integrated boiler system. It also has removable parts that can last up to 2 years of use.
Among other coffee makers I've found, the Zojirushi coffee maker is the only sustainable machine I've seen when it comes to cleaning.
Instead of using chemicals to clean water or solutions for perfect descaling, the Zojirushi comes with a charcoal water filter that purifies water to make it more palatable.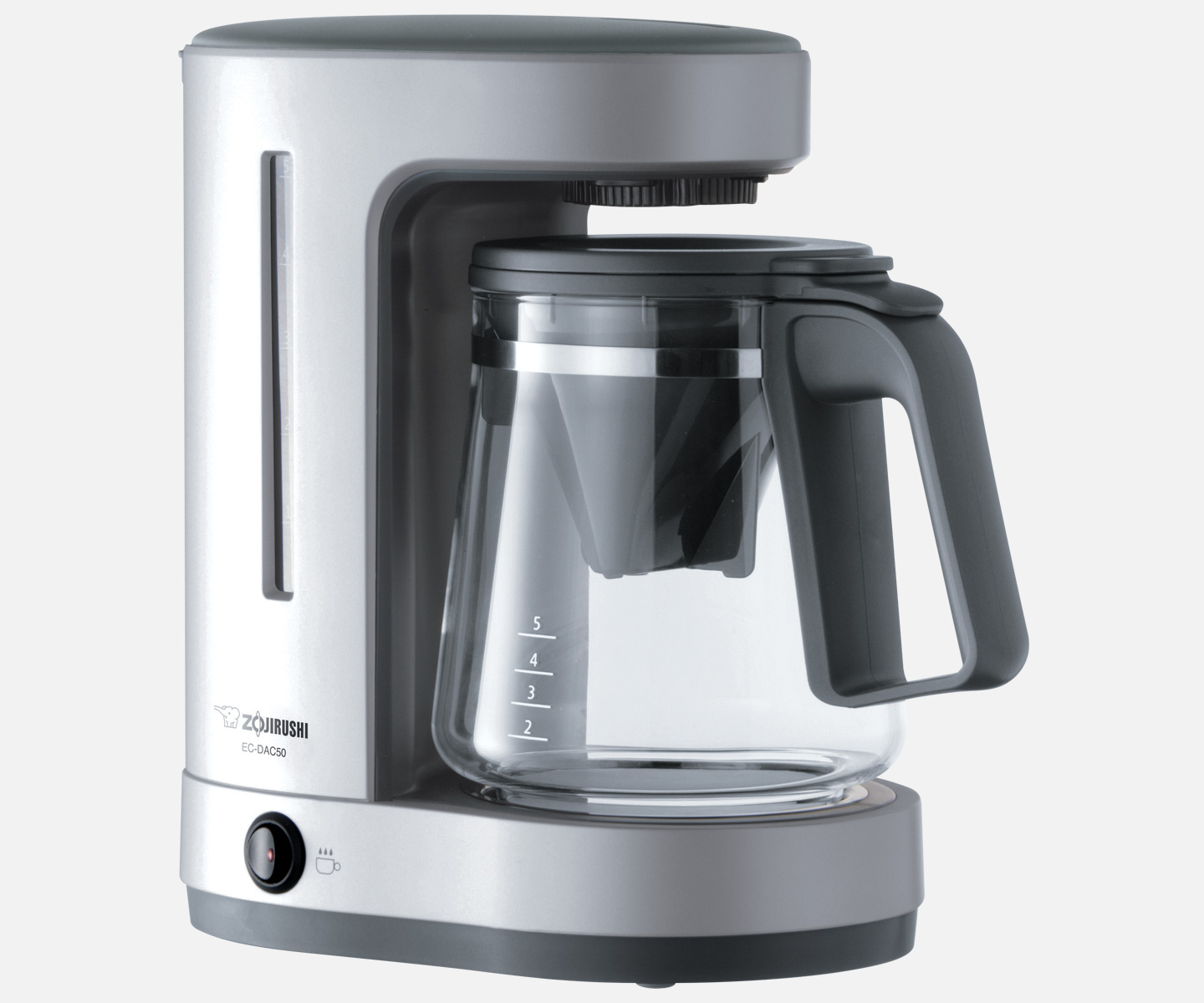 This automatic drip coffee maker features a compact design with a removable water reservoir and an internal cone filter that brews up to 5 cups of coffee. It has simple one-button operation and keeps coffee hot after brewing.
The built-in charcoal filter helps purify tap water for 2 years.
Zojirushi EC-DAC50 Zutto Features
Glass carafe
Integrated boiler system
Removable water tank
Filter: Cone
Material: Plastic
Dimensions: 5 x 8 x 10 inches
Weight: 4.64 pounds
3. Capresso 5-Cup Mini Drip Coffee Maker (Programmable Timer)
Another standout brewer among coffee drinkers is the Capresso 5-Cup coffee maker which has a sleek black and stainless steel design.
It comes with a programmable timer which allows you to automatically brew at your desired time. So no more rushing to fix your own cup of coffee when you need it.
With the GoldTone filter, you can expect a deliciously extracted cup of java. Plus you can come back for more and still enjoy hot coffee thanks to its cup warmer that lasts for up to 2 hours.
The compact Capresso 5-Cup coffee maker features a programmable timer, goldtone filter to eliminate paper filters, keep warm function, and drip stop to pour mid-brew.
With its functions like the programmable start time and 2-hour auto shutoff, this drip coffee machine aims to provide up to 5 cups of freshly brewed coffee in a convenient package.
Capresso 5-Cup Mini Drip Coffee Maker Features
Programmable timer
Cup warmer
Filter: GoldTone filter basket
Glass carafe
Material: Stainless Steel, Glass
Dimensions: 6.25 x 8 x 10 inches
Weight: 2 pounds
KRUPS Simply Brew Compact Filter Drip Coffee Maker (Brew Pause)
The KRUPS coffee maker is quite the convenient brewer under the 5-cup category. It comes with a Brew Pause feature, so you can pour your coffee midway through its brewing cycle.
It has a Keep Warm function that automatically turns on after brewing so you can enjoy hot coffee even after an hour. It also comes with a scoop and a reusable filter which saves you money in the long run.
Another great thing about this coffee maker is that it doesn't have a drip spout, which makes the machine mess-free. The large opening on top of the machine also makes refilling really easy.
Krups Simply Brew 5 Cup Coffee Maker
The Simply Brew Coffee Maker is a 5-cup coffee maker with a large opening for easy filling, a water level window to ensure the right coffee to water ratio, and a permanent filter so no paper filters are required.
It has simple one-touch operation, a Pause & Serve function to pour a cup mid-brew, and automatically keeps coffee warm for 1 hour before shutting off.
KRUPS Simply Brew Features
Brew pause feature
Keep Warm function
No drip spout for a clean brewer
Glass carafe
Reusable coffee basket
Material: Stainless steel
Dimensions: 5.71 x 8.07 x 10.08 inches
Weight: 2.78 pounds
Mr. Coffee 2129512, 5-Cup Mini Brew (Budget Pick)
If you're a bit hesitant about spending money on a 5-cup machine, check out the affordable 5-Cup Mini Brew from Mr. Coffee.
While it saves you money, you can still enjoy features such as the Grab-a-Cup Auto Pause function so you can pour a cup midway through its brewing cycle. It's also easy to lift the basket where you put your paper filters in, making cleaning a breeze for you.
Overall, this mini brewer is a reliable piece of machine that delivers decent coffee despite its lower price point. It may not have all the fancy bells and whistles of more high-end models, but it gets the job done.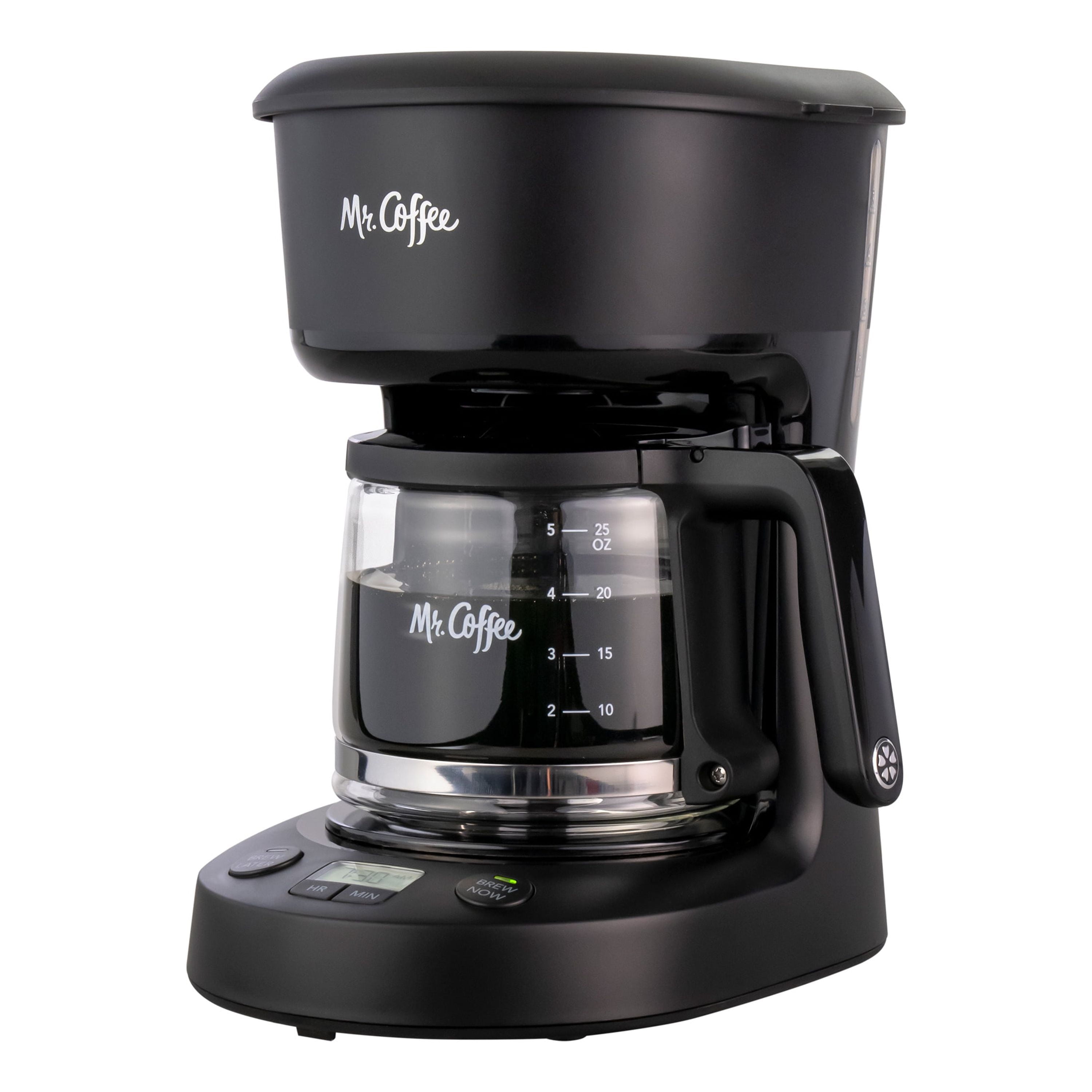 Mr. Coffee 5-Cup Mini Brew
The Mr. Coffee 5-Cup Coffee Maker is designed to brew up to 25 oz in a compact size that fits in small spaces. It has one-button control, auto pause to pour a cup mid-brew, and automatically shuts off after 2 hours for peace of mind. It can also be set to start brewing at a later time.
With its updated carafe design with ounce markings, the Mr. Coffee 5-Cup Coffee Maker aims to offer a simple way to brew and enjoy up to 5 cups of coffee.
Mr. Coffee 5-Cup Mini Brew Features
Glass carafe
Grab-a-Cup Auto Pause function
Lift & Clean Filter Basket
Filter: Flat bottom
Material: Glass, Plastic
Dimensions: 10.7 x 9.8 x 7.2 inches
Weight: 2.93 pounds
What to Consider When Buying a 5-Cup Coffee Maker
To help you make the right decision, here are factors for you to consider:
Ease of Maintenance
You want a brewer that's easy to clean and maintain so you can expect its long life and consistent performance. It's nice if you buy one with parts that are easy to remove, clean, and reassemble.
If you want the top convenience though, you can opt for models that come with self-cleaning capabilities.
Water Tank Capacity
You also have to take note of the water reservoir capacity of your machine. The bigger the tank, the less frequently you have to refill it.
Programming & Additional Features
Some features you might want your programmable coffee makers to have are:
Schedule your brewed coffee in advance
Brew pause for serving coffee while the machine is in the middle of brewing
Automatic shut-off
Brew strength control
Durability
Coffee makers are often made with plastic, steel, and glass parts. Of course, a coffee maker that's largely made of metal parts and casing is durable, but this compromises affordability. Find the right balance between durability and price.
Aesthetics and Size
Another thing that I love about these coffee makers is their compact look. Not only do they save our precious kitchen, but many of these machines also add flair to any kitchen whether you want them to fit right in or stand out.
Carafe Type: Thermal vs. Glass
The carafe is an important part of your coffee maker since it does the literal heavy lifting of your coffee once you're done brewing and ready to pour it into cups. It comes in two types:
A thermal carafe is made of stainless steel and is double-walled. It's durable and great at retaining heat, so if you like to save coffee in the pot for later, this is your best pick.
A glass carafe is easier to clean and allows you to see the coffee in your pot. However, it remains inferior to the thermal carafe in terms of durability and heat retention.
I like thermal carafes if it comes down to function, but if I'm being honest, just seeing a glass carafe with coffee in my kitchen already feels invigorating 🙂
Filters: Reusable vs Disposable
Coffee makers are often used with disposable filters, which are sold separately. However, I also encourage you to consider using reusable coffee filters such as cloth and steel filters, which are more eco-friendly.
You can check out my full guide on coffee filters to help you make this choice.
Brand Reputation
As with every product we buy, especially electrical appliances, considering brand reputation does wonders. If your chosen machine doesn't come from the most familiar brands, check out reviews about them and their products to help you know them better.
For the list above, these coffee makers come from brands that I trust.
Cost & Warranty
The cost is also a big consideration. Choose a coffee maker that fits your budget, but also caters to your needs. Personally, I prefer durable coffee makers so paying a little extra for one with a steel casing was a good deal for me.
Another thing to check out is the warranty that comes with your machine. They often cover 2-5 years of warranty, which also serves as an assurance if you have concerns about the integrity of your chosen brand and brewer.
Be wary of machines that offer very little warranty…
When to Replace Your Coffee Maker?
So when is the end for your 5-cup coffee maker? A good machine with proper cleaning and maintenance should last for at least 5 years. High-quality ones can even last 10 years.
The telltale signs that your machine has run its course are:
Overflowing
Slow brewing
Inconsistent temperature
Weak or watery coffee
Poor extraction
To know more, read my article on how long a coffee maker lasts.
Tips to Give Your 5-Cup Coffee Maker a Longer Life
Want to keep your compact coffee machine in tip-top shape for as long as possible? Here are my tried and tested tips to give your brewer a long life:
1. Switch to filtered water
Few people realize this, but water quality is actually a key factor in maintaining a coffee maker's health. That's why choosing the right type of water for your coffee will not only improve your machine's extraction but also its consistency in performance.
Take hard water for example. It has minerals like calcium and magnesium that can build up inside your machine, causing clogs that eventually lead to damage.
I recommend that you invest in a good filter system to get the most out of your coffee maker and coffee beans.
2. Regular maintenance goes a long way
Cleaning up after each use won't be enough. Be sure to give your machine a regular descaling at least once every three months. This helps remove any residue buildup in the machine that can result in unseen damage inside your coffee maker.
You can use the trusty method of mixing equal parts vinegar and water, and running the mixture on a brew cycle. Check out my step-by-step guide for descaling a coffee machine if you're not familiar with this process yet.
3. Proper placement and handling
These small coffee makers can fit anywhere, but that doesn't mean you should just place them where they fit.
I suggest you place your 5-cup brewer in a part of your kitchen where it's dry and non-humid. Also, avoid placing it around other appliances that have a tendency to heat up.
If you stored it for a long time, be sure to give it a good flush before you start brewing with it again.
Frequently Asked Questions (FAQs)
Here are answers to some of the questions you might have about 5-cup coffee makers:
How long can a coffee maker keep the coffee hot?
It depends on the carafe. A glass carafe on a hot plate can keep your coffee hot for about 2 hours while a thermal stainless steel pot can keep the temperature for 4 hours.
Are expensive coffee makers better?
It's best to evaluate why a coffee maker is more expensive. If it's because of the construction and brand reputation, you'll most likely benefit from the upgrade. However, some added costs can be due to features that you might not even need. But with that said, the no 1 pick in this list makes far better coffee, has a longer warranty, and will be more reliable down the line.
How many spoons of coffee should I use with a 5-cup coffee maker?
For drip coffee, you want to follow the golden ratio of 1:16 to 1:17. Three tablespoons or 45mg of coffee grounds would suffice. I suggest you don't just use a spoon or scoop though. Use a scale to measure the ground coffee accurately, trust me, it really helps with getting consistent java every time.
You should also read my comprehensive article on how to brew the perfect drip coffee for more details.
What's the best type of coffee for coffee machines?
The variety of coffee you'll use is entirely up to you, so feel free to experiment. There is no right and wrong here. Just take into account that the best roasts for such brewing are light to medium roasts and that it's ideal that you set your grinder's setting to medium-coarse.
How fast are 5-cup coffee machines?
Generally, a good 5-cup coffee maker should be able to brew 25 oz of coffee in only 5-6 minutes. If you're always in a hurry to get your caffeine kick, I recommend getting a coffee maker with a 1000+ watt heater, and with a Brew Pause function, so you can pour a cup of coffee while the machine is brewing.
Are there 5-cup coffee makers with built-in grinders?
There are coffee makers of this capacity that come equipped with their own coffee bean grinder, but they are blade grinders, so I do no recommend them. Also, they are not as common compared to 10-cup or 12-cup brewers.
Can I control the brew strength with a 5-cup coffee maker?
Yes. Some coffee machines already allow the adjustment of your coffee's brew strength with their integrated features, but if your device doesn't come equipped with it, don't fret. You can instead adjust the amount of your coffee grounds to control the strength of your coffee. Use more coffee grounds to increase your cup's strength and use less if you want to tone it down.
Should you get such a small coffee machine?
A 5-cup coffee maker fills the gap between the bigger drip machines and the single-serve brewers. With the options I've listed, you can get started in finding the best coffee makers that can cater to your specific needs.
So go ahead, pick your latest coffee companion, and get brewing.