How to Make Cinnamon Coffee The Right Way
Whether you have guests coming over on chilly evenings or need something warm during your downtime, a hot mug of cinnamon coffee is truly worth sipping on.
In this article, I'll show you how to make this spiced warming drink – perfect for any time you want some comforting coffee that celebrates the autumn season's flavors.
What is Cinnamon Coffee?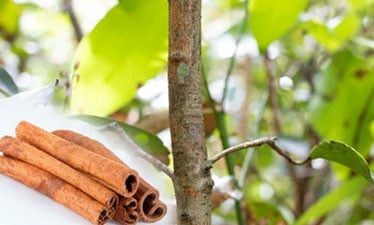 Cinnamon coffee is simply a hot coffee infused with cinnamon to create a smooth, warming drink. The ground coffee provides a strong base while the cinnamon adds notes of spiciness and warmth creating an indulgent treat.
Cinnamon has been used as an aromatic condiment and flavoring to different cuisines, including coffee, for centuries. The spice was originally native to Sri Lanka (formerly Ceylon) and is made from the inner bark of the Cinnamomum tree. It had high value during ancient times and even caused wars.
What I love about this cinnamon coffee recipe is that it tastes like a dessert-style beverage that's naturally sweet. I enjoy this hot coffee drink best during chilly evenings at home while I'm reading a good book or watching a movie.
Equipment & Ingredients Used for Cinnamon Coffee
I'll show you 2 versions, the first with a French press, and the second with a filter drip coffee machine. I suggest you try the French press method if you have the brewer at home.
French press method equipment:
Kettle: Used to boil water for coffee.
Milk frother: Used to heat and froth the milk.
French press: Used to brew the coffee. You can also use a drip coffee maker.
Ingredients
28 g of ground coffee: Provides the base of the drink's flavor.
2 cinnamon sticks: Adds a warm, spiced flavor to the coffee.
180 ml of milk: Used to make the cinnamon coffee creamier.
125 ml of water: Used in brewing the coffee.
Whipped cream (optional): Adds richness and sweetness to the drink.
Step-by-Step Guide to Making Cinnamon Coffee With a French Press
Don't let the fancy presentation fool you – this recipe doesn't require much effort or time at all. Here's how you can make cinnamon coffee at home in just a few minutes:
1. Combine the coffee grounds and cinnamon sticks.
Add 28 grams of ground coffee to your French press.
Snap two cinnamon sticks in half and lay them on top of the coffee grounds.
2. Boil water and pour it into the French press.
Boil 125 ml of water and pour it over the coffee and cinnamon mixture.
Put the lid back and let it sit for about 4 minutes in the carafe while it brews.
Alternatively, you can use a drip coffee maker for brewing cinnamon coffee. All you need to do is mix ground cinnamon into the normal amount of ground coffee you put into the filter. Start with 1/2 teaspoon for 375ml of drip coffee, and see how you like it.
3. Froth the milk.
4. Press down on your brewed coffee and cinnamon mixture.
Once your coffee has been brewed after four minutes, press down on the cafetière plunger slowly so that all of the liquid is filtered out cleanly.
Pour your freshly brewed coffee into an empty mug, leaving enough room for adding the foamed milk as well.
5. Pour milk into the brewed coffee.
Add the frothed milk to your cup of coffee.
Stir together until well mixed.
6. Add cinnamon powder and whipped cream if desired.
You can then opt to spoon whipped cream on top of this blend or sprinkle some extra ground cinnamon over it according to preference.
Serve while hot and enjoy your homemade cinnamon coffee.
What kind of cup should you serve cinnamon coffee in?
Any coffee mug or cup that can hold 12 oz of liquid will work for your cinnamon coffee.
Barista Tips for Making Cinnamon Coffee
Here are additional tips to help you this recipe:
Use freshly ground coffee beans for the best flavor. They'll give you a richer flavor with more complexity and nuance than pre-ground coffee.
Don't be afraid to experiment with different types and amounts of cinnamon to find your perfect balance. A little goes a long way, so start with a small amount and adjust to taste.
Adding a touch of vanilla extract can really enhance the flavor and add depth to the drink.
Whole milk gives the creamiest texture, but you can also use alternatives like almond milk, coconut milk, rice milk, soy milk, oat milk, hemp milk, and cashew milk. Just remember that some types of milk, like oat and rice milk, have a natural sweetness already.
You can also use a creamer but I still recommend milk for the best results. You can make a homemade creamer and if you're vegan, a dairy-free creamer.
Master making other coffee drinks with milk such as lattes, cappuccino, and caffè mocha.
Conclusion
Now you have a simple yet delicious recipe for cinnamon coffee that will spice up your mornings and warm up your evenings. With just a few ingredients and steps, you can create a cozy drink that celebrates the rich flavor of cinnamon.
And who knows, maybe you'll even impress your guests with your barista skills. So go ahead and give it a try – your taste buds will thank you.