Timemore C2 Max Review 2023– Is This The Best Budget Hand Grinder?
I've tested numerous coffee grinders over the years, and I can tell you that grinders that deliver consistently excellent results at low prices are few and far between. The Timemore C2 Max is one such rare gem in the world of coffee grinders.
While it's smartly designed and impressive in performance, is it still a bang for your buck in 2023? Or can you do better?
Here's my detailed and honest review of this budget-friendly grinder from the trusted Timemore brand.
Timemore C2 Max Review Takeaways
The Timemore C2 Max makes the best out of what its price point could put in a coffee grinder. It looks and feels premium whether in white or checkered gray. It's also durable and sturdy with its aluminum alloy body despite having some plastic parts.
It also aces performance with 38mm steel burrs that may not be as fast as 48mm burrs but still delivers precise and consistent grinds. It's pretty versatile with 27 adjustment steps and can even produce fine espresso grounds.
Considering that it can remain affordable while giving such results, I am really impressed with the Timemore C2 Max. It really exceeds expectations, which I think makes it the best budget coffee grinder in the market today.
An In-Depth Look at The Timemore C2 Max Features
Let's have a look at the nitty and gritty of the Timemore C2 Max so you'll know if it ticks the boxes of what you're looking for in a coffee grinder:
Premium Look and Feel
I have to say, the first time I laid my eyes on the C2 Max I didn't realize it was an entry-level grinder. It comes in either white with a smooth finish or gray with a patterned surface— both of which give it a really sleek look and feel. Plus, the checkered model that I have gives me a good grip along with the ergonomic handle.
It's when you carry the whole grinder with your hand that the difference becomes apparent. Its plastic internal parts are a bit lighter compared to their stainless steel counterparts.
Nonetheless, the Timemore C2 Max is still quite stylish and smartly designed for its price point.
Construction Durability
While some parts reflect its lower cost such as the plastic hopper lid and axle support, the C2 Max is still sturdy and durable. As mentioned, it has an aluminum alloy body which in my experience doesn't really receive any significant wear-and-tear so with proper care, you can expect this material to last for many years.
The burrs are where most of the action happens, and this grinder has a set of long-lasting stainless steel burrs that you can trust will hold up well over time. More on the burr set next.
Burr Performance and Precision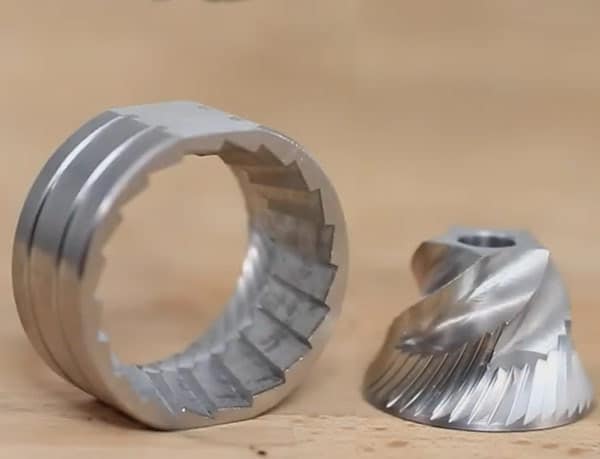 You can say that burrs are the heart of the coffee grinder. With that in mind, the Timemore C2 Max has a healthy heart with its high-quality 38mm stainless steel conical burrs with boosted precision achieved through CNC (Computerized Numerical Control) Machining, the leading technology for sculpting such materials.
These burrs offer impressive grind size uniformity across various brew methods guaranteeing optimal flavor extraction regardless of how you like your coffee.
I've heard of misaligned burrs with this model though, which you'll notice if you get inconsistent grinds, especially at espresso fine.
Versatile for Brewing
I have found that the C2 Max grinds efficiently, with less excessive coarse grains or fine powder – offering a balance that gives me consistent distribution across different brewing methods.
It has 27 steps in its grind adjustment knob that could go as fine as espresso (6 to 12 clicks) and coarse for French press (24 clicks). You have to count the clicks from 0 if you forget what your click count is, which I think is a bit annoying. Why can't everybody just use numbers like 1Zpresso?
I could also feel how its burr stabilizer and dual-bearing concentric design help in smoother movements as I grind. It doesn't wobble which I've experienced with other budget grinders in the past.
Grinding Speed
While the 38mm burrs are not as fast as the 48mm ones, turning your beans into ground coffee is still fast with this one. It takes about 40 seconds to grind 20g of coffee without breaking a sweat, thanks to its comfortable hand crank paired with a slip-free surface (if you choose the gray one).
Portable with a Big Capacity
The Timemore C2 Max also excels in this portability and capacity. It has a mid-range size and weight in comparison to its competitors. This not only makes it easy to hold but also allows you to travel with the grinder without the added hassle. Still, the C2 Max has plenty of capacity for your grounds as it can hold up to 30g of coffee. This is for the Max version, the normal C2 has a capacity of 25g.
With the right balance in size, sturdiness, and capacity, you can easily slip this grinder into your bag and know that it can withstand your trips while still delivering great coffee.
Price
The Timemore C2 Max really stands out because of its price. It provides exceptional performance within budget-friendly limits, making it a really cost-effective choice. While its main competitors usually fetch a price of over $100 (some even going up to over $200), the C2 Max remains under $100, depending on where you buy it.
It's also worth noting that investing in a manual grinder like the Timemore C2 Max can save you money both upfront and long-term by eliminating electricity costs associated with electric grinders – another advantage if sustainability is important to you.
Timemore Chestnut C2, C2 Fold, and C2 Max – What's the Difference?
You might be confused with the different Timemore grinders sporting the "C2" name. The truth is, the three are mostly similar to one another with a few exceptions.
The Timemore C2 Max only upgrades the capacity of the standard C2 from 25g to 30g, plus it adds a white color option with a smooth finish instead of just the checkered gray.
The Timemore C2 Fold also updates the Timemore Chestnut C2 grinder, but only through its foldable handle and a new twill pattern option in black color. The good news is that all three variants still offer a budget-friendly price tag.
Exploring Alternatives
To further help you decide if the Timemore C2 Max is the right one for you, it's also important to give alternative grinders a look:
| Model | Burr | Coffee Capacity | Grind settings | Weight | Dimensions | Color |
| --- | --- | --- | --- | --- | --- | --- |
| Timemore C2 Max | 38mm stainless steel | 30g | 23 adjustment steps | 540g | 18 x 5 x 15 cm | Gray, White |
| 1Zpresso Q2 | 38mm stainless steel | 20g | 30 clicks | 425g | 14.5 x16 x 4.6 cm | Silver |
| Timemore Slim Plus | 38mm stainless steel | 25g | 25 clicks | 440g | 16 x 4.2 cm | Black |
| 1Zpresso JX-Pro | 48mm stainless steel | 35g | 10 numbers / 40 clicks per rotation | 778g | 19 x 6.3 x18 cm | Silver |
1Zpresso Q2 vs Timemore C2 Max
The 1Zpresso Q2 is another affordable option for coffee lovers on a budget, although its price is still higher than the C2 Max. The two grinders share the same size in burrs (38mm) but the 1Zpresso grinder offers 30 clicks compared to the Timemore's 23 adjustment steps.
The standout feature of the Q2 is its portability. While it's smaller and more lightweight than its Timemore counterpart though, the drawback there is that it can only hold 20g of coffee.
Both grinders offer excellent value for money and can deliver consistent results. The choice between them ultimately depends on factors such as your needed coffee capacity and flexibility in grind size. Read more about it with my 1Zpresso Q2 review.
Timemore Slim Plus vs Timemore C2 Max
If you have more room in your budget but want to stick to the Timemore brand, then the Slim Plus could be your best pick.
It lives up to its name by being slim and lightweight, making it an ideal companion when you're on the go or have limited countertop space. It can even fit inside your AeroPress plunger.
While it has more adjustment steps than its budget-friendly sibling, it also has less capacity (25g) so you might want to consider that if you need to brew larger batches in one go. As for durability, the two grinders mostly share the same materials except the Slim Plus doesn't use plastic parts.
1Zpresso JX-Pro vs Timemore C2 Max
The 1Zpresso JX-Pro might not be the most budget-friendly, but it's still reasonably priced considering its superior performance. The JX-Pro provides 10 numbers/40 clicks per rotation for more precise adjustments while maintaining consistency in grind sizes.
This 1Zpresso grinder is heavier and a bit bigger, but with it comes a bigger capacity at 35g and larger 48mm burrs that result in faster grinding speeds. So if you can spare more money, you can further enhance your grind quality with the 1Zpresso JX-Pro. You can read my review of the 1Zpresso JX-Pro for a more in-depth look.
Conclusion
Making coffee can be costly, especially if you're an espresso aficionado like me. This is why it's important to cut costs where we could, like picking a grinder that offers a budget-friendly price but still delivers an impeccable performance that can last a long time.
The Timemore Chestnut C2 Max ticks many boxes for a manual coffee grinder, and yet its price doesn't overwhelm. Sure it needs some extra care, but I feel like with this hand grinder, you get more than what you pay for.
It doesn't feel or perform like a higher-end grinder, like the 1Zpresso J-Max for example. But you can't expect that at this price point. You can also get the newer C3 now as well.
All in all, I think the Chestnut C2 is a good middle ground between the cheapest manual grinders, and the more expensive ones if you don't have the budget for them.