1zpresso q2 Review – Is This Manual Grinder Still Worth It in 2023?
I have (what I sometimes consider) too many years of experience testing various hand grinders, and I now know that finding a portable grinder can be quite a challenge.
So when 1Zpresso released the Q2 designed for pour-over and Aeropress lovers like myself, I really wanted to give it a try. With its unique blade options and travel-friendly design, this little portable, budget-friendly burr grinder promises to revolutionize the on-the-go brewing experience.
Join me in my detailed review of the 1zpresso Q2 grinder.

Key Features of the 1Zpresso Q2 Hand Grinder
As a barista, I've had my fair share of experiences with different coffee grinders. The Q2 is an upgrade of the Q1 (or Mini Q), and has some unique features that make it stand out among its competitors even in 2023.
1Zpresso Q2 specs:
Color: Silver
Weight: 425g
Dimensions: 14.5 x16 x 4.6 cm
Grounds Capacity: 20g
Materials: 420 Stainless steel, 304 stainless steel, aluminum alloy, and wood
Recommended for: French press, pour over, drip coffee
Size and Design
The 1Zpresso Q2 is compact and slim, making it a top contender for the best travel grinder out there. It is actually perfect for those on-the-go coffee moments. The small size goes hand in hand with small capacity as well, so if you need large amounts of coffee grounds for cold brew, this is not your best option. (These cold brew grinders are better for large capacity coffee brewing.)
Its sleek design gives an elegant touch to every brewing session; you'll never go wrong with this stylish grinder in your hands. It weighs 425 g, and has a size of 14.5 x16 x 4.6 cm. It is the slimmest in 1zpresso's grinder roundup.
The wooden knob is a staple of high-quality grinders, and along with the curved handle, I think this 1zpresso grinder is a pleasure to use.
You can also get the "S" model with the Q2 as well, which gives you a collapsible handle for easier storage in your kitchen.
38mm Stainless Steel Conical Burrs
One thing that really sets this grinder apart is its 38mm stainless steel conical burrs. These burrs come in two distinct styles – pentagon and heptagon. As you may have guessed from their names, they have five or seven sides respectively.
Now let's dive a bit deeper into what makes these blades so special:
Pentagonal Burr: These are the standard blades used globally – the ones with five sides. They're designed specifically for filter-focused grinding which means they excel in producing grinds suitable for pour-over, drip, or any other non-espresso brewing method.
Heptagonal Burr: The heptagonal version was predominantly sold in China as a special edition but can still be found elsewhere if you do some digging around. These seven-sided blades grind slightly differently than their pentagonal counterparts but still provide excellent results within the filter coffee realm.
Grinding Settings and Performance
When it comes to getting that perfect grind consistency (which we all know is essential for specialty coffee), the 1Zpresso Q2 doesn't disappoint. With a dual bearing shaft, adjustable settings located at the bottom of the device (after removal of the grinds catcher), and 8 numbers with 30 notches per revolution – I must say, the performance of the Q2 provides the flexibility any coffee enthusiast would appreciate.
Each notch moves the blades vertically by 0.25mm, offering precise control over your grind size. This changes your grind size by 24 microns with each tick. Now, I'm no math whiz, but I can tell you that having this level of customization at your fingertips for pour over is more than enough.
If you experiment with different grind sizes for your AeroPress or whatever your brewing method is, I think you'll find that the Q2 hand grinder offered just the right level of adjustments to help you achieve your desired taste.
The grind quality is good, and the particle size distribution is acceptable as well. It isn't at the level of the more expensive manual coffee grinders, but will still beat out most low-cost electric grinders.
The 1Zpresso Q2 can grind to an espresso fine with good grind consistency, but it lacks adjustability at this grind size, so you can't really dial in an espresso with it. However, it is more than adequate for a Moka pot, for example.
How long does it take to grind with the Q2? Because of the double bearings, the Q2 is a fast manual grinder. It takes about 1 second per gram to grind to medium size, much faster with coarse.
1Zpresso Q2 Grind Settings
Here are my recommended grind settings for the Q2.
| Brew method | Click |
| --- | --- |
| Immersion (French press, Cold brew) | 70+ |
| Drip & Pour Over | 50-70 |
| AeroPress | 40-50 |
| Moka Pot | 30-40 |
| Espresso | 5-30 |
1Zpresso Q2 grind settings
And here are the settings recommended by the manufacturer:
Aeropress compatibility
One of my favorite features of the 1Zpresso Q2 hand grinder is its compatibility with the Aeropress in a big way: It actually fits into the brewing chamber! I truly appreciate this little perk that makes my life so much easier when I'm on-the-go or traveling.
There was this one time when I went camping with a bunch of friends (most of them were not coffee enthusiasts, just coffee drinkers). We were all excited to wake up to a beautiful sunrise, and was excited to brew some delicious coffee as well. My trusty 1Zpresso Q2 was nestled snugly in my backpack, fitting perfectly into my Aeropress. it allowed us all to enjoy freshly ground coffee despite being miles away from any electrical outlets.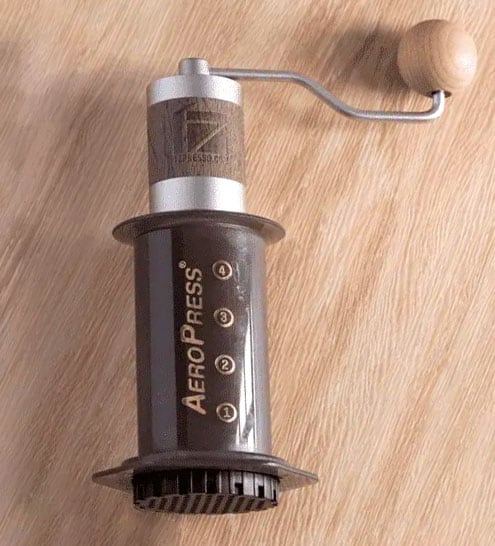 So here's a coffee toast to the designers at 1Zpresso for creating such a thoughtful feature: 🍻 The ability for the grinder to fit seamlessly into an Aeropress, making it incredibly convenient and travel-friendly.
Pros and Cons of the 1Zpresso Q2 Manual Coffee Grinder
Not all grinders are created equal, that's for sure. What, if anything, makes the 1Zpresso Q2 stand out? Let's dive into the pros and cons of this little hand grinder.
Pros: What Makes It a Great Pick?
There's lots to like about this grinder.
1. Smooth and Ergonomic Handle
Grinding coffee by hand can be quite a workout (hello, biceps!), but with the 1Zpresso Q2, you'll have no trouble maintaining your grip. The wooden ball handle feels comfortable in your hand.
2. Tool-free Cleaning and Maintenance
One thing I absolutely love about this grinder is its easy-to-clean design that requires no tools whatsoever. All coffee aficionados know that keeping your equipment clean is essential for maintaining the flavor integrity of your brews – after all, ain't nobody got time for lingering old coffee oils.
Having a grinder that makes cleaning hassle-free is such a game-changer.
3. Travel-friendly Design
I've already touched on this, but want to reiterate. The compact size of the 1Zpresso Q2 , along with its Aeropress compatibility, makes it an ideal travel companion for any caffeine addict.
4. Included Pouch for Portability
Speaking of traveling light: kudos to 1Zpresso for including a practical carrying pouch with the Q2 grinder. This is an extra even with more expensive grinders. It makes it even more convenient to pack into your luggage or toss in your backpack for a day out exploring. You'll appreciate this added layer of protection and portability.
Cons: The Trade-offs You Should Consider
Now, as much as I rave about the 1Zpresso Q2 (and trust me, I do), there are some potential drawbacks worth mentioning. But hey, nothing's perfect, right?
1. Filter-focused Grinding Capabilities
The 1Zpresso Q2 is designed primarily for grinding filter coffee, which means its performance may be slightly compromised when attempting to grind espresso-level fineness. While it *can* achieve such fineness, as shown in our earlier experiment, bear in mind that this is not its primary focus. So if you're an espresso enthusiast looking for a dedicated grinder for your shots of liquid gold (I feel you!), then this might not be the best fit.
It's not the best choice for old brew either, due to it's limited capacity. You can use it for cold brew grinds, but to grind 100g of coffee, you'll need to empty it 6 times.
2. Limited Grind Settings and Adjustments
While the Q2 does offer adjustable grinding settings, there are grinders on the market with more comprehensive options. With ten numbers and 30 notches per revolution, the 1Zpresso Q2 will not provide the same level of precision as some higher-end grinders, which are more expensive.
However, it's important to keep in mind that this is an entry-level grinder with a focus on portability – so for its intended purpose, those settings should suffice for most users.
Can it grind espresso fine? Yes, but I would recommend the JX-Pro or the J-Max for that.
3. Potential Learning Curve
Though it's relatively straightforward once you get the hang of it, newbies to manual grinding might find navigating the adjustment system a bit confusing at first.
Don't let this deter you though. With a little practice and experimentation (and trust me, I've been there too), you'll be grinding like a pro.

Comparisons to Similar Grinders
The biggest competitor with the Q2 is Timemore's C2 and C3. Some also like comparing it to a Porlex Mini or a Hario, but the Q2 is out of their league.
The 1ZPresso Q2 boasts a new design with its 38mm stainless steel conical burrs that are easy to use, grind quickly but still deliver a consistent grind. Plus, it comes with a one-year warranty for some added peace of mind.
The Timemore Chestnut C2, which is quite popular among those looking to dip their toes into manual coffee grinding, may look less refined than the Q2, but its unique efficient grid pattern sets it apart from the competition. Like the Q2, the Chestnut C2 also sports stainless steel burrs ensuring quick and smooth grinding and also has a limited capacity of just 20g, with the upgraded C2 Max having a 30g capacity.
Keep in mind that neither grinder is designed for grinding large amounts of coffee beans at once.
One standout feature of the 1ZPresso Q2 is its adjustable fineness setting. Fair warning though: you might need some time to get used to finding your ideal grind setting. Regrettably, the Timemore C2's claim to provide proper grinds for espresso machines falls a tad short due to its limited 36 grind setting dial.
The 1Zpresso is also considerably quieter than the C2, so if noise is a deal-breaker for you for your early morning coffee, you'll love the Q2.
In terms of weight, the C2 is slightly heavier at 480g as opposed to the 1Zpresso Q2's 425g, but remains portable nonetheless. In fact, both of these grinders come equipped with a travel pouch.
| Feature | 1Zpresso Q2 | Timemore C2 |
| --- | --- | --- |
| Brand Origin | Taiwanese | Chinese |
| Weight | 425 grams | 480 grams |
| Grinder Size | Compact, fits inside an AeroPress | Standard size |
| Burr Set | 38 mm conical burrs | 38 mm steel burrs |
| Capacity | 20 grams | 20 grams, 30 grams for the C2 Max model |
| Design | Minimalistic and beautiful, brushed aluminum alloy, faux-wood grip zone | Dark grey aluminum with a unique textured surface |
| Grind Adjustment | Dial numbered for ease of adjustment | Adjustment knob made of plastic |
| Grind Speed | Grinds 20 grams of light roast coffee in about 45 seconds | 1 gram per second on coarser settings, 0.5-0.7 gram per second on finer settings |
| Grind Consistency | Mid-level performer, requires burr seasoning to reduce fines | Reasonable performance, produces a fair amount of fines |
| Build Quality and Design | High quality, rivals grinders at double the price | High quality considering the price, some plastic internals |
| Espresso Grinding | Not recommended | Not recommended |
| Notable Features | Fits perfectly inside an AeroPress, virtually no resistance when grinding, quiet | Very fast grinding, unique burr geometry, comfortable grip and easy handling |
The Q2's Place in the 1Zpresso Family
So where does the Q2 stand in the lineup of hand grinders from 1Zpresso?
The Q2's most striking feature is its portability. It is 1Zpresso's most lightweight and travel-friendly model. It is also an affordable pick compared to its siblings. Of course, there's a compromise in capacity.
Meanwhile, the J-Series (JX, JX-Pro, and J-Max) leans towards increased capacity and grind customization. Then there are the upper echelons of the K-Series (K-Pro, K-Max, K-Plus, and K-Ultra) that offer the best quality for pros while having more than twice the price of the humble Q2.
To learn more about these grinders, check out my ultimate guide on 1Zpresso grinders.
Final Verdict
As with any piece of coffee gear, the 1Zpresso Q2 has its pros and cons. But if you ask me, this grinder makes an excellent choice for those looking for an affordable, portable option that doesn't skimp on quality.
Would this be my daily grinder? No. There are trade-offs: it's not perfect for espresso grinding (yet still does a pretty good job), and there might be other models out there with more advanced grind settings.
However, the ergonomic design, easy cleaning process, Aeropress compatibility (so cool), and compact size make it an undeniably attractive pick for most manual brewing methods.
1zpresso q2 Review - Is This Manual Grinder Still Worth It in 2023? | BigCupOfCoffee.com
Experience the portable revolution with the 1zpresso Q2 manual grinder. Find out if it's worth it in our review.
Product SKU: 1zpq2
Product Brand: 1Zpresso Q2
Product In-Stock: InStock