Timemore Black Mirror Basic Plus 2023 Review – Is this updated model better?
Are you looking for a coffee scale that's as precise and reliable as stylish?
So was I.
As a certified barista, I'm always looking for the best tools to make my coffee brewing experience enjoyable at home.
Enter the Timemore Black Mirror Basic Plus Scale, a sleek barista scale that provides accuracy to 0.1 grams, fast response times, and an auto-timer at a great price.
Check out this in-depth review to find out what makes this elegant yet efficient brewing accessory stand apart from other models.
Timemore Black Mirror Basic Plus TL;DR
When it came time to find an accurate, reliable scale with all of the features necessary for weighing espresso shots and drip brewing methods, I came upon the new version of the Timemore Black Mirror Basic.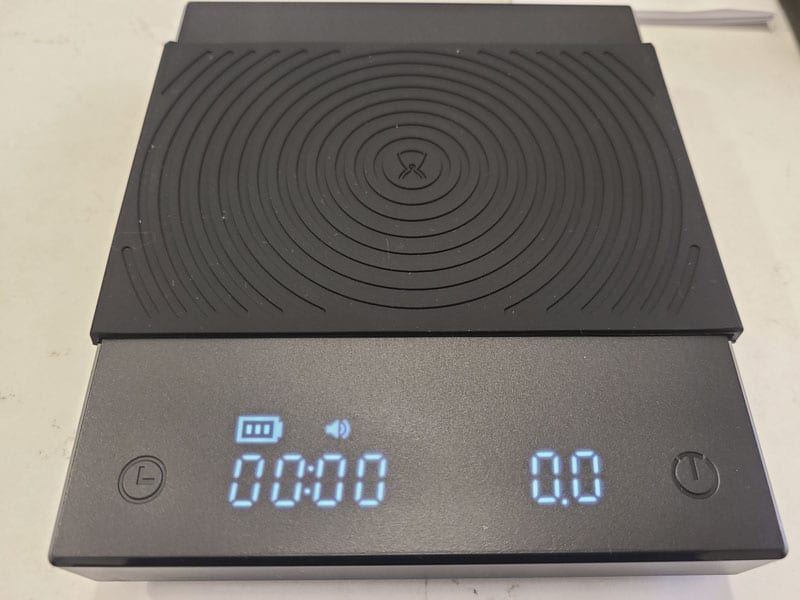 Tom's take on the Black Mirror Basic Plus
I believe this is one of the best value coffee scales available on the market in 2023, featuring functions that make this scale stand above its competitors. I can think of just a few cons, but these don't even apply to most people:
Design:
Precision:
Features:
Warranty:
What's in the box?
When you open the little black box, this is what you'll find.
The scale itself – An all-black design that looks good in the background of any home kitchen or cafe countertop.
Anti-Slip Silicone Pad – Get an extra layer of protection from scratches and spills with this non-slip silicone head pad that keeps items balanced while ensuring nothing slips off during use.
USB To USB-C Charging Cable – Conveniently charging up at lightning speeds via the included USB-C cable so you'll always have enough power when brewing coffee drinks.
Owners Manual & Warranty Card – Read the manual to use the scale correctly. Not rocket science.
Features And Functions
The Black Mirror Basic Plus does what it does perfectly, each and every time. Its features may be "basic" (no smart scale features), but at this price point, loads of scales offer much less and perform much worse.
Precision of measurements
Accuracy is the name of the game when it comes to brewing coffee. With precision measurements down to 0.1 grams, making an espresso or pour-over will be precise time after time. No more wondering if that extra bean is needed.
And measuring anything up to 2 kilos? Now that's plain impressive.
The scale uses the metric system, as coffee is brewed in the metric system. You can't change it to the Imperial system, which is used in the USA.
This is not a problem for coffee making, but may limit its general kitchen functionality if your recipes call for ounces and pounds.
Fast response time
The scale manages to be precise AND lighting fast in response to changes in weight.
My video review shows that the scale is super fast to respond, and precise each time.
WaterProof frame and anti-slip pad
The Timemore Black Mirror Basic Plus has a waterproof frame that is specifically designed to keep out any liquid, making it an ideal choice for the messiest of baristas.
In addition, its anti-slip pad keeps your scale from slipping and sliding around as you measure ingredients. And don't worry if some water manages to get inside – this cleverly constructed device can easily handle whatever nature throws at it.
So, make all those wonderfully sloppy coffee creations without worrying about ruining your precious new toy!
Built-in timer
The scale has a built-in timer that's so precise it could make an atomic clock jealous.
Whether your pour-over takes 20 seconds or 5 minutes, you can rest assured knowing the coffee gods are blessing your brew with perfect timing every time.
Some other scales are terrible in that they reset after a few minutes due to "no activity", even though the counter is running. But not this Timemore scale!
So forget the stopwatch app on your iPhone and stop counting Mississippis.
Instead, watch as this little black box does all the hard work for you.
Auto Start
The Black Mirror Basic Plus barista scale offers a convenient auto-start feature that makes it easy to hit the ground running with your coffee brewing.
You can access this feature after tapping the timer button a few times, and the scale will sense when any weight changes and automatically start measuring without any manual effort.
Gone are the days when you had to fumble around trying to figure out how many grams of coffee grounds you needed.
This feature takes some getting used to, but it is intuitive and precise.
Auto-Off
Its auto-off feature ensures that the device conserves power after a set period, so you don't have to think about it all the time.
The Auto Off Function automatically shuts down when there have been three minutes of total inactivity or fifteen minutes of activity with the timer on; this helps users save battery life as well as prevent any accidental readings from occurring due to accidentally pressing buttons during transportation or storage.
Battery Life and Charging
The Black Mirror Basic Plus barista scale boasts a powerful battery life that enables you to use it for up to 7 hours.
This charge lasts anywhere from 3 weeks up to 1 month, depending on your usage habits and schedules. You can enjoy long-lasting performance without worrying about constantly recharging your scale every few days.
As I write this post, I've had the scale for 3-4 months, use it once or twice every day, but still haven't had to charge it.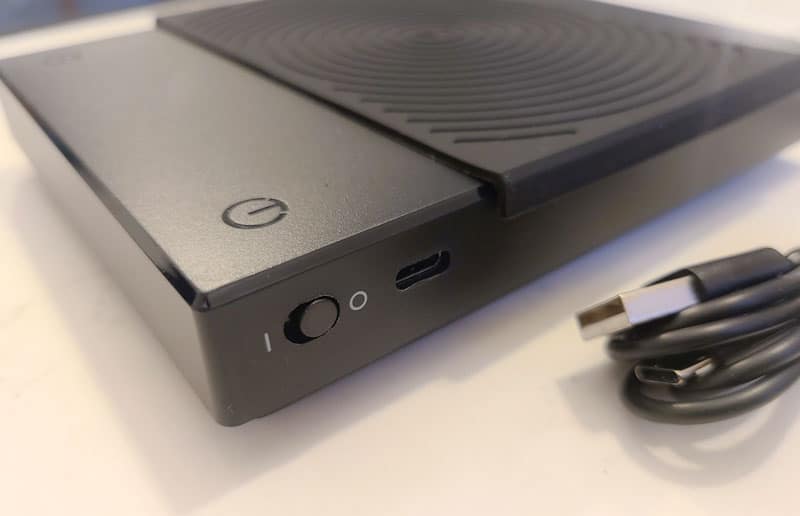 To recharge, simply plug in the USB-C cable provided with your purchase into the charging port and a compatible charger. USB-C is much faster than traditional MicroUSB cables and ensures futureproof sustainability.
Design And Aesthetics
The Timemore Black Mirror is beautiful with its modern, clean design.
Its sleek black matte finish gives it a minimalist look that will never go out of style, while the textured buttons on its surface provide an easy-to-use design.
It looks similar to the previous version, but this new model of the scale also features engraved markings for both the time and power buttons. It is supposed to ensure accuracy when selecting functions on the scale, regardless of your device's orientation. But I think these engravings also add a ton to the design of the scale.
Smart scale features? Not at this price.
This is one of the best scales available for coffee and espresso brewing, particularly given its low price point.
However, it has no smart scale features such as flow rate, wireless connectivity, or an app to track your brews. These are typically found on higher-end models that cost much more, like the Acaia Pearl at more than double the price of the Timemore.
I think only a very small percentage of home baristas use such advanced features, though, and this is not a deal breaker for most people.
Updates from the previous Model (Black Mirror Basic)
The Black Mirror Basic Plus is an upgraded version of their previous model, the Basic. Without the "Plus".
This new and improved scale has several added features that make it better than before
Firstly, this Basic Plus now includes a physical On/Off switch to prevent accidental power on when weight is detected.
Secondly, a re-engineered internal structure with improved accuracy ensures reliable measurements and faster responsiveness in comparison to its predecessor's speed limitations.
To help guide your presses accurately regardless of orientation, the buttons are texturized, so there will be no more fumbling around looking for those elusive controls ever again either – how convenient!
And if you look closely enough at the matte surface, you'll also notice engraved markings have been etched into both Time & Power buttons. This makes these essential functions easier to identify from afar, especially under bright lights.
Last but not least comes perhaps one of the most welcomed addition – the auto timer function. It starts timing once weight detection occurs, meaning you can easily track all brew times without having to manually hit start as with the previous model.
Combined, these are significant upgrades over the already excellent specs of the original Black Mirror Basic!
About The Timemore Brand
Timemore is a Chinese company with an ethos of 'professional + aesthetics' whose mission is to design excellent coffee products that are incredibly practical and visually appealing. Founded in 2012 by several specialty coffee lovers, Timemore has quickly gained recognition among coffee enthusiasts for its innovative designs and high-quality construction.
Their range includes:
grinders,
pour-over kettles,
drippers,
as well as scales.
All have been crafted with meticulous attention to detail, ensuring perfect performance every time you need them: from the award-winning hand grinder Chesnut C2 (now with an upgraded C2 Max version) or Fish Pour Over Kettle to this Black Mirror Coffee Scale we're reviewing today!
The brand also believes strongly in creating sustainable solutions within its product development process – such as using natural materials like wood instead of plastic wherever possible – so there's no doubt choosing one of these beautiful pieces will enhance any kitchen aesthetic whilst providing years of faithful service too!
Compared with similar barista scales
Here are some other coffee scales that you might want to have a look at.
Acaia Pearl for 3x price
For home baristas, the Timemore Black Mirror Basic Plus and Acaia Pearl coffee scales offer a variety of features for an enjoyable brewing experience. The Black Mirror has no app or Bluetooth connectivity. Still, it does have Auto-Timing to monitor extraction time without interference – perfect for green hands looking to learn how to make better brews.
On the other hand, those wanting more control or direction over their extractions may appreciate the capabilities offered by Acaia's Pearl Smart Scale, which comes equipped with apps connected through Bluetooth. This gives users access to real-time flow rate indicators, guided brewing methods, and laboratory-grade adjustable zero tracking & creeping compensation settings depending on environmental conditions – something not found in basic models like the Black Mirror.
Smaller Timemore Nano
The Timemore Black Mirror Basic Plus scale is larger than the Nano Scale, measuring 5.98 in x 5.12 in x 1.02 in (152 mm x 130 mm x 26 mm) compared to just 5.1″ x 1″ x 0.9″, respectively.
However, both scales boast superior accuracy and feature similar functions such as auto-timing capabilities, tare & reset buttons, and USB charging interfaces with long battery life of 10 hours each. Both are ideal for liquid measurements, baking, or home cooking needs, but if you're looking for a device that offers more brewing versatility, then the Nano might be a better choice, as it features real-time flow rate readings.
The Nano is also smaller, which will fit better on an espresso machine's drip tray. But on the other hand, the Black Mirror's larger size is better for pour-over.
By the way, the Nano costs more than the Black Mirror Basic.
Recommended?
I recommend the Black Mirror Plus for daily coffee brewing for pour-over coffee, espressos, or whatever method you are into.
The minimalist design is beautiful in any kitchen and is one of the most accurate coffee scales you'll find at this price.
It has no smart features, but do you really need them?