1Zpresso JX Pro Review – Is This Grinder Still Worth It In 2023?
Are you looking for a manual coffee grinder that's compact and offers precise and consistent grinds?
As a barista, I have a lot of experience with grinders, and because I like bringing my coffee essentials when I'm out and about, manual grinders are a constant companion of mine.
This brings me to the 1Zpresso JX Pro, a stylish and lightweight grinder that I've been using for months now. Today, I'll share with you my in-depth review of this manual grinder and why I think it's one of the best manual grinders in the market right now.
1Zpresso JX Pro TL;DR
1Zpresso is a well-known brand that makes manual coffee grinders. So when the Taiwanese company rolled out the pro version of their JX model in 2019, I just had to try it.
I consider this one of my top picks for manual burr grinders in the market in 2023 still. At a reasonable price range, it has all the features that I look for in a portable hand grinder, plus the grind consistency and precision just really take the cake.
Features and Functions of the 1Zpresso JX Pro
Now let's get into the details of what the 1Zpresso JX Pro is all about, from its burrs to its size.
Below are the key features of this grinder that are worth checking out:
Exceptional Burr Quality
For me, the burr is the heart and soul of manual grinders. The 1Zpresso JX Pro is equipped with 48mm stainless steel conical burrs which are not only durable but also deliver efficient and consistent grind sizes that result in an even extraction every time.
Precise Grind Adjustment
The 1Zpresso JX-Pro's settings have 10 numbers / 40 clicks per rotation that shift by 12.5 microns, offering a wide range of grind sizes that can cover your brewing needs whatever method you're using.
A strand of human hair is about 70 microns wide, so you can set the grind size in unbelievably small increments.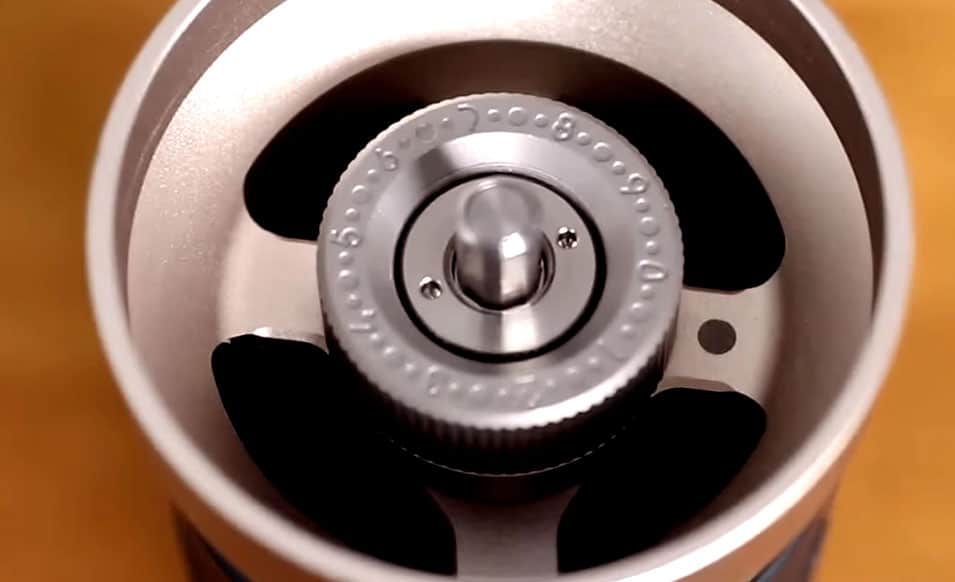 I've been able to get precise grinds for my brews every time, whether it's the coarser grounds of the French press to the fine grounds of espresso— the JX Pro has actually become my official traveling espresso grinder.
Fast Grinding Speed
Thanks to its well-designed burr set, the JX-Pro can grind its full coffee capacity in an average of 30 seconds. When I'm going for a finer grind like for espresso, it takes me about 45 seconds to finish grinding. This is quite a feat as this speed is even faster than some slower electric grinders, although it is definitely a tougher job.
Sturdy Build and Sleek Design
This hand grinder doesn't compromise on its materials either, having an aluminum alloy build that's pretty sturdy and premium to the touch. The quick disassembly design also makes this grinder easy to clean and maintain. I just find that the silicone sleeve got a bit loose after some months of using it.
As for aesthetics, the silver finish of this 1Zpresso grinder gives it a sleek look that really fits right into the shiny ensemble of appliances in my kitchen, including my espresso machine.
Foldable Handle = $25
For about $25 more, you can upgrade to the S model, which adds a foldable handle to give the JX Pro a foldable handle. Most of the 1zpresso grinders offer this feature. It's worth the upgrade if you plan on storing it with the handle attached all the time, on your kitchen counter, or while traveling. If not, I wouldn't do it.
Grind Coffee On-The-Go & Roomy Capacity
The portability of the 1Zpresso JX Pro is also one of its biggest strengths. While it is such a space-saver in the kitchen, this burr grinder is also a great outdoor companion. When I'm out on a hike or on vacation, I just slip this one in the bag and I'm good to go. Plus, with its capacity of up to 35 grams of ground coffee, there's plenty of room for a cup or two of my favorite brew.

The grinder has a screw on grind collector, unlike the J-Max, which is magnetic.
1 Year Warranty
1Zpresso provides a 1-year warrant on all of its grinders. How long will the JX-Pro last? If you take care of it, clean it, and don't drop it every other day, it will last many years.
What to Look For When Buying a Manual Coffee Grinder
If you're still unsure how to pick the right coffee grinder for you, then I got you covered. For starters, a manual burr grinder is the gold standard if you ask me. Manual grinders are less expensive and more portable than electric ones, and burr-equipped grinders are more popular because they can make finer grinds and their sharpness lasts longer than blades.
If you're getting a manual burr grinder, you would want to consider these factors when choosing one:
Price – A more expensive grinder often gives more consistent grinds and better performance in the long run. Remember though that this is not always the case.
Grind size settings – The ability to adjust the grind size is important in achieving the best flavor in your cup of coffee. With more settings, you'll have greater flexibility when experimenting with various brew techniques.
Build quality – I recommend models that are made of sturdy materials like stainless steel or aluminum.
Portability and size – You may want a grinder that you can take wherever you go or you need one that won't take up much space in your kitchen. You should then take portability and size into consideration when you're picking a coffee grinder.
Capacity – Take into account how much coffee you typically brew to avoid having to grind multiple times with your coffee grinder.
Grinding speed – Grinding speed is determined by internal bearings within the mechanism of the grinder. More expensive models often have better bearings that make grinding faster and smoother.
Comparing the 1Zpresso JX Pro to the JX and the Comandante MK4
Now that you know what the 1Zpresso JX-Pro has to offer, I'll show you how it measures up compared to its standard version the 1Zpresso JX, and another popular pick for manual grinders with steel burrs, the Comandante MK4. Check out a comprehensive table comparing these three grinders:
| | | | | | | |
| --- | --- | --- | --- | --- | --- | --- |
| Grinder | Burr | Grind Setting | Coffee Capacity | Weight | Dimensions | Materials |
| 1Zpresso JX Pro | Stainless steel 48mm conical burr | 10 numbers / 40 clicks per rotation (12.5 microns) | 35g | 778g | 19 x 6.3 x18cm | Wood, polycarbonate, silicone, stainless steel, and aluminum alloy |
| 1Zpresso JX | Stainless steel 48mm conical burr | 10 numbers / 30 clicks per rotation | 35g | 683g | 17 x 5.7 x 18 cm | 304 stainless-steel, aluminum alloy, and wood |
| Comandante MK4 | Nitro Blade heptagonal conical burr | 35 grind settings | 40g | 600g | 16 x 6 cm | Wood, stainless steel |
1Zpresso JX Pro vs. 1Zpresso JX
When comparing the standard 1Zpresso JX and its Pro version, the main difference between the two is the Pro offers more room for your grind settings with 40 clicks per rotation. The Pro is also a bit bigger and heavier than the JX, while the two models share the same burr sets and ground capacity.
As for the price, it will save you a few bucks if you pick the JX instead of the Pro version. So if you prioritize affordability and size, you'd want to opt for the JX, but the Pro should be your pick if you want more precise grind adjustability.
1Zpresso JX Pro vs. Comandante MK4
The Comandante MK4 is another popular choice among coffee enthusiasts for a reliable bean grinder. Comparing the two, the MK4 offers a more durable and wear-resistant burr with its Nitro Blade innovation, but its burr size leads to a slower grind time.
The 1Zpresso JX Pro and the MK4 are pretty on par with each other when it comes to grinding adjustability. However, adjusting the MK4 is a bit trickier, than the JX Pro. When it comes to aesthetics and build, the MK4 stands out with the combination of stainless steel, wood, and glass with a variety of color options. Additionally, the MK4 is lighter and smaller but with more coffee grounds capacity.
Another difference between the two is their price. The Comandante MK4 is about double the price of the JX Pro. For me, the JX Pro offers better value for your money considering everything, but if your budget allows you to get the MK4 with a smaller size, bigger capacity, and more sophisticated design, then it might still be worth picking. You can read my Comandante MK4 review for a more detailed look at this grinder.
Frequently Asked Questions (FAQs)
Here are quick answers to some of the questions you might have regarding the 1Zpresso JX Pro:
Conclusion
So do I recommend the 1Zpresso JX Pro? Yes. I believe it is one of the best hand grinders for coffee out there that also gives you good value for your money.
It is compact, sturdy, and produces consistently precise grinds from my coffee beans. If you're looking for a good grinder that can cover different brewing methods without breaking the bank, then yes, the 1Zpresso JX Pro is worth buying today in 2023.