Oxo Conical Burr Grinder Review: Can it Grind Coffee Best?
Whether you're an espresso or a French Press fan, a burr grinder is best for grinding coffee beans. Finding a grinder brand is easy but getting a product that provides consistency and flexibility is hard. After long hours of searching the internet about burr grinders, we've stumbled on this conical burr grinder that can grind uniform particles. Is it worth buying? Read our OXO Brew Conical Burr Coffee Grinder review to find out.
Featured Product
OXO BREW Conical Burr Coffee Grinder,Silver
Durable 40 millimeter stainless steel conical burrs create uniform grounds for optimal flavor extraction
15 settings (plus Micro settings) let you adjust your grind to suit your taste
One touch start timer keeps your last setting, just push to grind
Hopper holds up to 0. 75 pounds of Coffee beans. Product Dimension - 12x7.4x16 inch
Grounds container accommodates up to 110 grams (enough for 12 cups). never use water or other liquids to clean the inside of the grinder/burrs
Check Latest Price
Learn More
We earn a commission if you make a purchase, at no additional cost to you.
OXO Conical Burr Grinder
Pros
Consistently produces uniform grind size
Saves grind settings for next use
Operable with one touch
Cons
It's noisy
Doesn't have locks for bean hopper to keep it in place
More expensive than the ubiquitous blade grinder
Summary
Midway between top-tier and entry-level coffee grinders, the OXO brew conical burr coffee grinder is the most user-friendly.
Grind Quality & Consistency
3.5
Range of Settings (Coarse to Fine)
4.5
About OXO Brew Conical Burr Grinder
The OXO Brew Conical Burr Grinder is a BPA-free grinder made from stainless steel. It comes in a minimalist design, making it a kitchen appliance you can place anywhere without compromising your kitchenette interiors.
This model of conical burr grinder can grind coffee beans with great consistency and is easy to operate with its intuitive interface. You can select the grind size of your choice from its 15 settings with micro settings included. Best of all, you can use the same settings with no limit as it can be saved and operate with a one-touch button.
Burr Grinder Background
Burr and blade grinders are two different grinders that have unique features that make it popular. A burr grinder, either flat or conical, is precise equipment that slowly grinds the coffee beans into even pieces. It is composed of two rotating abrasive surfaces called burrs, where you place the beans in between the burrs to ground.
Burr vs Blade
On the other hand, blade grinders are made of 2 rotating blades (that resemble a blender's blade and a propeller) that slice the coffee beans into grounds. You can find this blade at the center of the machine.
Authentic Burr vs Fake Burr
With the coffee industry flourishing, the number of imitation coffee appliances is also growing The most replicated coffee device in the market is the burr grinder, and if you ignore the details of an authentic burr grinder, you might take home a fake one. So what's the difference between the genuine and the imitation?
Look closely at the burr's features. An authentic burr grinder has sharp opposing cutting surfaces while an imitation has large teeth paired with an asthenic motor. With the fake burr, you can wind up grounds but there's no grind consistency or uniformity, which is recognizable when you grind medium to coarse ground coffee. Also, depending on the material used in the burr, you make get small fragments in your grind along with the coffee.
The worst part of it is that you will often encounter misalignment on the burrs because it's experiencing difficulty breaking up the whole bean, which for genuine burr grinders is an easy task.
Price Range
Burr grinders will do the job no matter what grind size you prefer. Yet burr grinders cost more than blade grinder counterparts and grinder imitation models. Luckily, there are still entry-level coffee grinders like the Baratza as well as Breville coffee grinder models and coffee makers with built-in grinders in the marketplace.
Features & Benefits
To get a better view of what value you can get from the OXO conical burr grinder, below are its features and benefits.
Dose Precision
The admirable feature of the Brew Conical Burr Grinder by OXO is that it consistently produces a fairly grind dose size by 35% while keeping the fine dust to a minimum. Yet, if you want a more significant amount of uniform grind dose size, the OXO Conical Burr Grinder with Integrated Scale can deliver a grind size close to the ideal range.
Likewise, the OXO Brew Conical Burr is built with durable 40mm stainless steel conical burrs. These burrs let you create uniform ground coffee perfect for optimal flavor extraction.
Noise and Static
The only setback of OXO conical grinder coffee is the loud, jarring noise it creates and the bean hopper vibrating out during the grinding process. The bean hopper doesn't have a lock to put the hopper into place, so you'd better pay attention while grinding the coffee beans with this coffee grinder.
Build
The OXO Conical Burr Grinder comes with a hopper that can keep up to 0.75 lbs of coffee beans. It's a non-invasive coffee appliance because it only measures 12×7.4×16 inches and weighs 4.5 lbs.
If you are brewing coffee for a group, you can ground coffee enough for 12 cups because its ground container can accommodate 110 grams of coffee. Yet when it comes to cleaning and maintenance, you might encounter a small problem with the burr at the bottom as it can't be removed.
On the other hand, OXO has ensured that you can still clean it without having to undo many small screws, which can be daunting to remove and reattach after cleaning. However, OXO coffee grinder users consistently mention that they wish the two burrs could be removed from each other for easier, more thorough cleaning.
Grind Consistency
The OXO Brew Conical Burr grinder has 15 grind settings that allow you to adjust your coffee beans' grind size that suits your brewing method of choice. The grind consistency that OXO Brew Conical Grinder ranges between fine grounds for espresso to coarse grind for French Press.
The brew conical grinder has a one-touch timer that saves your most recent grind settings. So the next time you want to grind the same coffee beans you had the other day, you simply push the button to grind.
Aesthetic Design
The OXO Conical Burr Grinder for coffee comes in a functional, minimalist design. The bean hoppers are tinted with UV-blocking tints to ensure the freshness of the coffee beans. The bean hopper is designed to be mess-free, so your countertop won't be messy with ground coffee spillage.
What Others Say About OXO Brew Conical Burr Grinder
Alternatives
If the grinds' quality is dear to your heart in making the perfect coffee cup, Big Cup of Coffee highly recommends the following alternative coffee grinders – all three a bit more expensive:
Smart Grinder Pro by Breville
The Smart Grinder Pro is a user-friendly, stainless steel conical burr grinder that grinds 74% of coffee beans close to the ideal size of coffee grounds for espresso machines, Chemex or Drip. Yet, if you're a French Press user, we highly discourage you from taking this home because it grinds the beans too fine.
Though the Smart Grinder Pro is a high-priced grinder, it works as neat and silent as possible. The device creates a minimal amount of static; that's why you won't find any grinds hanging on the grind cup. Even the grinds don't hang on the chute, so rest assured there won't be any spillage when you move the machine or remove the grind cup.
Precision Grind Setings
Breville The Smart Grinder Pro
Stainless steel conical burrs designed to minimize grinding heat and protect the essential oils in the coffee bean
60 precise grind settings from the finest Espresso to the coarsest French Press Grind. Voltage: 110 120 Volts. Power: 165 Watts
Precision Electronic Timer allows users to adjust grind time in 0.2 second increments and consistent dose every time
18 ounce coffee bean capacity with locking system for easy removal, storage, and transfer of the bean hopper
Grind directly into portafilter, grinds container, gold tone filter basket or paper filter
Portafilter cradle small 50 54 millimeter; Portafilter cradle large 58 millimeter
Check Latest Price
Read Our Review
We earn a commission if you make a purchase, at no additional cost to you.
Baratza Virtuoso+ Conical Grinder
The Baratza Virtuoso+ is a durable, conical burr grinder built with the general home use in mind. It has burly components that make it an ideal coffee grinder for a big household, pantries, or any place where a heavy-duty grinder is needed.
The Virtuoso+ grinds 59% of the ideal grind size for espresso and drip coffee, with 23% on the side, which you can consider perfect or not, and 18% of extreme fine grinds won't affect the taste of your coffee. This grind consistency rating for a coffee grinder consumer model is quite impressive, especially that the Virtuoso+ is close to the ideal 3 minutes extraction time.
Baratza Virtuoso+ Conical Burr Coffee Grinder with Digital Timer Display
SPECIALTY COFFEE ASSOCIATION AWARD WINNING GRINDERS - Baratza grinders are preferred by coffee professionals and backed by Baratza's world class support.
DIGITAL TIMER and BACKLIT GROUNDS BIN - a 40-second digital timer, adjustable to a tenth of a second, and an LED backlit grounds bin to dose ground coffee accurately and consistently.
40 GRIND SETTINGS - With enhanced commercial-grade conical burrs to help you explore an extensive range of brew methods (espresso, Aeropress, Hario V60, Chemex, French Press, and automatic brewers).
STYLISH - A sculptured metal top and base give the Virtuoso+ a modern image that highlights your coffee corner.
WARRANTY/QUALITY PARTS - Engineered with 40mm hardened alloy steel burrs manufactured in Liechtenstein, Europe, plus a powerful DC motor. This combination creates a consistent grind and durability ensuring the longevity users have come to expect from the Baratza brand. The Virtuoso+ is backed by Baratza's world class support and a 1 year warranty.
Check Latest Price
Learn More
We earn a commission if you make a purchase, at no additional cost to you.
OXO Brew Grinder with Integrated Scale
The OXO Brew Grinder with Integrated Scale is a user-friendly grinder that grinds coffee beans with remarkable consistency. It's a top dollar grinder that can grind 68% of coffee beans close to the ideal size range and is capable of producing quality grinds for any preferred method.
You can brew coffee multiple times with the same quality consistency and can grind coffee beans you can use with your French Press. Best of all, it can pull out an espresso shot a second faster than the ideal time.
Limited Lifetime Warranty!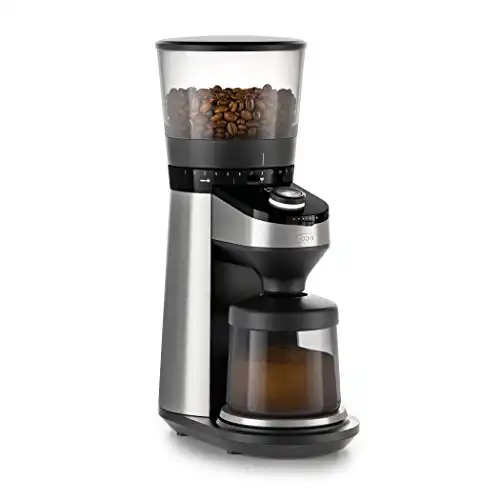 OXO BREW Conical Burr Coffee Grinder with Integrated Scale
OXO On Conical Burr Grinder built-in scale measures grounds by weight instead of time, eliminating the need for a separate scale; automatic shutoff ensures a precise amount of ground coffee every time
Durable, 40 mm stainless steel conical burrs create uniform grounds for up to 38 settings -- from fine for espresso to coarse for French press or cold brew
High torque/low speed motor won't overheat beans, preserving flavor and generating minimal static for less mess. Built-in overheating detection protects motor for long life
Use the single dial to switch between Cups Mode, Grams Mode or Manual Mode. In Cups mode, you grind based on the number of cups of coffee you would like to brew.
No-bean detector won't let you grind if the hopper is empty.Voltage is 120V/60Hz
Hopper holds 16 oz of coffee beans and features a "trap door" to hold beans in when hopper is removed. Grounds keeper holds up to 125 grams -- enough ground coffee to brew 12 cups
The OXO Better Guarantee: If you experience an issue with your OXO product, get in touch with us to repair or replace it. We're grateful for the opportunity to learn from your experience, and we'll make it better
Check Latest Price
We earn a commission if you make a purchase, at no additional cost to you.
Verdict
The grind size of the coffee beans allows you to have full control of the brewing process. Yet, to extract the optimal taste and flavor of your favorite beans, the grind size's uniformity takes a vital role. Between the top-tier and entry-level coffee grinder, the OXO brew conical burr coffee grinder is the most user-friendly. The quality of the grinds it produces offsets the price tag of the OXO.
So if you're looking for a coffee grinder that focuses on grind quality and consistency, the OXO Conical Burr Grinder is your best bet.
Have you tried using the OXO coffee grinders? Does your coffee taste best with beans grounds using burr grinders? Share with us your thoughts about our OXO brew conical burr coffee grinder review in the comments below.