Jura E8 Review 2023 – Super-Automatic Coffee Machine? But There Is A Problem…
Jura is the home for coffee machines with precision, fine-crafted Swiss design, and amazing customization features. All of its manufactured automatic coffee machines have won the hearts of in-home coffee brewers and large-scale industries, but what makes Jura E8 exceptional?
To find out how Jura E8 can make a difference in the way you brew coffee, we've spent hours researching to complete this Jura E8 review. If you're in the market for an automated machine that includes a burr grinder, this machine is ideal for you. Find out why.
Burr Grinder + Automated
Jura E8 Piano Black Automatic Coffee Machine
ONE TOUCH: Make 16 different espresso drinks!
PERFECT ESPRESSO: JURA's exclusive Pulse Extraction Process allows you t make consistently perfect espresso
CONICAL BURR GRINDER: Fast and precise AromaG3 grinder
JURA lets you make real, fresh ground espresso. No capsules!
CAPACITY: 64 oz water tank, 10 oz bean container
Check Latest Price
Read Our Review
We earn a commission if you make a purchase, at no additional cost to you.
Jura E8 Review 2023 Summary
Jura E8 Review
Pros
Allows you to brew any coffee drinks with its one-touch brew system
It notifies you when cleaning is needed
You can operate it using your mobile phone via Bluetooth
Cons
The machine is a bit noisy when grinding the beans
Has no one boiler system
Has insufficient grinding settings for the price
Summary
The most successful automatic coffee machine in JURA's history – now even easier to use, with an even greater variety of specialties and an even more sophisticated design.
Coffee Quality & Versatility
4.5
JURA E8: The Main Features & Benefits
If you're on the lookout for the best automatic coffee machine, here are the features and benefits you can review Jura coffee machine happy users have shared.
Brew Quality
If you want to delight your guest with quick espresso, cappuccino, ristretto, or flat white, you can prepare it. You can also arrange a double-shot espresso by pressing the brew button twice. The automatic espresso machine also works efficiently with frothing and steaming milk, which you can make at the touch of a button.
Versatility & Customization
The brews you can make with Jura E8 are fully customizable, which allows you to become a barista at home. When you program a brew setting for a single shot, you can also use the same customization for a double shot. You can pick the coffee strength from the available dose that ranges between 5 grams and 16 grams. Compared to other machines that can hold up to 10 grams, Jura E8 is quite impressive for customizing your coffee's strength.
Other customizable features that Jura E8 offers are personalized brew temperature, milk volume (for milk-based drinks), and shot size. You can also tweak the length of interval that you like between putting the milk into your cappuccino or latte and pouring espresso. Therefore, the length of the range allows the milk to form layers of milk foam and steam milk.
The Jura coffee machine E8 is also recommended for decaf coffee brewing. Its pre-ground coffee allows second brewing without the need to remove the whole beans in the hopper. You can put as many tablespoons of ground coffee, which is considerably more than what other super-automatics can accommodate in its pre-ground bypass option.
Operation
The Jura Capresso Impressa E8 allows you to prepare 16 barista-quality gourmet coffee at the touch of a button. Its TFT-LCD screen displays all the settings and options you'll need to create a perfect espresso.
The control panel has six physical buttons that are soft to press with your fingertips. These physical buttons correspond with the on-screen selections. We find the buttons more practical than touch screens as it keeps the control panel free from fingerprint smudges.
Grinder
Jura E8 uses an Aroma G3 grinder, a conical burr grinder integrated into the Jura E8 espresso machine that allows you to grind whole beans fast with precision. The grinding system of the Aroma G3 grinder preserves the perfect aroma to its natural fullness from half of its cracking time.
Technology
Jura makes sure you get the best coffee cup every time you brew your favorite beans, and here are some of the unique technologies integrated into this automatic coffee machine to make it happen:
Intelligent Pre-Brew Aroma System (IPBAS)
The Intelligent Pre-Brew Aroma System (IPBAS) is responsible for the distribution of coffee grounds you use for pre-infusion. It measures the number of coffee beans you use and corresponds with the right amount of water to be dispensed. With the IPBAS system, you can always brew a perfect cup of coffee anytime you want it.
Pulse Extraction Process (PEP)
Brewing coffee with Jura E8 is smooth with its one-touch brewing system. The Jura coffee machine utilizes the Pulse Extraction Process (PEP) that optimizes the total time a coffee machine makes to extract the flavors and aroma from the coffee beans to create delicious espresso.
The Pulse Extraction Process works by pressing the water through the ground coffee beans in a short burst, which optimizes the extraction time. Thus, in each brew cycle, the extraction process allows you to obtain the maximum aroma and flavor of any specialty coffee in your espresso or ristretto.
Intelligent Water System
The water filtration system of Jura is part of its filtration technology installed in the Espresso machine called Intelligent Water System. It has RFID tags used to filter limescale and other dangerous substances. Jura E8 can detect if the filter needs replacement or not, so you no longer have to worry about remembering when to change it.
HP3 Milk Delivery System
To make a milk-based beverage, the Jura E8 coffee machine uses the HP3 milk delivery system. It's more versatile than the commercialized Panarello-style wand as it uses a flexible silicone hose to drag the milk out from the vessel to steam and froth. Afterward, the liquid dispenses right into your cup.
The milk carafe does not go with the machine when you buy it as you have to purchase it separately. Yet, these carafes are insulated, which helps in keeping your milk cold when refrigerated. Lastly, the milk dispensers of Jura E8 have dials that allow you to control how much milk you like to use to create milk foam.
Maintenance
Jura is very meticulous with the cleaning and maintenance of their automatic coffee machines. The moment you turn it on, the system asks for the hardness of the water, which you can test and read using the test strips included.
Based on your input in the device, the machine will automatically set up the descaling intervals in connection to the maintenance needs of your Jura E8. However, if you want to brew coffee right away and don't want to go through the descaling troubles, you can use the Jura filtration system instead.
Likewise, it highly recommends a thorough cleaning of the milk dispenser after every use with its branded cleaning solution. The 250ml of solution is expected to run through the milk frother to ensure there'll be no milk residue that can affect the taste of the coffee. Ultimately, the frother has to be dismantled and rinsed after using the automatic coffee machine.
To get a better view of how each part of the Jura E8 works to its maximum, we recommend downloading the full instructions and manuals of the Jura espresso machine here.
Product Specifications
The Jura E8 espresso machine might not be as compact as De'Longhi Magnifica. It boasts a fairly average size for a super-automatic coffee machine with dimensions of 11W x 13.6H x 17.5D and a weight of 22 lbs. Such an aspect allows you to put it on kitchen countertops or tight spaces for that mini coffee bar you've always dreamed of.
Other specifications worth noting that make Jura E8 a luxury machine anyone can afford:
Wireless-ready: Yes
Powder recognition for additional ground coffee variety: Yes
Monitored drip tray: Yes
Aroma preservation cover: Yes
Variable VC brewing unit: 5 to 16g
High-performance pump: 15 bars
Thermoblock heating system: Yes
Fluid systems: Yes
Maintenance status display: Yes
Integrated rinsing, cleaning, and descaling program: Yes
Integrated milk system rinsing and cleaning program: Yes
Filter cartridge: CLEARYL Smart
Energy Save Mode (E.S.M.©): Yes
Zero-Energy Switch or power switch: Yes
Height-adjustable coffee spout: 2.6 – 4.4 inches
Height-adjustable cappuccino spout: 4.4 – 6.2 inches
Height-adjustable hot water spout: 4.4 – 6.2 inches
Water tank capacity: 63.6 oz
Bean container holding capacity: 9.9 oz
Coffee grounds container (max. servings): 16
Frequently Asked Questions (FAQs)
To ease your doubt about Jura E8, we compiled the frequently asked inquiries about Jura E8 in this review.
What Type of Coffees Can You Make with Jura E8?
With Jura E8, you can make the following types of coffee at the touch of a button:
Ristretto / 2 x Ristretto A shorter extraction than espresso with half the amount of water (usually 1 oz or less)
Espresso / 2 x espresso A full-flavored, concentrated form of coffee served in "shots "(usually 1.5 – 2 oz)
Macchiato Espresso with a dollop of milk foam
Coffee / 2 x Coffee A prolonged pressure brewed extraction (usually 5 oz)
Espresso doppio Two espressos with two times grinding and two times brewing for that extra strong aroma in one cup
Exceptional coffee / 2 x Special coffee A prolonged pressure brewed extraction (usually 6.5 oz)
Flat White Coffee infused with milk and milk foam
Cappuccino Milk foam infused with coffee
Latte macchiato Milk and milk foam infused with coffee
Portion milk Hot milk with no texture
Portion milk foam Hot milk mixed with air to create a frothy texture
Hot water for green tea (also ideal for green, white, and herbal teas)
Warm water is ideal for other teas
How Long Do Jura Coffee Machines Last?
With proper care and maintenance, Jura machines can last up to 5 to 7 years of use. It is essential to follow the manufacturer's instructions in terms of cleaning and support if you want to wake up every morning with a delicious coffee brewed by your Jura E8.
Is a Jura Worth It?
Jura models are comparable to other high-end super-automatic coffee machines. The Jura espresso machines display efficiency and versatility in one box with the given features. To choose the best Jura coffee machine, pick the Jura model that fits your budget, personal taste, and preferences. For a price at a fraction of the cost of a high-end built-in espresso machine, Jura is worth it.
What is the Best Jura Coffee Machine?
The Jura coffee machines are all excellent espresso makers to invest in your kitchen. Each model has its charms and efficiencies that match your coffee-drinking needs. 
When it comes to full functionality and versatility at a cost that's not painful to the pockets, the Jura E8 is the best coffee machine we can recommend. It can prepare 16 barista-quality gourmet coffee in the touch of a button with more room for customization. Best of all, you can brew the same settings anytime and make a double shot without the need to save another brew set to upgrade the shot number.
How Often Should I Clean My Jura Coffee Machine?
Aside from managing the fingerprint smudges on its glossy exterior, the need to clean your Jura coffee machine is up to the machine's self-evaluation. Usually, it takes up to 180 brew cycles before you are prompted you to do a deep cleaning.
For Jura coffee machines like the E8, cleaning and maintaining it is easy because it runs a daily rinse cycle when you turn it on, ten minutes after creating any milk-based drinks, and shutting it off. 
About JURA – Is It a Trusted Brand?
Jura is one of the most trusted manufacturers for its sturdy, versatile, and user-friendly, fully automatic coffee machines. Founded in 1931 by Leo Henzirohs, a Swiss developer and distributor of home appliances in Switzerland, Jura continues to offer the world its one-touch brewing system that can prepare any coffee beverages from ristrettos to flat whites that you desire.
Jura focuses on the functionality and smart designs of their machine products. Most of the automatic espresso machines feature high-pressure-brewed coffee, espresso, cappuccino, and latte makers with a bean-to-cup experience. If you're looking for quick and smooth operating systems and 60-second grind, tamp, brew, and self-clean processes in coffee machines, Jura can delight you with their vast espresso machine choices.
What You Need to Know Before You Buy
Jura E8 is a superautomatic coffee machine that offers full customization on brewing barista-quality coffee with its one-touch system. With its sophisticated Swiss design and coffee brewing features, any coffee lover will grab the chance to take it home.
To help you with your buying decision, we filtered out the most important information about this product from the Jura E8 users.
The Jura E8 has a maintenance feature that notifies the user when to change the RFID filters.
To achieve a flavorful coffee, Jura E8 works well with high-quality coffee beans.
If you're looking for the most suitable superautomatic coffee machine over taste, Jura E8 is highly recommended. 
When you use tap water with Jura E8, the hardness of the water drops, so it's best to use distilled water rather than tap water.
Jura E8 has a good water tank and can be combined with under sink system.
The E8 coffee machine variant of Jura requires an adapter to operate, which is sold separately.
Jura E8 is designed to be more repairable than Breville.
This superautomatic espresso machine has a double shot function which allows coffee drinkers to get a stronger cup of coffee.
This coffee machine can't handle fine grinds to make 20 to 30s singles.
The E8 Jura has the PEP (pulse extraction process), which allows you to control the brewing process of your coffee.
Using OEM filters other than what Jura recommends will void the warranty of the coffee machine.
Jura E8 Alternatives
Jura E8 is a fantastic automatic coffee machine, but if you want to keep your coffee drinking low-key or looking for a coffee machine not as fancy as Jura E8, Big Cup of Coffee recommends in this review the following coffee machines below.
CM6350 Miele Countertop Coffee System in Black or Grey
The CM6350 Miele Countertop Coffee System (Black) is a fully automatic espresso machine that enables you to make perfect coffee and creamy froth for different coffee specialties. It is made from ABS plastic and has dimensions of 23 x 13 x 17 inches, making it a compact coffee maker for your kitchen.
The best thing about this coffee maker is that it allows you to create up to ten user profiles that you can program and save for a more personalized coffee.
Great Value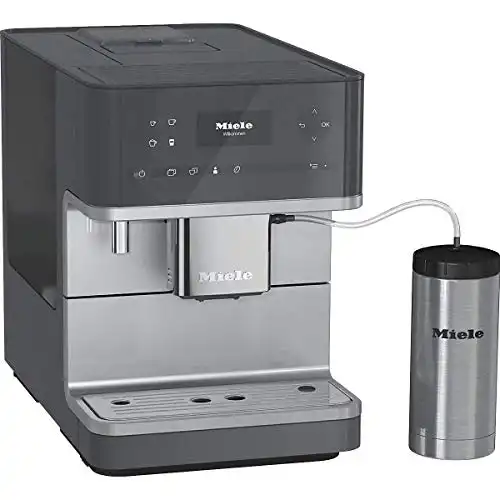 Miele CM6350 Graphite Grey Countertop Coffee Machine, Medium
Program up to 4 User Profiles with individual settings for portion size, strength, brewing temperature & more.
OneTouch and OneTouch for Two function - make one or two servings at the touch of a button.
Brewing specialties - One or two servings of espresso, coffee, long coffee, ristretto, cappuccino, latté macchiato, cafe latté, hot milk & milk froth.
Additional features include Integrated Cup Warmer, DirectSensor Control Panel and Coffee Pot Function for making up to 8 cups of coffee at one time.
Convenient cleaning programs for care and maintenance.
Check Latest Price
Learn More
We earn a commission if you make a purchase, at no additional cost to you.
De'Longhi ESAM3300 Magnifica
Dēlonghi Magnifica allows you to create barista-quality coffee that includes lattes, espressos, and cappuccinos. The Magnifica coffee machine features digital control panels with programmable menu settings, a large water reservoir, a direct-to-brew system, easy-to-clean removable parts, and a descaling program.
The admirable feature about Magnifica ESAM is that you can make professional-quality coffee at the touch of a button, in big servings! It prepares your coffee silently, and the parts are removable for easy cleaning and maintenance.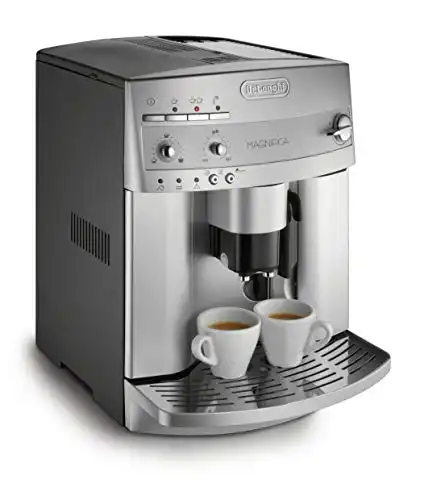 De'Longhi ESAM3300 Super Automatic Espresso/Coffee Machine
Capable of preparing espresso, coffee, cappuccino, latte drinks, and more, this super-automatic machine features a unique beans-to-brew system that grinds coffee beans right before brewing for exceptionally aromatic espresso. The appliance comes equipped with two stainless-steel boilers that provide excellent heat distribution, as well as an instant reheat function, which keeps the machine at an ideal temperature, no matter how long the interval between cups. In addition, its quiet burr grinder automatically grinds beans and can be set to a specific grinding level, but the unit can also be used with ground coffee if preferred.
Buy on Amazon
Read Our Review
We earn a commission if you make a purchase, at no additional cost to you.
Breville Oracle Touch
The Oracle Touch by Breville prepares a delicious coffee in three easy steps – grind, brew, and milk. It allows you to create a cafe-quality microfoam through its Swipe & Select touch screen. Likewise, its Triple Heat System enables you to heat milk at a precise temperature automatically. Best of all, it can grind 22 grams of coffee beans and create up to 8 personalized coffee beverage settings, with 5 of them being programmed.
Best in Class
Breville Fully Automatic Espresso Machine, Oracle Touch
SWIPE. SELECT. ENJOY: With automation at every stage, simply swipe and select for espresso, long black, latte, flat white or cappuccino and enjoy caf? quality coffee at home
DOSE AMOUNT: The integrated conical burr grinder automatically grinds, doses and tamps 22 grams of coffee, similar to the commercial machine in your favorite cafe
PRECISE WATER TEMPERATURE: The difference between an ashy or balanced tasting espresso can be caused by temperature change as little as 2?F. The Oracle Touch uses digital temperature control (PID) technology, this ensures the temperature is kept at its optimum range.
OPTIMAL WATER PRESSURE: The Over Pressure Valve (OPV) is a commercial feature included in the Oracle Touch. This limits the maximum pressure throughout the extraction, helping prevent bitter flavors in the coffee shot. It also has true low pressure pre-infusion, which gradually increases the pressure to gently expand the grinds for an even extraction.
SUFFICIENT STEAM PRESSURE: A cafe quality coffee is a delicate balance of espresso flavor and rich sweet milk with a micro-foam texture. The steam wand, powered by a dedicated steam boiler, automatically textures milk to your taste and preferred temperature, delivering barista quality silky micro-foam that enhances the flavor of coffee. Then it cleans itself!
TRIPLE HEAT SYSTEM: 1. Dedicated steam boiler with integrated Heat Exchange aids thermal stability. 2. Dedicated espresso boiler with Digital PID control delivers precise water temperature. 3. Heated group head? PID controlled embedded element maintains thermal stability.
WARRANTY: 2 Year Repair Warranty. Construction Materials: Brushed Stainless Steel, Stainless Steel Dual Boiler.
SETTING: Touch screen operation. 5 pre-programmed favorites. Create, save and name 8 customizable coffee settings. Adjustable Grind Control. Programmable Milk Temperature and Texture. One/Two Shots. Hot Water. Voltage - 110–120 Volts.
Check Latest Price
Read Our Review
We earn a commission if you make a purchase, at no additional cost to you.
The Verdict
The Jura E8 is a top-of-the-line fully automated espresso machine that can make the likes of latte macchiato, cappuccino, or flat white according to your taste preferences. Every coffee lover has their own idiosyncrasies and Jura E8 is a coffee machine that can grant any coffee whims or wishes you have! If you've got the budget, it's definitely worth the cost.
Imagine how a small coffee machine can consistently make 16 different barista-quality coffee specialties. It's like building your own Starbucks or Scooters at home. Best of all, it will not cost you as much as you may think. Do the math. $4×365 is $1460 in daily espresso drinks (before tip!).
Check out other reviews of similar machines: