Trade Coffee Review 2023: The Best Way to Get Great Coffee Every Week?
Trade Coffee is a coffee subscription service that delivers freshly roasted coffee beans to your door directly from their network of roasters in the USA.
In this article, I will review Trade Coffee's subscription service, so you can get an idea of how it works and decide if it could work for you.
Note: We review products and services independently, but may earn small affiliate commissions from links on this page.
Trade Coffee Review 2023 – Summary
If you're a coffee lover who craves convenience and variety, Trade Coffee is the subscription service for you. With over 60 roasters in their network, they offer an extensive selection of freshly roasted beans from different origins and roasts. Their personalized quiz helps narrow down your preferences, ensuring that each bag of coffee they send matches your taste buds perfectly.
One major benefit is the convenience – no more trips to the store when you run out of coffee. Trade delivers directly to your doorstep on a schedule that works for you. Plus, their compostable packaging shows their commitment to sustainability.
Another highlight is the quality of the coffee itself. Being sourced from third-wave roasters means you'll be enjoying top-notch beans with exceptional flavors. And with the ability to choose between standard blends or premium single-origin coffees, there's something for everyone.
However, some users have mentioned that the premium bags can be a bit pricey compared to other subscription services. Additionally, as with any coffee subscription, there may be occasions where you come across a bag that doesn't quite hit your palate preferences.
Why would you use Trade's subscription coffee service?
A coffee subscription is a service that allows you to receive a regular shipment of coffee beans. This can be a great way to make sure you always have fresh coffee on hand, and it can also be a convenient way to try new coffees from different roasters.
If you love fresh coffee but don't love the hassle of going to the store whenever you want a fresh cup, Trade Coffee might be your solution.
You can choose from various roasters, origins, and blends, and they'll ensure you always have something new and exciting to try. They send freshly roasted coffee beans to your door, so you can always have great coffee without ever having to leave home.
Personalizing your coffee subscription at Trade Coffee
To ensure you only receive coffee that you are likely to love, Trade Coffee asks you a few questions when you sign up for their coffee subscription service. These questions help them determine your coffee preferences, so they can send you coffees more likely to be a good match for your taste.
You start by choosing the quality of coffee you would like to receive (affecting pricing) and continue with a 7-question "interview".
How do you usually make coffee at home? – There are different ways to make coffee. They start the interview by asking what coffee maker you have, so they can choose the best coffee for that machine. French presses, coffee pots, and espresso machines all make different types of coffee.
What is your coffee experience level? – I'm not sure how this question is relevant, but yeah, you have to decide whether you're a home barista or just starting out.
Do you add anything to your coffee? – Some coffees taste better with milk, while others don't. Adding sugar, sweetener or flavoring can make some coffees taste better, but it can make other coffees taste worse. They'll recommend coffees that taste good with what you like.
What roast level do you typically enjoy? – This is one of the most important questions, but there would be a problem. The different roasters have their own way of describing light, medium, and dark roasts. This means that something called "medium" for one roaster might be called "dark" for another. To make sure you get the roast you want, Trade Coffee scores all coffees using their own scale.
How do you like your coffee to taste? – Different people like different kinds of coffee. There is no right or wrong answer here. The coffees on Trade are all 100% coffee, but they can taste different based on their origin, processing, and roast. I would choose "I defer to you" here, so you can get a variety of coffees and decide for yourself what you like as you taste them.
Do you buy ground coffee, whole bean coffee, or both? – You can get your coffee beans whole or ground. If you're an experienced home barista, you might want to get whole beans and grind them yourself. You might want to get ground coffee if you're just starting out.
What type of coffee do you drink? – Regular or decaf? Your choice.
Delivery
Trade has opted to let you choose from 3 delivery frequencies:
Each bag of coffee will brew about 16 cups of coffee.
The exact weight of each bag varies by roaster, but it is around 12 oz or 310g per bag, which is typical for specialty coffee.
You can pause delivery at any time if you are away on vacation, for example.
All freshly roasted coffee is shipped within 24 hours of roasting straight from the roaster itself and arrives within 2-5 business days. Exact shipping times vary depending on where you live and where the roasting happens, as each package is sent via USPS.
Roasters say that you shouldn't use the coffee for about 7-10 days after roasting, so shipping times are not a factor in this sense.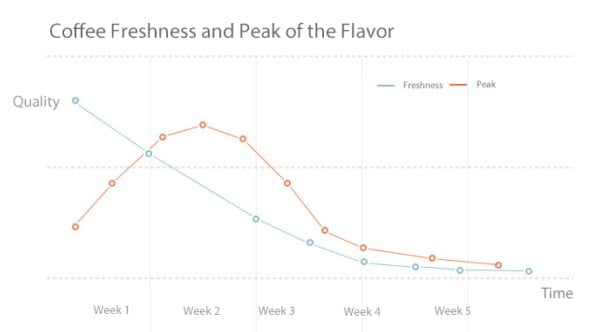 How much does the Trade Coffee subscription cost?
For the standard-sized bag of coffee, there are 2 subscription price classes at Trade. As a subscriber, you get a discount on each bag of coffee, and you don't pay any shipping fees.
$15.75 per bag of STANDARD coffee (would otherwise be $18.50-$20)
$19.50 per bag of PREMIUM coffee (would otherwise be $21-$29)
As I looked through their extensive list of coffee, the difference between Trade Coffee's standard and premium bags appears to be that standard are coffee blends, while premium bags contain single-origin coffee.
You can opt to receive 1 or 2 bags with each delivery.
There is also a larger-sized 2lb bag option.
There is no shipping cost if you become a Trade Coffee subscriber. If you buy a bag ad-hoc, there will be a $5 shipping fee.
Largest Selection

Trade Coffee
Coffee subscription in Trade is personalized after taking their quiz on how you like your Coffee. Trade will then curate the matches for you.
Subscription cost: $
You'll receive: 12 oz bag of coffee beans (either ground or whole beans)
***Save 30% Off Your First Bag + Get FREE SHIPPING FOREVER***
Check Latest Price
The Roasters
Trade Coffee has a wide network of 60+ roasters across the USA. Some of them are small coffee shops, and some of them are larger, but all of them are 3rd wave roasters.
You never know who will roast your next batch, but that's part of the fun.
Coffee is best about 7-10 days after it's roasted, which is why it's great that coffee from Trade comes shipped directly from the roaster. This way, you can ensure that your coffee is as fresh as possible.
Coffee Selection
The roasters on Trade offer all sorts of coffee based on:
Roast level: light, light-medium, medium, medium-dark, dark
Origin: Brazil, Burundi, Colombia, Congo, Costa Rica, East Timor, Ecuador, El Salvador, Ethiopia, Guatemala, Haiti, Honduras, India, Indonesia, Java, Kenya, Malawi, Mexico, Nicaragua, Panama, Papua New Guinea, Peru, Rwanda, Sumatra, Uganda. This is a nice list but lacks the popular Koa coffee from Hawaii.
Processing: Honey, Dry Processed, Pulped Natural/Honey, Washed, Wet-hulled
Brew type: Roasters give recommendations on which of their coffees are best for a given brew type. This includes every brew type from espresso, drop, Aeropress, to cold brew.
They have 450+ coffees in their catalog at the moment (December 2023).
With so many types of coffee, it can be hard to find the right one for you. Trade helps solve this problem by making it easy to filter the catalog by roast type, style, taste type, etc.
Trade also gives recommendations based on your interview quiz, so you don't have to look through hundreds of coffee bags yourself.
My experience trying out Trade Coffee
I ordered 3 bags of coffee from Trade, to get an idea of how their coffee is, their shipping times, roasting dates vs. actually receiving the coffee, and so on.
Every bag of coffee arrived separately packaged as you can see on the image above.
The bag itself is compostable, but you have to cut out the USPS shipping label if you want to use the bag as compost in your garden.
The roasting dates were 3 and 4 days before I got the coffee, so they were still super fresh.
How does Trade Coffee compare to other coffee subscription services?
Trade Coffee is not the only company to offer coffee subscriptions. Here is a post dedicated to finding the best coffee subscriptions of 2023, but to keep it short, the best alternatives to Trade Coffee are:
Atlas and Crema don't really have the distinction between standard and premium bags, like Trade. They do offer specialty coffee from US roasters, but there are many blends in their range.
I personally prefer single-origin coffee, because I like to compare tasting notes and get to know the place the coffee is from.
In terms of prices, Trade Coffee standard bags are about the same as Atlas and Crema, while their premium bags are $4-5 dollars more expensive.
Conclusion – Why I think a Trade Coffee subscription is a great choice
If you love trying new coffee and want the convenience of having it delivered to your doorstep, then a Trade Coffee subscription is a great choice. The coffees are all fresh and you have a wide variety to choose from. Plus, there's no shipping fee if you're a subscriber.
Sure, you could go to a supermarket and buy a bag of coffee beans there. But the truth is, those beans have probably been sitting on the shelves for weeks, if not months. With Trade Coffee, you're guaranteed to get fresh beans roasted just a few days prior, and you're supporting local roasters, not coffee monopolies.
I also love the surprise aspect of coffee subscriptions, in that you don't know what you're going to get, and it allows you to try new coffees that you might not have otherwise had the chance to try.
All in all, I think a Trade Coffee subscription is a great choice for coffee lovers who want the convenience of having a variety of high-quality, freshly roasted beans delivered to their doorstep.
Largest Selection

Trade Coffee
Coffee subscription in Trade is personalized after taking their quiz on how you like your Coffee. Trade will then curate the matches for you.
Subscription cost: $
You'll receive: 12 oz bag of coffee beans (either ground or whole beans)
***Save 30% Off Your First Bag + Get FREE SHIPPING FOREVER***
Check Latest Price