The Best Kona Coffee Brands + SCAM WARNING
Kona coffee is a Hawaiian experience not to miss when you visit the Big Island. It is a Hawaiian coffee known for its exclusiveness. Authentic Kona coffee only grows on the slopes of two volcanoes: the Mauna Loa and the Hualalai in the best growing conditions. Like a premium-grade Ethiopian coffee, the best Kona is cultivated at an elevation ranging from 500 to 3,000 feet.
What Makes it So Special?
Kona is considered an exceptional coffee with a unique flavor and aroma. The coffee farms on the west coast of Hawaii enjoy an island microclimate. The Hawaiian Kona is planted in dark and porous volcanic soil and is given the utmost care it needs to produce a coffee from the Big Island.
To better grasp what pure Kona coffee offers and why it is sold at such seemingly extravagant prices, Big Cup of Coffee will take a closer look at coffee production, history, and keys to finding the best place to buy this royal Kona, private reserve Kona beans and other Big Island coffee brands.
Why are Kona Coffee Beans SO EXPENSIVE?
The price of a pure Kona coffee is not hype. It is EXPENSIVE. There are so many amazing coffees to consume, why would someone even consider taking a rish on such a luxury?
What makes Kona coffee brands expensive is both the cost of labor (Kona Coffee is MADE IN AMERICA) and the demand from tourists wanting to bring home evidence of their Hawaiian vacation.
Labor Costs in Hawaii
Compared to the coffee farmers of Guatemala and Ethiopia, coffee farmers from Hawaii are paid significantly more. Coffee farming in the Big Island is labor-intensive and a costly process. Just picking the coffee beans will cost you $8/lb..and it doesn't end there!
When you add the farming cost, a pound of Kona coffee jumps to $14 USD (not including labor). To sum all the farming costs of Kona coffee production – from handpicking to milling and marketing, the retail price ranges between $45 and $60 per pound!
Hawaii as a Tourist Destination
In a 2020 Forbes survey of top dream destinations, Hawaii ranked first for top destinations and ranked second for solo travelers. Beyond beaches and resorts, many tourists in Hawaii include visits to coffee plantations in the Kona district in their itineraries. Since there are millions of tourist visits in a year, the price tag of Kona coffee is higher than other gourmet coffee with tourists as the leading market for good Kona coffee.
Is Kona Coffee Worth the Price?
For a regular coffee drinker, Kona coffee is a bit extravagant. Yet, for coffee lovers, it's worth every last drop. In terms of supply and demand along with standards of the FairTrade, Hawaiian Kona coffee is not overpriced. It's really that alternative coffees are underpriced. And here's why:
If the retail price of a specialty coffee is $15 per pound, it allows the coffee roasters to pay their growers a decent amount that can further improve their coffee production. It's a win for coffee aficionados, of course, more pleasure in every cup.
That's why Hawaiian roasters give the best value that growers deserve. In return, the growers pursue quality and distinction to get equal pay for their efforts.
History of Kona Coffee
Don Francisco de Paula Marin is credited for the introduction of coffee to the Hawaiian soil in 1817, though he failed miserably. So, the person who actually put the Big Island on the coffee pedestal is Samuel Ruggles. He succeeded in introducing coffee to the fertile volcanic soil of Hawaii in 1828 and planted the first Kona coffee tree in 1928.
In 1892, Hermann Widemann brought the Guatemalan coffee variety to the Hawaiian soil. It eventually became the most preferred variety in Hawaii, which is known as "Kona Typica." After big losses in 1860, coffee production picked up again with the help of this variety.
Though the coffee prices during World War I and the Great Depression plummeted, the industry regained momentum in the 1960s. Hawaii experienced a temporary demise when labor shortage, high-cost production, and low coffee prices occurred in the coffee market. Again, market forces all contributing to this.
By the mid-seventies, the coffee prices in the world market picked up again with the rise of new coffee farmers. Along with this growth in production, the promotion of Kona coffee from a regular coffee into a specialty coffee gained more and more fans. Popularity only increased from there.
The Grades of Kona Coffee
With the passing of the Kona coffee statute in 1991 (which aims to allow coffee blends with 10% Kona coffee to use "10% Kona coffee" labels in their coffee packaging), the coffee authorities in Hawaii also made a move to apply a grading system to Kona coffee.
It's an initiative to protect the reputation of coffee Kona from such incidents as the 2002 scandal where a green coffee dealer used Kona coffee bags to sell Costa Rica and Panama beans at a high price. Since then, Konas coffee reputation has been tarnished by such scams.
So if you're shopping for the best Kona coffee, you can use the following grade bands to determine the quality of the coffee in Kona.
Classification Grades (Highest Quality to Lowest Quality):
Kona Extra Fancy:
Size: will not pass through 19/64" hole.
Moisture content (means more flavor): 9% – 12%
Number of Defects: 10 or less per pound
Fancy:
Size: will not pass through 18/64" hole.
Moisture content (means more flavor): 9% – 12%
Number of Defects: 16 or less per pound
No. 1 (third-best grade):
Size: will not pass through 16/64" hole.
Moisture content (means more flavor): 9% – 12%
Number of Defects: 20 or less per pound
Select (estate grade):
Size: optional
Moisture content (means more flavor): 9% – 12%
Number of Defects: 5% by weight
Prime (has 10% Kona coffee in the blend):
Size: optional
Moisture content (means more flavor): 9% – 12%
Number of Defects: 25% by weight
No. 3:
Size: N/A
Moisture content (means more flavor): 9% – 12%
Number of Defects: 35% by weight
Natural Prime: OFF GRADE (The use of the term "Hawaii" besides "Offgrade is prohibited)
Mixed Natural Prime (the lowest quality)
Defect coffee beans are determined by their appearance. Defective beans are often characterized as a bean or a part of the bean that is damaged after milling, where the beans are either broken, cut, or quaker. It also tastes sour and appears discolored, off-color, or not clean.
Also, Kona coffee beans are evaluated according to types.
Type I beans mean that the coffee beans are produced two to cherry with a flat shape on one side, and the other is convex.
Type II means that the coffee beans produced come to a cherry. The green bean has an oval shape and is round in diameter. Type II beans are referred to as Kona peaberry.
Hawaiian coffee is graded and evaluated by the Coffee Quality Verification Program (CQVP). It is a self-certification program that authorized dry millers to certify green coffee. A CQVP certificate is issued once the department requirements are met.
Our Hawaiian Favorite Kona Coffees Brands
The Volcanica Hawaiian Extra Fancy Kona Coffee is one of the most sought coffees in the world, and for good reason. It's been cultivated in the North and South districts of Kona on the Big Island of Hawaii. This is 100% extra fancy coffee that has been certified as meeting the rare qualifications in taste and bean. It isn't cheap, but if you're looking for a one-of-a-kind experience, it's worth checking out. It comes with a certification from the state of Hawaii.
This coffee is simply the best of the best, period.
Cup notes: Single-Origin. 100% Kona. Shade-grown.
Flavor notes: Floral-Fruits, Jasmine, Bright Citrus, Tart Cherry, and Sweet Caramel
Grade: Extra Fancy
Best of the Best
Volcanica Hawaiian Kona Extra Fancy Coffee
The top-dog of Kona coffees. State of Hawaii Certified that it's been officially tested as 100% pure Kona coffee. The Hawaiian Extra Fancy Kona Coffee is very flavorful and full-bodied, with a mellow straightforward character. This coffee has a delicious, lively, floral-fruity taste that consists of jasmine, bright citrus, tart cherries and sweeter caramel. This specific Kona Coffee is extra fancy-grade, 100% Pure Kona Coffee that is grown in minimal supply on Aloha Farms.
Check Latest Price
Learn More
The Volcanica 100% Pure Kona Peaberry Coffee is Rated as a Top 10 Coffee by Food and Wine Magazine in March 2006. This is as high a quality of coffee as you can find. Peaberry coffee beans are unique and have a much richer flavor. They are only found in 5% of the crop and are removed manually. The flavor of the peaberry is of a finer quality than the rest of the crop and is desired by coffee connoisseurs and passionate fans.
Cup notes: 100% Pure Peaberry Kona coffee. Single Origin and Shade-Grown.
Flavor notes: Smooth, Nutty, and Luscious
Grade: Extra Fancy
100% Kona Peaberry - Top 10 in the world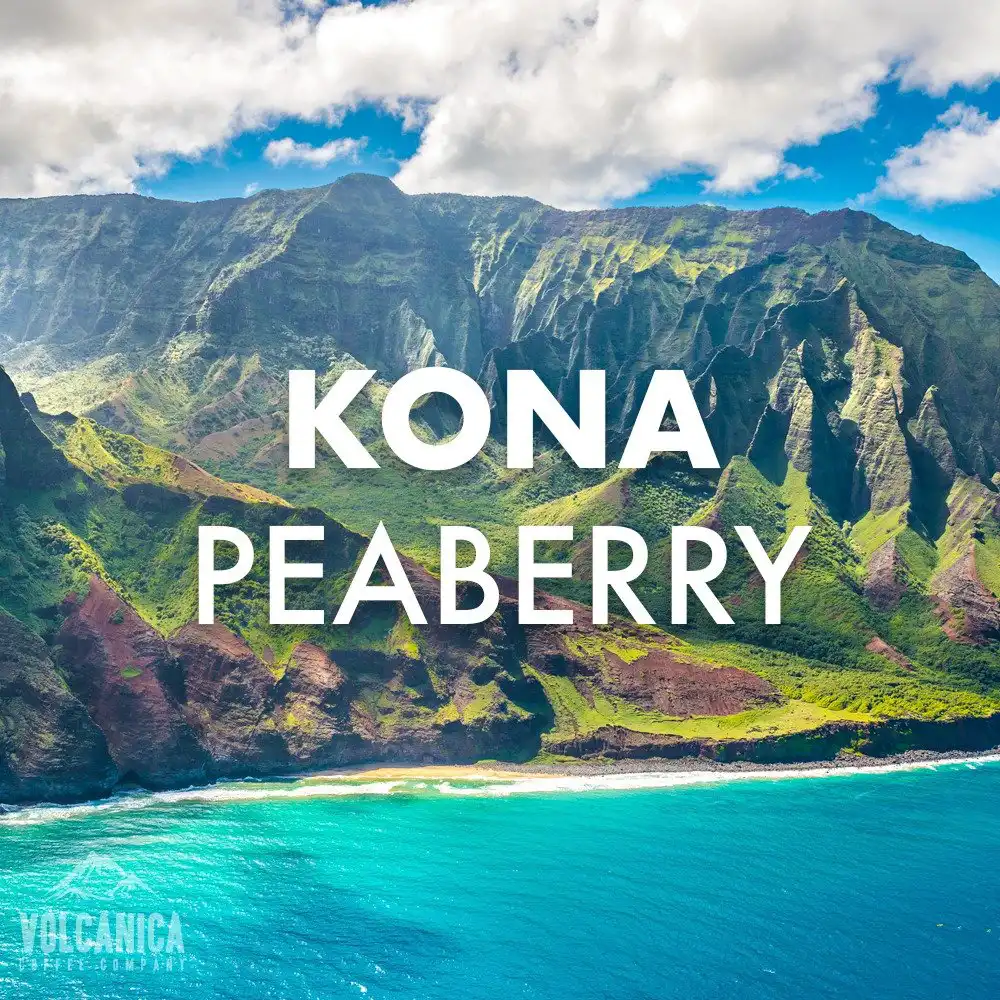 Volcanica 100% Pure Kona Peaberry Coffee
100% cure certified Kona Peaberry Coffee. Kona + Peaberry = Rated as a Top 10 Coffee by Food and Wine Magazine in March 2006.
The Kona Peaberry Coffee is known as the champagne of Kona coffee. Rich with a deep volcanic flavor, Kona Coffee can be described as smooth, nutty, and luscious with an intense aroma. The Gran Reserve Kona Peaberry Coffee beans are highly prized for their smooth full flavors, deliciously rich, medium-body, complex taste, and heady aroma. This specific Kona Coffee is peaberry grade, 100% Pure Authentic Kona Coffee that is grown in limited supply on Aloha Farms.
Check Latest Price
For more information check out our full Volcanica Coffee Review.
Koa Coffee directly sources their coffee from the Kona coffee farms located in the Kona coffee belt. They grow their own Kona coffee plant on the big island of Hawaii to ensure that you get the best quality. It is naturally processed in their cherry skins to provide a great-tasting Kona coffee. Koa is a staple for anyone wanting to start with Kona whole beans.
Cup notes: smooth and delicate body
Flavor notes: delicious and strong fruit notes and aroma
Grade: blend of Extra-fancy, fancy, and Kona Number 1.
Best Budget 100% Pure Kona
Koa - Estate Medium Roast Whole Bean 100% Kona Coffee
Estate Kona Coffee is a specific term that means you are getting Kona Coffee that is the product of one Kona Coffee farm, never mixed with crops from other farms. Our Estate Kona is from a high elevation, single estate farm, and a classic taste of Hawaii. This one is a perfect medium roast to showcase the flavor unique to the slopes of the Mauna Loa volcano on which Kona Coffee beans are grown. In whole bean Kona Coffee, because you already know the aroma of grinding your own Kona Coffee is enough to put a smile on your face, before you even pour the water.
Buy Now
Learn More
Hawaii Coffee Company offers a custom medium roast Kona bean with a unique character. The Royal Kona is harvested and milled in their facility located at Captain Cook, in the heart of the Kona coffee region. It is whole bean estate coffee worth drinking if you prefer sweet-toned coffee with no bitterness.
Cup notes: smooth and full-body, vibrant and clean
Flavor notes: rich buttery flavor with hints of floral notes and caramel undertones
Grade: Extra Fancy
A Must Try 100% Kona Coffee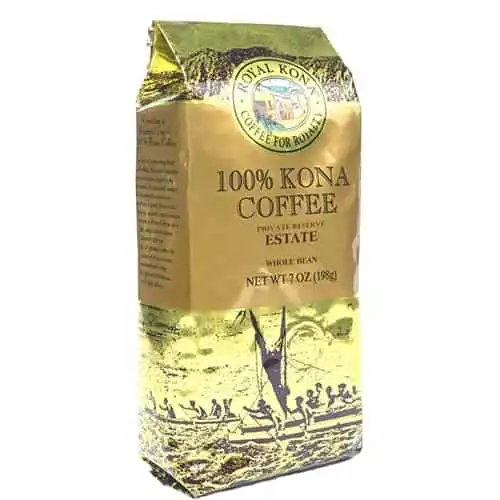 The Peaberry coffee beans are known as the "Champagne of Kona." It is a medium roast, whole bean Kona Peaberry coffee that you'll consume cup after cup without being able to stop. This high-quality brew is also produced from the Kona Coffee Belt.
Cup notes: full body and smooth with a big sassy taste
Flavor notes: subtle, sweet with low acidity aftertaste
Grade: Extra Fancy
The Champagne of Kona
The Koa Coffee Tripack is an award-winning value choice perfectly roasted to medium. The trio pack contains the extra fancy whole bean samples of:
Grande Domaine Kona Coffee
Private Reserve Kona Coffee
Estate Kona
The 3 pack gives coffee lovers a tasty experience of coffee beans harvested from the slopes of Mauna Loa volcano.
Editor's Value Choice
Medium Roast Whole Bean Kona Coffee 3 Pack
This medium roast Koa Coffee sampler gives you a true taste of Hawaiian coffee. The pack combines 3 great coffees at a great price:
Grande Domaine Kona Coffee, a Kona Coffee Cupping Contest Winner
Private Reserve Kona Coffee, the Kona Coffee that Forbes called "Best in America"
Estate Kona, a high elevation, single estate farm bean
Check Latest Price
It's a handpicked, 100% Kona coffee directly sourced from small, family-run Kona farms in Hawaii. Most of the extra fancy Hawaiian coffee that BeanBox offers has a creamy and smooth body with nutty flavors. Keala's Hawaiian Coffee makes it an exceptional coffee with beans cultivated from the top 20% coffee produced in Kona.
Cup notes: bold and balanced medium roast
Flavor notes: smooth and pleasant body with hints of passion fruit and toasted coconut.
Grade: Extra fancy
The take on Blue Horse Coffee is that it is shade-grown, hand-picked, and wet-processed. It is quite different from other Kona coffee we reviewed because of how it is processed. Blue Horse coffee offers the best Kona coffee with whole beans harvested from the traditional Kona Typica trees. To ensure freshness, it is "nitrogen-flushed" and packed in resealable "multi-layered, laminated zip lock bags."
Cup notes: dark roast with slightly oily beans, well-balanced body, and rich aroma with hints of fragrant notes and lingering bittersweetness of chocolate.
Flavor notes: with hints of almond, vanilla, and caramel flavor with muted acidity
Grade: Pure blend. Everything from prime to extra fancy
Is Kona Coffee the Best in the World?
Kona coffee is considered one of the best in the world. It is carefully handpicked and meticulously processed to ensure that every Kona roast that you pour into your morning cuppa is decadent, delicious, and aromatic in its way. It is cultivated in rich volcanic soil on Mauna Loa and Hualalai's slopes, where microclimates favorable to the growth of the Typica Kona trees are experienced. And authentic Kona coffee can be found only in Hawaii.
Where to Buy Kona Coffee?
Because of the popularity of Kona coffee, many deceptive coffee roasters label their packs with "100% Kona" when, in fact, it's a blend of low-grade coffee. To get the best Kona coffee brands, here's a Kona coffee buying guide to help you.
How to Find 100% Kona Coffee
Many misleading coffee brands had alarmed the Hawaiian government with their rampant abuse of labeling their brands with "100% or 10% Kona", the very reason a coffee statute is established. For you not to fall into the hands of delusive Kona coffee brands, here's the best way to find authentic 100% Kona coffee.
Check the label of Kona coffee packaging.
Authentic Kona beans have labels of "100% Kona Coffee". So if you come across coffee brands with a tag, "Kona blends," better drop it and forget about it. Kona blends have less than 10% actual Kona beans, with 90% made from inferior quality beans.
Search for the best Kona coffee brands
100% Kona beans can be found on Kona coffee brands with a proven track record in providing only the best Kona beans. Some of these brands are Koa Coffee, Blue Horse Coffee, Hawaii Coffee Company, and Volcanica. You can also find 100% Kona beans on coffee subscriptions like BeanBox.
Read Kona beans review from Kona coffee companies and coffee blogs.
Reviews of pure Kona beans, 100% Kona coffee, and the like can help you to distinguish genuine Kona coffee beans with high grades from coffee beans with inferior qualities. Reviews are honest opinions and ideas of people who have bought Kona beans before you. Since many people do reviews about coffee beans, it can help you weigh what and where to buy 100% Kona coffee beans.
SCAM Warning: Stay Away from Kona Blends
Hawaiian Kona coffee is a famous coffee that is often a target for false marketing to gain more profit. That's why the coffee authorities in Hawaii keep on reminding people who buy coffee to be very vigilant.
So how can you avoid buying unauthentic Kona coffee?
Avoid Kona blends.
According to the Hawaiian law established for Kona coffee, any coffee product labeled as a Kona blend should contain at least 10% of the certified Kona beans. However, to gain profit, some deceptive coffee companies will use not more than 10% and will mix it with low-quality beans.
Don't be misled by the word "Kona."
To gain attention, many roasters will use "KONA" to sell more even if the beans are not actually from the Kona farms.
Know where coffee companies source their roasts.
If the coffee is not sourced from any Kona farms in the Kona Belt of Hawaii, it is not Kona coffee. Remember that not all coffee from Hawaii is first class. Coffee grown from the slopes of Hualalai and Mauna Loa are the only coffee beans that can be labeled as real "Kona Coffee."
Check the grade of the coffee.
You'll know if you're sipping the best coffee from Hawaii if it is graded extra fancy, which means the coffee is of the highest quality. Coffee products are labeled according to the HDA grade of the Kona. To attain a grade, the coffee is evaluated based on criteria including size, shape, moisture content, and defect.
Conclusion
Kona coffee bears an excellent reputation in the coffee landscape. Every cup is worth the price because Kona coffee farmers contribute a great deal to cultivating this specialty coffee. The coffee beans are harvested from the Kona Typica coffee trees. These are naturally processed and are carefully packed in resealable bags to keep the freshness intact.
If you're new to Kona coffee, then give the Volcanica Hawaiian Kona Coffee a try. If you want to go big, then try the Koa Peaberry Kona coffee aka the "Champagne of Kona." Lastly, if you're a diehard Amazon prime person, then give the Blue Horse coffee a shot.
However, coffee lovers should be cautious with their purchases. Not all coffee products tagged as "Hawaiian" or "100% Kona" are actually pure Kona coffee beans. Some roasters use deceptive tactics to gain profit even if inferior quality coffee beans are used instead. It is best to check the source of the coffee beans and identify the HDA grade of the Kona coffee beans used.