5 Reasons Why There Is No Crema on Your Espresso
Most coffee lovers and baristas believe that the crema is what crowns an espresso. Whether you like to enjoy your espresso with a thick, creamy layer of crema or you don't mind if it's not there at all, it's important to understand why crema won't form.
From the wrong grind to the wrong roast, there are several reasons, and today, we'll dive into the top 4 reasons why your espresso doesn't have crema.
Crema on Espresso Basics: Formation and Importance
Before learning about why your espresso machine does not add crema to your shot, let's look at how crema forms. Understanding the machine's workings and crema's importance will help you create a better cup of espresso.
During the last step of the espresso extraction process, crema is formed naturally. When the machine pushes the water through the coffee grinds under high pressure, it dissolves more carbon dioxide particles. Water traps these gas particles and takes on a dense, creamy form that rises to the top of your espresso.
While all sorts of coffee can have crema, the foam on your espresso shot has more flavor than others. Pour-over brewing and drip coffee can produce some light crema. However, an espresso machine is the best way to get velvety, stable crema on your espresso.
Now with the theory out of the way, let's look at what you can do if you are not getting crema when you pull a shot.
Defective Espresso Machine
First, you must check for and eliminate the most obvious reason: people often do not realize when their machines show signs of wear and tear.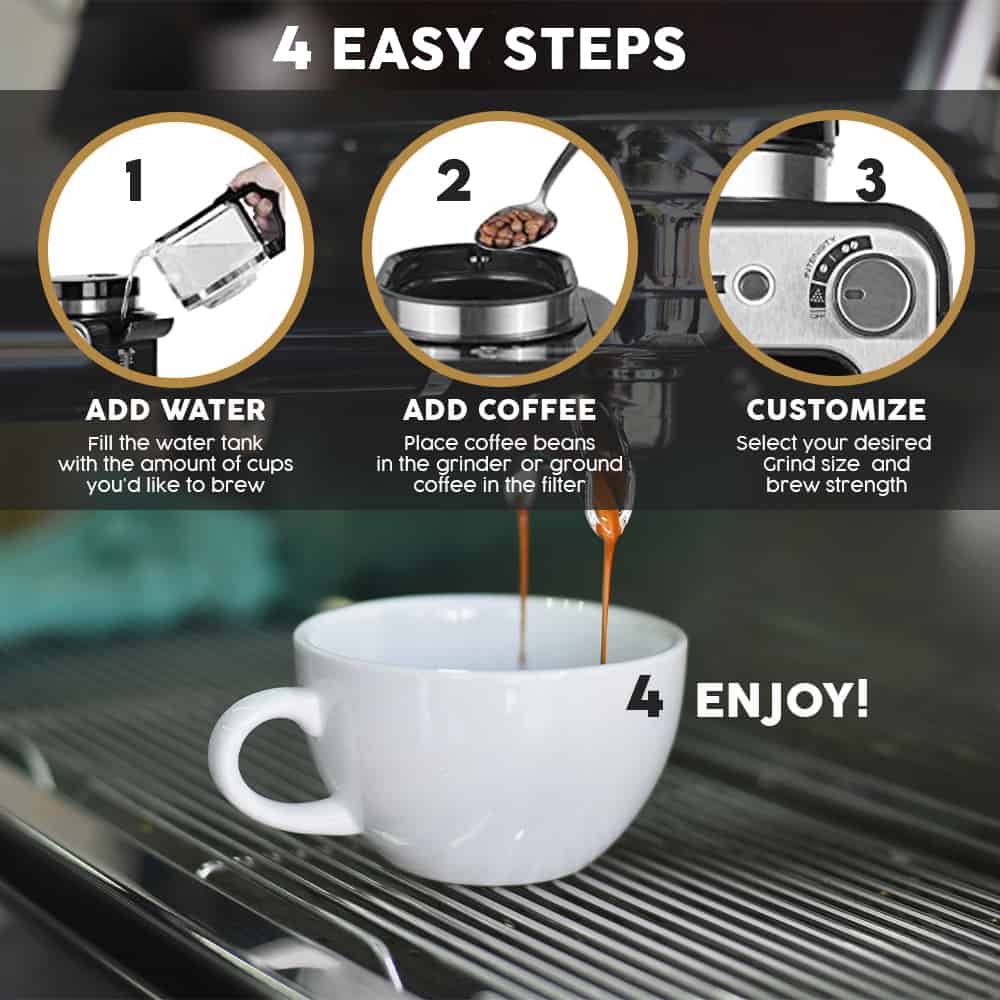 With time, your machine might have broken filters, leaking gaskets, or faulty wiring. This could mess up its internal settings, it may not achieve the 9 bars of pressure required to pull a great shot, and result in a weak tasting under-extracted coffee.
Usually, it is easy to tell when your machine is not working correctly. However, you can ask an expert to check it if you want to be sure.
Using the Wrong Coffee Grind Size
Another reason for the lack of crema on your espresso is that you're using the wrong grind size. The taste and texture of your coffee have a lot to do with the coffee grind. If your beans are too coarse or too fine, it will affect how water passes through them.
This could stop the crema from forming on your espresso.
When making espresso, use the right coffee grinder to achieve a fine grind. This will help the water to pass through the coffee beans more slowly, allowing all the flavors and oils to be extracted. A coarser grind will allow water to pass through too quickly, washing away the flavor of your coffee.
Want to improve your coffee game? Download our free coffee grind guide and learn how to get the perfect grind for your brew method.
Using Stale Coffee Grounds
If your grind and machine are fine, there might be another problem with your coffee beans. Stale coffee beans are another common reason your coffee machine cannot form crema for your espresso shot.
Your beans must be roasted shortly before you make your coffee. Many people store pre-ground coffee in large quantities and use them to make coffee for the rest of the month. This is not ideal if you want a creamy espresso, since the gases start releasing as soon as you grind the coffee.
I've also seen grocery store coffee that was roasted 1 year prior to me looking at it on the shelf.
Freshly roasted coffee beans have a much better chance of producing crema. If you are sure that the problem is not your coffee grounds or machine, try using fresh beans and see if the crema forms. If not, there might be an issue with your espresso machine that needs to be addressed by a professional technician.
Wrong Temperature and Pressure Settings
The final and most vital reason your espresso has no crema is that you have been using the wrong settings. We've already discussed how water pressure and temperature are essential in making crema. If the pressure is too low for the beans, the water may not trap carbon dioxide while passing through the coffee.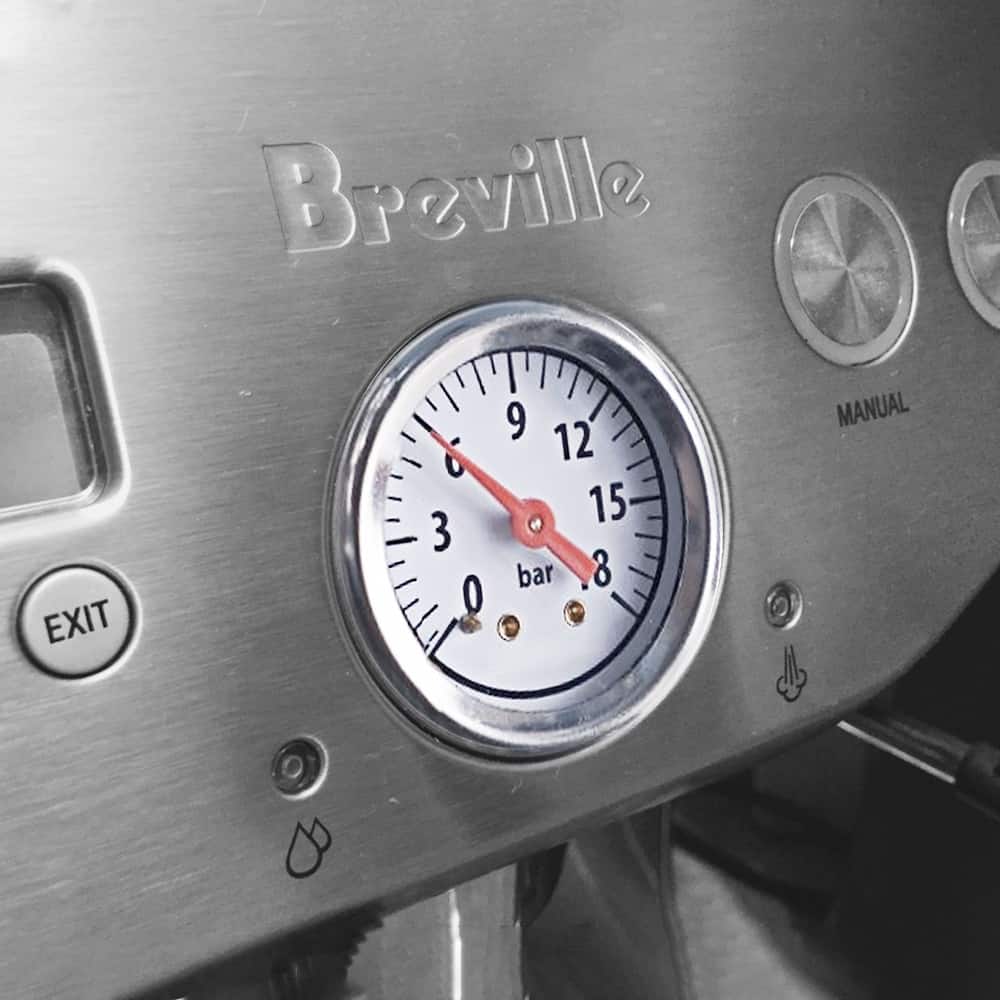 Also, if the water is too hot or cold, it may not extract sufficient oils from the beans.
The ideal pressure for espresso is 9 bars, and the ideal temperature is between 195 and 205 degrees Fahrenheit. If your machine cannot reach these settings, you won't be able to make a foamy layer of crema, no matter how good your beans are.
Tips to Get Crema on Your Espresso Shot
If you're having trouble getting a good crema on your espresso, don't worry. There are a few different reasons why it might not be coming out the way you want it to, and once you figure out what's causing the problem, you can work on fixing it. And even if you get some crema, that doesn't mean your espresso will automatically be great.
Here is a dedicated post with tips to getting perfect crema on your espresso.
To make sure you're getting the best espresso possible, here are a few tips:
Use fresh coffee beans: The first step to creating a delicious and flavorful espresso is using freshly roasted coffee beans. Coffee is best 7-21 days after roasting. It won't go bad after 21 days just yet, but it starts losing flavour.
Better coffee machines: Sometimes, you can do everything right but still get mediocre-tasting coffee. In such cases, your coffeemaker may be inefficient. However, there are many coffeemakers on the market, from high-quality espresso makers to automatic coffee machines. You can search for a better one and prepare a perfect coffee that makes your mouth water.
Find balance: Crema can make the perfect espresso appear pleasing. However, if you focus only on its looks, you might make bad-tasting coffee. A high-pressure, dark roast Robusta bean will give you beautiful and thick crema but a terrible flavor. So, find your preferences and balance the look and coffee flavor accordingly.
Keep your machine clean: You might not even need to buy a new machine if you are taking great care of the one you have. Dirty coffee machines produce flavorless espresso with no crema. So, clean your machine and get the perfect espresso crema you can make.
By following these tips, you can create a delicious and flavorful espresso that will make your morning (or any time of day) a little bit better.
Conclusion
Every espresso drinker deserves perfect and flavorful quality crema on their beverage. While espresso is not as creamy as some other types of coffee, the foamy crema on top can significantly enhance its flavor. So if you're having trouble getting a good crema, you need to figure out what's going wrong and fix it.
The most common reasons are broken machines, wrong settings, wrong grind size, and the use of stale beans. Once you've found and fixed the problem, you can have a better coffee brewing experience.