Will Reusable Coffee Pods Save the World?
One of the environmental concerns that have caught the public's attention is the piles upon piles of coffee pods ending up in landfills each year. It's a major environmental issue as it contributes to the growing problem with plastic disposal. Yet, many coffee pod producers pledge to make things right by providing alternatives: both fully recyclable or fully compostable single-use coffee pods. Evidence suggests this won't necessarily solve the problem. Could reusable coffee pods save the earth? Let's explore this topic and help you find some solid, reusable coffee pods for your arsenal.
What are Reusable Coffee Pods?
Reusable coffee pods are usually made of plastic, stainless steel or aluminum. These are specifically designed for pod coffee machines such as Nespresso and Keurig. Unlike single-serve coffee pods where you have to throw it away after a single use, reusable coffee pods allow you to refill them with the coffee grounds of your preference – almost like a miniature moka pot.
We've featured some highly reviewed products (below) or you can DIY like the guy in this video! To reuse a recyclable coffee pod, you'll need to use some hacks, some caution, and some common sense. There are some drawbacks to using reusable coffee pods. These are:
Reusable plastic coffee pods might damage your pod machine if you're not aware of the kind of plastic material used in manufacturing the pods. If the coffee pods are made of substandard plastic material or used improperly, chances of coffee pods bursting is high.
Advanced software allows each coffee machine to know what's going into its chamber so not every substitute will brew. In fact, the barcode on each nespresso vertuo pods tells the computer how to brew (duration, water, speed, etc.) Only the best reusable pods will work with these machines.
If you're willing to fill a vessel with ground coffee each time you want to drink some, why not explore a more traditional coffee brewing method? Coffee pods are awfully convenient and that's the real problem.
Coffee Pods 101
Have you ever wondered about the coffee pods' origin? This compact container of coffee grounds that are loaded in coffee machines to make palatable coffee was invented in 1986 by a French-speaking Swiss and aerodynamics engineer named Eric Favre. If it wasn't for his wife, Anna-Maria who challenged him about making a bland coffee tasty, Nespresso wouldn't be invented.
To date, you can find various coffee capsules made from different materials. The materials used to make coffee pods has a direct impact on how coffee tastes and to our environment. Most of the materials used for coffee capsules are plant or cornstarch-based compostables, Polybutylene Terephthalate (PBT) plastics and Aluminum.
The coffee pod pioneer, Nespresso, manufactures their capsules out of Aluminum while other coffee roasters use the compostable and plastic capsules. Yet, many coffee roasters nowadays are adopting the use of Aluminum as an alternative to promote environmental sustainability.
Nespresso vs Keurig
Recognizing who's better in making coffee between Nespresso and Keurig is difficult as both are excellent pod machines in brewing delectable coffee. Yet, its value always depends on the needs of the coffee drinker who will be using either of the two coffee machines to make their morning joe. Yet, with all honesty, which coffee maker is better?
For you to identify if Keurig and Nespresso can meet your coffee expectations, we highlight the features of these pod brewing machines below.
Nespresso
Origin: Switzerland (Nestle Group)
Marketability: Nespresso is a popular coffee maker in Europe.
Variety: Nespresso comes in two product lines – the VertuoLine and the OriginalLine.
The VertuoLine is manufactured for Canadian and North American consumption for its ability to produce coffee in larger servings. It uses the centrifusion brewing system, where the pods are spun to make a more thorough coffee blend. To start brewing, the machine reads the barcode in the Vertuo pods to identify how the grounds in the pods should be brewed.
Quick Nespresso Vertuo Machine Recommendation:
Constructed with Recycled Plastics!
Nespresso Vertuo Next Coffee and Espresso Machine by De'Longhi
QUALITY ROOTED IN SUSTAINABILITY: The aluminium sealed capsule protect the freshness of our coffee, but its also recyclable. Nespresso's recycling program makes returning and recycling your capsules easy with at-home and in-store options nationwide
IMPOSSIBLY GOOD QUALITY: The only Nespresso Vertuo machine that brews 6 sizes: coffee (5 oz, 8 oz, and 14oz), Espresso (single and double). New pour-over style caraffe (18 oz) coffee exclusively for Vertuo Next
QUALITY ENABLED BY TECHNOLOGY:This Nespresso Vertuo machine delivers the optimal in-cup results for each blend using capsule-specific brewing with barcode reading resulting in a silky crema atop the coffee; a signature of a truly great cup of coffee
QUALITY MADE SIMPLE: This Nespresso machine delivers a consistent and delicious cup of coffee at a touch of a button. After brewing, the capsule is automatically ejected and stored – ready to be recycled– and the machine will turn off to save energy
QUALITY DESIGN: Nespresso's newest innovation, Vertuo Next is the most compact, sustainable and smart Vertuo single-serve coffee maker yet. It's made of 54% recycled materials, is only 5.5 inches wide. It also comes with a removable water tank
COMPLIMENTARY GIFT: Each Vertuo coffee machine includes a welcome kit, which includes a set of 12 Nespresso Vertuo coffee capsules, offering an introduction to the various size and flavor options
Check Latest Price
We earn a commission if you make a purchase, at no additional cost to you.
Keurig
Origin: North America (Keurig Dr. Pepper)
Marketability: Keurig is a popular coffee machine in the US, especially in office markets.
Variety: Keurig has more than 60 k-cup brands as a result of partnering with a plethora of brands to produce the reusable K-cup.
Keurig sees to it that no matter what coffee machine is available in your kitchen, you can always find a reusable K-cup that you can use to brew coffee. This confidence comes from the fact that aside from over 50 different models of Keurig machines, various coffee brands also offer their blends in reusable K-cups.
Our Pick Keurig 1.0 Machine
Keurig K-Elite Coffee Maker, Single Serve K-Cup Pod Coffee Brewer, With Iced Coffee Capability, Brushed Silver
Included in the box: A bonus 6 count k cup pod variety pack, one water filter handle, and one filter to help ensure your beverages taste their absolute best
Coffee in no time: Brews k-cup pods in under a minute.
Large 75 ounce water reservoir: Allows you to brew 8 cups before having to refill, saving you time and simplifying your morning routine; removable reservoir makes refilling easy
Removable drip tray: Accomillimeterodates travel mugs upto 7.2 inches tall and holds a full accidental brew for easy cleanup
Brewer maintenance reminder: Alerts you when it is time to descale your coffee maker; Descaling is an important process that removes built up calcium deposits, ensuring the best tasting brew possible
Quiet brew technology: Minimizes noise when the coffee maker is in use
Beverage Options: Brews coffee, tea, hot cocoa, specialty, and iced beverages.
Check Latest Price
Learn More
We earn a commission if you make a purchase, at no additional cost to you.
Why are Coffee Pods an Issue for the Earth?
Ever since Americans found convenience in using coffee pods to brew their coffee with the delight on the assortment of flavors available, its consumption increased. These single-use products might have brought convenience to the coffee drinkers, yet it has its dark side:
Tens of billions of nonrecyclable and non reusable plastic coffee pods end up in landfills everyday.
Plastic coffee pods will take thousands of years before it decomposes in the landfill, which adds to the growing problem with plastic pollution.
Both the convenience and creativity that coffee pods offer is countered with the growing concern over their environmental impact. According to Dr. Andrea Hicks of the Department of Civil and Environmental Engineering at UW-Madison on her research about coffee pods usage. The growing issue with coffee pods on Earth is not solely because of the technology use or the human behavior. "It's somewhere in the middle of what people do with it."
Meaning, the efficiency of the technology in producing sustainable products is useless in practice if its long term impact won't be holistically assessed. If the impacts were properly assessed, consumers would be properly guided on how the coffee pods should be used.
Why are Coffee Pods convenient?
John Sylvan, one of the Keurig founders, had a goal to solve a common office coffee problem – a full pot of brewed coffee grows bitter and stale as it sits for hours waiting for the employees to slowly consume it throughout the day on their coffee breaks.
Meanwhile, Eric Favre invented Nespresso cups to prove to his wife that he can make delicious coffee. Favre invented the sealed pods where the air is trapped before hot water is forced inside to fill the cup with a frothy espresso. This barista technique helped Favre conclude that oxidation can bring out the best flavor and aroma of the coffee beans.
Judging from the reasons single use coffee pods were invented, it begs the questions: Are Coffee Pods superior to traditional coffee brewing? If so, why?
Vacuum sealed pods guarantee the coffee beans are fresh.
The length of time to brew coffee with the best reusable coffee pods is shorter than the traditional way of coffee making.
One can maintain a wide variety of coffee pods in terms of flavor,and origins, and roasts
Cleaning and maintenance is much easier.
User Guide for Reusable Espresso Pods
To properly operate your coffee pod machine with reusable espresso pods, here's a simple user guide that you can follow.
How to use the reusable pods (steps)
Fill the empty, clean pods with ground coffee. You can use a coffee burr grinder to grind the coffee beans to an espresso grind size. Make sure that the grounds are not too thin (because it might clog the capsule) or too big (because the water will easily pass through it).
After filling the pods with ground coffee, pack it with a cork or a tamper. Once you've packed the grounds, seal the capsule. Make sure the seal is in place and there's no grounds falling.
Load your reusable espresso pods in your machine. It's ready for brewing coffee.
Sizes
The size of the pods matters for you and your machine's safety. You can't just load your pod machine with any pods without identifying if its size is compatible with your machine. So if you're looking for an espresso pod, here are the different brand pod designs and its sizes on which most reusable coffee pods are based.
Keurig 1.0 (k-cups) – these are the most common
Keuring Vue- specially sized pods
Keurig 2.0 (licensed cups only)
Nespresso Original – 37mm x 30mm
Nespresso Vertuo – various sizes
Espressi/K-Fee Aldi – 45mm x 25mm
Nescafe Dolce Gusto – 37mm x 54mm
Lavazza Blue Capsules (US)
Caffitaly – 45mm x 25mm
Lavazza A Modo Mio – 47mm x 17mm (N/A in US)
Espressotoria (Vittoria) – 37mm x 30mm
Easy Serving Espresso – 44mm
Materials
Coffee roasters have come up with innovative ways to make their coffee pods environmentally friendly and sustainable. Most of the coffee pods produced are often made of the following materials:
Stainless steel
Paper or silk
BPA-free plastic
Bamboo resin and corn
Brand Compatibility
When it comes to brand compatibility, Keurig is a bit ahead of Nespresso. Instead of producing their own line of K-cups, Keurig partners with coffee roasters to produce K-cups to supply the need for coffee pods that will fit to any coffee machine. So when you buy coffee, some roasters offer their grounds in eco-friendly pods.
Here are our favorite K-cups from roasters we trust: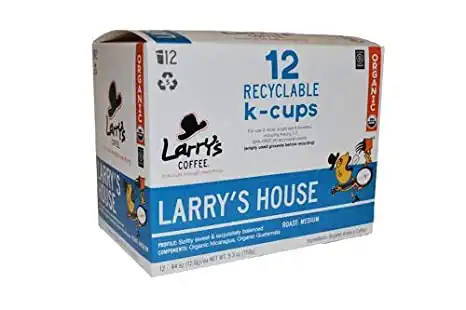 K-Cups
Cooper's KENTUCKY BOURBON BARREL AGED K CUPS
Kentucky Bourbon Barrel K Cups! 12ct box.
A new release by Cooper's Coffee Company. We take a very well known, freshly dumped Kentucky Bourbon Barrel and load in grade 1 Colombian green coffee beans. We then age this for 45-60 days and roast to a medium-dark.
Barrel Aged: Kentucky Bourbon whiskey
Coffee Beans: Colombian Grade 1
Tasting Notes: Vibrant taste profile of rustic sweetness, a hint of cocoa and dark fruit notes with a bourbon finish
MICRO LOT SINGLE-ORIGIN COFFEE: Colombian Single Origin Farm Gate dark roast coffee beans. An incredibly vibrant boutique of aromatics and smooth full body flavor.
QUALITY SOURCED BEANS: We profile each lot of Fair Trade Coffee Beans (Grade 1). If it doesn't meet our high standards it is not used.
SMALL BATCH ROASTERS: Our premium coffee beans are artfully roasted in small batches to ensure fresh delivery of recent roasts. This gives us full control of the profile and creates a bold, smooth, flavorful coffee.
WICKED GOOD GUARANTEED: If for any reason you're not satisfied with our coffee just let us know within 30 days for a full refund or pick something else and we will ship it to you for free.
INDIVIDUALLY CRAFTED: Our Master Roaster handwrites the roast date, lot number, and initials every bag. Appreciate the work of a master craftsman when you open the bag and smell the amazing aroma.
Check Latest Price
Kenya AA Pods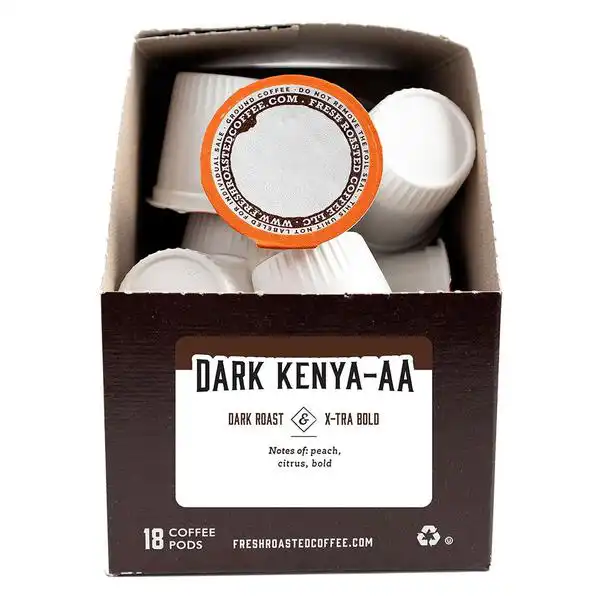 Fresh Roasted Coffee LLC | Kenya AA Pods | 18ct
Our Dark Kenya AA coffee is a rich and sweet dark roast with savory floral notes and balanced acidity at a deeper roast level. The body of this coffee is extra bold but also bright, allowing for the tell-tale fruit and wine-like flavors of our wet-processed Dark Kenyan coffee to shine through.
Hand-picked coffee cherries are delivered to the wet mill the same day they are harvested. Cherry sorting is carried out at the mill, followed by wet processing, followed by sun-drying on raised tables. The coffee beans then proceed to the dry mill for secondary processing.
Bungowa County AA coffee is grown by small holders, generally with less than 200 trees each, delivering fresh coffee cherries to cooperative mills.
***10% coupon code already included in link below***
Check Latest Price
Learn More
We earn a commission if you make a purchase, at no additional cost to you.
Model Compatibility
When you buy a pod coffee machine, you have to be weary about the number of compatible pods for your machine. You are paying less for the machine and more for the continual acquisition of the product specific pods. Worry not! While there are many different brands, the two primary ones we're focusing on are Nespresso and Keurig.
The Future of Coffee Pods
Will every roaster have to sell pods to stay in business? With coffee being the most widely consumed beverage around the world, there's hope for coffee pods to prosper. However, it does not guarantee a brighter future for some coffee roasters due to two reasons: the packaging and the disposability/recyclability concerns.
These reasons constrain the growth of the coffee pod market. Yet, Nespresso, the leading coffee pod marketer continues to innovate their coffee pods by recycling 80% of its used coffee capsules through their 14,000 capsule collection and recycling centers in 31 different countries. This is notable because Nespresso controls the recycling process on its own terms rather than yield to local State/Municipal policies that have – sadly- allowed a great deal to end up in landfills. Curious how to clean your Nespresso machine and keep it running efficiently? Check out this article from the Daring Kitchen.
Although a lot of coffee roasters are switching their traditional way of packaging their coffee beans to reusable coffee pods, some of it still ends in landfills. For now, it's too early to predict the fate of coffee pods and coffee roasters because the demand for coffee pods still rises and the demand for new products continues to grow. Are compostable pods the answer? This is a complex question but certainly worth exploring. Here is more info about composting plastics.
According to the International Coffee Organization (ICO), the trend for coffee pods still rises because of the technological advances and the rising demand for easy-to-use capsules. At present, Scandinavian countries still hold the records with the highest coffee consumption rates with Norway leading the list with 9.9 kg per capita, followed by Denmark (8.7kg per capita), and Sweden (8.2kg per capita).
Our Favorite Reusable Coffee Pods
You've got your dream coffee machine that uses coffee pods, now what? If you're looking for the best reusable coffee pods, we've listed some of the reusable coffee pod favorites. Enjoy!
NESPRESSO Favorites
Original Nespresso Line Reusable Refillable Capsules
The Original Nespresso Line capsules are your versatile reusable coffee pods that allows you to create delectable latte, cappuccino, espresso or Americano. The capsules are directly compatible with all the Nespresso Original Line Models .
Original Line Nespresso
Pack of 6 – Multiple Units so you can pre-fill your coffee pods all at once
BPA free plastic
Has built-in stainless steel micro mesh filter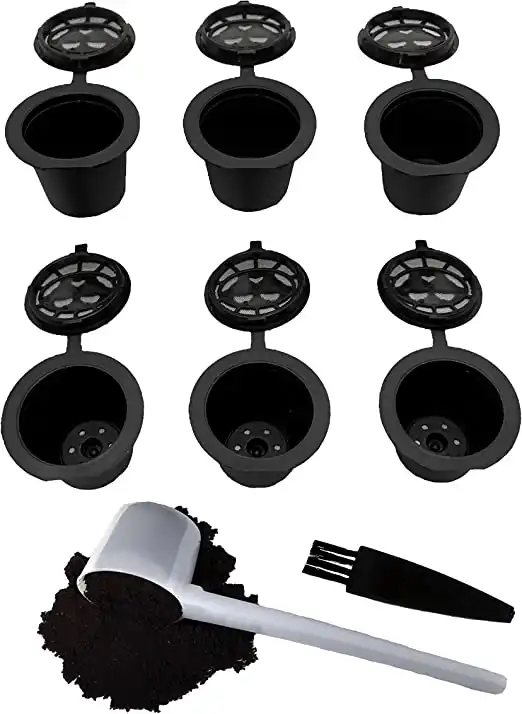 Nespresso Capsules Refillable - Reusable Coffee Pods For Nespresso Cups - OriginalLine Compatible - Pack of 6
EASY & ECONOMICAL - Now you will be able to easily make your favorite Espresso, Cappucino, Latte or Americana and will never be limited to a brands single use coffee blends, enjoy your favorite coffee with the Nespresso Machine you Love!
PERFECT ALTERNATIVE THAT SAVES YOU MONEY - The best choice to costly pods and to brew in seconds. Easily pack 5 to 6 grams of your favorite fine ground espresso to the rim, using the included scoop, lightly tamp grounds and snap on lid. After only a few trial brews you will be making multiple cups of Nespresso hassle free.
PRECISELY COMPATIBLE - with all Nespresso Original Line Models - Essenza, U, Milk, Citiz, Citiz- Milk, Gran Maestra, Maestria, Pixie, Lattissima, Lattissima +, Concept, Le Cube, & Inissia. Stainless steel micro mesh filter allow the refillable Nespresso capsules to be washed in the dishwasher multiple times with no wear and tear and be refillable time after time
GREAT FOR THE ENVIRONMENT - Ideal eco-friendly alternative way to enjoy Nespresso Machines - This product is BPA free and 100% non-toxic. Reduces your carbon footprint!
EXTENDED LIFETIME & 100% SATISFACTION GUARANTEE - NOTE: WARRANTY ONLY VALID BY THE MANUFACTURER RAPID MERCHANTS DIRECT - We stand by our customers making them our top priority. Made from durable food grade BPA free material that allows for extended lifetime of pods. Nespresso is a Registered Trademark of Nestlé Nespresso SA. ABG / Rapid Merchants Direct is not affiliated with Nespresso or its brands. Machine or coffee not included
Check Latest Price
Learn More
We earn a commission if you make a purchase, at no additional cost to you.
iCafillas Stainless Steel Reusable Capsules
The iCaffilas reusable capsules are made of the finest stainless steel and come with replacement seals.
Vertuoline Nespresso Compatible
Delonghi ENV 135 and 150 compatible
Stainless Steel
2.4 oz (espresso size only)
NOT for Keurig
Espresso Size Specific!
i Cafillas Refillable Stainless Steel Coffee Capsule Compatible for Nespresso Vertuoline | Reusable Pods | Espresso Size | 2.4oz (Capsule)
Use your favorite coffee, save money and protect the environment. The capsule is made of high quality stainless steel and can be filled and cleaned perfectly with the included accessories, including replacement seal
The capsule is made of high quality stainless steel and can be filled and cleaned perfectly with the supplied accessories, including replacement seal
Enjoy your coffee with the refillable coffee capsule from i cafilas. Thanks to the innovative technology, you will receive a delicious coffee with a great crema.
With the included accessories you can easily fill the stainless steel capsule with your personal coffee, tea or cocoa.
Package--1 stainless steel nespresso vertuo capsule 1 spoon 1 brush,please confirm your coffee machine before order
Check Latest Price
Learn More
We earn a commission if you make a purchase, at no additional cost to you.
The Coffee Seal Reusable Stainless Steel Capsule
The Coffee Seal Capsule is a full cup reusable capsule.
Works Vertuo Nespresso Coffee Machines
5oz (makes large coffees)
Can hold up to 12 grams of coffee
Can make an 8 ounce of brewed coffee
Crafted using a food-grade 304 stainless steel
Comes with a barcode
Not dishwasher-safe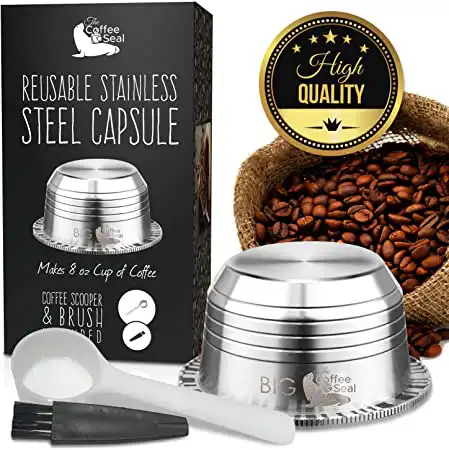 The Coffee Seal | Stainless Steel Reusable Coffee Pod | Large | Nespresso VERTUO compatible | 5oz
Eco-friendly: 100% reusable capsule which means you save a lot of money and you save the environment at the same time!!! premium support!! no need for plastic capsule delonghi espresso cups filter cup set or nespresso replacement capsule holder!!!!!!
Full cup: The Coffee Seal holds 12 grams of ground coffee and makes a full 8 OZ cup of coffee full of crema and robust flavor with the freedom of being able to choose any coffee you enjoy!!! no need for nespresso reusable filter & better than small
High quality: The Coffee Seal is carefully crafted food-grade 304 stainless steel to ensure safety and effectiveness you can be confident with. our reusable 8oz coffee cup can also make vertuoline double espresso and comes with coffee brush and scoop
Easy to use: All you have to do is grind your favorite coffee beans, fill the capsule with spoon to fill capsule, now just seal the capsule and you are ready to enjoy!!! best upgraded vertuolline large/medium! brewing better than original compact 5oz
Accessories: The Coffee Seal comes with a barcode on the capsule. No need to save your old aluminum disposable capsule or purchase foil covers in order to use The Coffee Seal. cleaning system: open resuable screw & rinse powder than dry to protect
Check Latest Price
Learn More
We earn a commission if you make a purchase, at no additional cost to you.
KEURIG Favorites
DeliBru Universal Reusable K-Cup
The DeliBru Reusable Pods are compatible with any Keurig 2.0 and 1.0. It doesn't require Keurig filter holder switching because the cups fit with its recessed bottom anyway you insert it.
100% BPA-free
Dishwasher safe and Easy to Clean
Features a tight seal to avoid leaks
Compatible with BOTH 2.0 and 1.0
4-pack
My K-Cup by Keurig
Keurig's My K-Cup is compatible with any Keurig 2.0 and 1.0 Brewers, but it doesn't work with ALL Keurig models – such as Keurig K400, Mini and compact. This reusable k-cup is easy to use because it doesn't require swapping the Keurig filter or any kind of tamper to fit the capsules into the machine seamlessly. It is made from 100% BPA-free stainless steel mesh.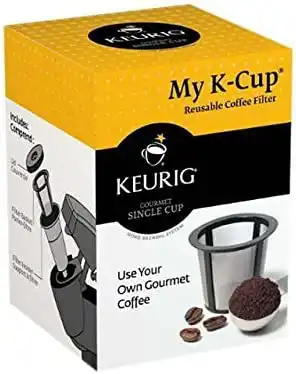 My K-Cup | Reusable Coffee Pod | Original Size (Keurig 1.0)
Rinse clean under running water after each use
Works in Keurig home brewers, such as K10, B40 Elite, B50 Ultra, and B60 Special Edition, K65, K45
Allows users to use their own gourmet ground coffee in a Keurig brewer
Reusable K-Cup coffee filter exclusive to the Keurig Home Brewing System
In Keurig Retail Packaging Box
Does not fit Keurig 2.0, B100, B100P, or B2000/3, B130 Keurig Office and commercial model brewers
Check Latest Price
Learn More
We earn a commission if you make a purchase, at no additional cost to you.
Other Pods
IPartsPlusMore Reusable K-Cup Pods
The iPartsPlusMore Reusable pods allows you to cut your carbon print while cutting your coffee-making expenses. It is made from durable BPA-free plastics with built-in stainless steel, micro-mesh filter. It works well with Keurig B31, B40, B44, B50, B60, B66, B70, B77, B140, B200, CuisinArt K-Cup, Mr. Coffee Art K-Cup and Breville K-Cup.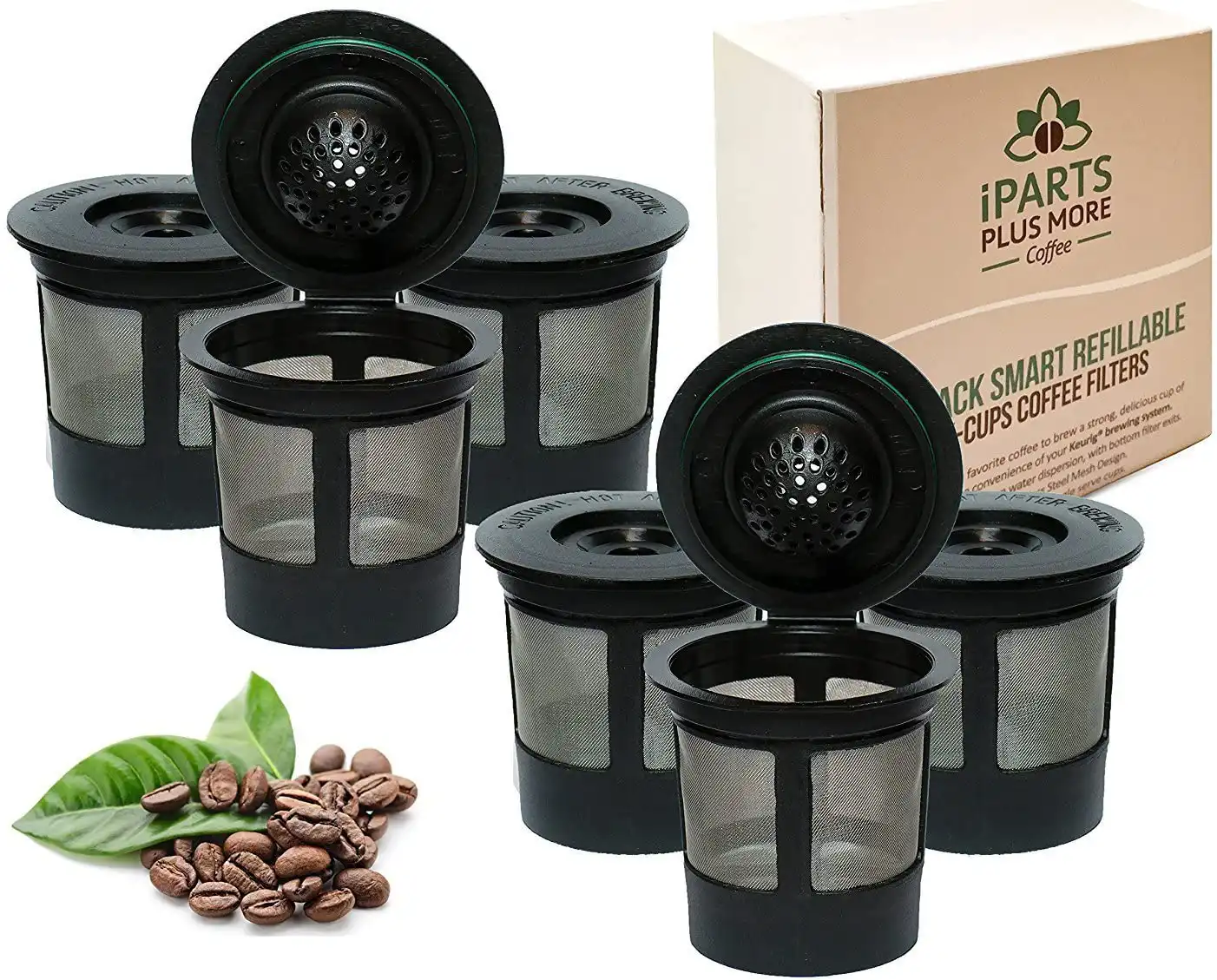 iPartsPlusMore Reusable K Cups For Keurig 2.0 & 1.0 Brewers | Stainless Steel Mesh Filter (6 Pack)
Use your own gourmet ground coffee in a keurig brewer
100% bpa free, works with, k31, k40, k44, k45, k50, k60, k66, k70, k77, k100, k135, k140,
Works with keurig b31, b40, b44, b60, b50, b66, b70, b77, b200, b140, breville kcup, mr. Coffee kcup, cuisinart kcup
No need to remove or swap out the filter holder, built-in permanent stainless steel micro mesh filter
Not compatible with keurig 2.0, vue, b30, b130, b145, b150, b155, k30, k130, k145, k155, k150 and commercial models
Check Latest Price
Learn More
We earn a commission if you make a purchase, at no additional cost to you.
Alternatives
EZ Cup 2.0
The EZ Cup 2.0 resembles Keurig K-cups but is much easier to use because it doesn't require peeling of aluminum lid to recycle the k cups properly.
Made of thick BPA-free plastic capsule
Comes with compostable paper filters
Compatible with Keurig and other brewing machines.
Uncommon Coffee Roasters Eco-friendly Pods
It's the 'greenest' reusable pods that is compatible with the majority of Keurig coffee machines and other commercial brewing systems.
Made of corn-based materials and bamboo resin
Decomposes within 90 days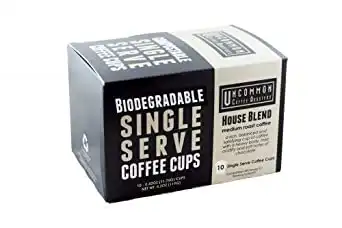 Uncommon Coffee Roasters, Biodegradable Single Serve Coffee Pods, Box of 10 Single Serve Cups (Regular)
BIODEGRADABLE POD - Lid, Single Serve Brew Cup, and Coffee are 100% Biodegradable.
LANDFILL FREE - The capsule and lid are made out of a Bamboo Resin and corn-based material and can withstand the pressure and heat of your single-serve brewer and still compost down to natural matter within 90 days. Dispose of entire single serve cup with your other biodegradable materials.
UNIQUE POD AND FILTER - Capsule holds more coffee than standard pods, averaging 25% higher TDS rating. Optional water-to-coffee ration and dispersion, giving you extraction like no other single-serve cup available. Compatible with Keurig 2.0 Brewing Systems.
HOUSE BLEND – Medium Roast coffee with a heavy body, mild acidity, and soft notes of chocolate. A rich, balanced, and satisfying cup of coffee.
MICHIGAN MADE – Uncommon Coffee Roasters is known by locals and visitors who enjoy the café in downtown Saugatuck, Michigan. Send a flavorful coffee gift from Michigan!
Check Latest Price
Learn More
We earn a commission if you make a purchase, at no additional cost to you.
Our Favorites
Who Has the Best Social Mission?
This is a hard question to answer. Clearly, Nespresso was built with a recycling model at its core. However, Keurig has created a new vehicle for coffee producers to share their products with the World. Vacuum sealing enhances shelf life and the volume of coffee needed for a good cup of coffee. Plus, initiatives in the last decade have shown Keurig to have a clear solution to address landfill and compost concerns.
Personally, I've been intrigued by the success of these coffee pod models, but I am old fashioned and have stuck with traditional brewing methods. I don't like having to rely on a packaged product or a sophisticated machine to enjoy my daily dose of coffee. Therefore, I'm leaving it up to you to decide which of the market leaders has our environment in mind. In the meantime, please let us know your thoughts on this subject and we'll continue to review the products we think are doing their best to keep quality standards high and the people and places that produce coffee as healthy as possible.
Conclusion
Becoming environmentally conscious is not a hype but a must. It's our moral obligation to protect the Earth from destructive activities. A small act can add up to create a huge impact. As ordinary citizens, you can do so something for our planet. This starts with our buying decisions.