Hugo Coffee: A Local Utah Roaster and a Love Story about Dogs and Coffee
Can love for coffee and dogs make a difference? A local roaster in Park City, Utah, made it possible. Hugo Coffee Roasters keeps on winning the coffee and dog community's hearts with its coffee blends and dog rescue mission since 2015. How do they do it? Read and enjoy.
Hugo Coffee Roasters
Pros
Roasted using renewable energy
Coffee packs comes in compostable bamboo packaging
Reasonable price
Cons
Small variety of choices
Offers one type of subscription
Summary
Hugo Coffee Roasters keeps on winning the coffee and dog community's hearts with its coffee blends and dog rescue mission since 2015.
Sustainability / Social Justice
4.5
How Hugo Coffee Roasters Started
Hugo Coffee Roasters started from Claudia McMullin's dream of living a more outdoorsy lifestyle than being stuck in the office as a Wall Street litigator. When she heard about Friends of Animals' need for an executive director to lead, she took the role since she's all about dogs and animals. For a few years, she served the institution in doing rescue missions.
On those times, she also found out that her favorite local coffee vendor would no longer renew their lease and had decided to sell their equipment. Not ready to give up her favorite coffee from Silver Bean, she bought the coffee shop in 2015 and renamed it after her handsome rescue pup, Hugo, who also served as its face and inspiration.
Mission
Hugo Coffee Roaster of Park City, Utah, aims to support the dog rescue missions by donating 10% of its profits. Two of its beneficiaries are the Best Friends Animal Society Utah and Nuzzles & Co. Likewise, they collaborate with local retail partners on the adoption and education events that the roasters support and hold fundraising events for a furry cause.
At present, Team Hugo was able to generate funds to produce 4,102 meals, administer 2,790 vaccines, 174 neuter operations, and make 996 dog beds from every Hugo coffee beans bag. They also feature our furry friends such as Frankenstein, Bode, Finley, Monkey, and Ruby – with each having stories to tell.
What's Special About the Location?
The Hugo Coffee Shop
The Hugo Coffee Shop stands against the picturesque Wasatch Mountains. You can dine-in or pick up your roast at the curbside inside the Park City Visitor Center. Every time you visit this homely cafe, you'll be welcomed by the smell of freshly roasted coffee, a warm smile from the staff, and some furry friends hanging out.
Hugo.Coffee
You can also purchase your favorite Hugo Coffee Blend at their official website at Hugo.coffee. Browse for all their coffee blends, 3-pack and 6-pack roaster bundles, cold brew coffee, and other Hugo Coffee merchandise such as mugs, tumblers, and gift cards.
Things to Consider Before Buying
Shipping
Hugo Coffee in Park City offers flat-rate shipping of $5. If your total purchase is over $35, you ship the Hugo products right at your doorstep for free.
Subscriptions
When you subscribe to Hugo Coffee, you can receive your order every month with a 15% discount. A 12 oz bag of Hugo beans subscription cost $13.59 while the 5 lbs bag of Hugo beans subscription is $59.49.
Hugo Coffee Roasters is led by Founder and CEO Claudia McMullin and John Lynn, the head roaster responsible for roasting the coffee blends you love.
Features & Benefits
Social Impact
Hugo Coffee Roasters is committed to supporting the small family farms and co-ops through Fair Trade. They buy their coffee beans directly from the people who grow and manage the coffee farms and cooperatives that practice fair labor and healthcare for all family members. Likewise, they support every dog rescue mission of Friends and Animals and Nuzzle & Co.
Quality Vs Price
To ensure that the beans arrive consistently fresh at your doorstep, John Lynn (head roaster of Hugo Coffee Roasters) roasts the coffee beans in a tightly controlled process concerning the beans' origin, region, and cultivation altitude. For such dedication in roasting a coffee blend, each coffee bag's price is reasonable enough to enjoy a barista-quality coffee while you save dogs.
Variety of Choices
Hugo Coffee offers delectable artisanal roasts with coffee beans imported from South and Central America as well as Central Africa. Below are the remarkable coffee blends you can buy on their Park City Utah coffee shop and their online shop.
Black Paw French Roast
Bonafido Dark Roast
New Trick Light Roast
Downward Dog Decaf
Dog Daze Cold Brew
Roaster's Choice
Howler Espresso
Roll Over Breakfast Blend
Facilities
The coffee beans imported from coffee regions in South and Central America, Peru, and Central Africa are roasted in their modernized roastery located in Park City, Utah. Since Utah had pledged to use 100% of renewable energy by 2032, Hugo Coffee Roaster took the sustainable initiative to upgrade its roasting process with a Diedrich roaster and oxidizer, which leaves the air clean.
Subscription
Hugo Coffee Roasters offers a monthly coffee subscription with the cost ranging between $13.59 and $59.49.
Online Perks
When you join their newsletter, you'll be the first to know about their latest coffee and dog news, upcoming events, dog rescue initiatives, and insider deals.
Coffee Blends Available
Coffee and dog lovers will have a hard time choosing which coffee blends Hugo Coffee tastes best. So, we at Big Cup of Coffee shared our personal Hugo blend favorites with a thumbs up. It could be your next favorite cup!
Roll-Over Breakfast Blend
If you find getting up in the morning difficult, the Roll-Over Breakfast Blend will hit the alarm's snooze for you. It's a smooth, bright, and sweet-toned coffee to ease your day. This Hugo Breakfast blend is available in 12 oz bags and 5 lbs coffee bags and can be whole beans, ground, or French Press ground.
Our Pick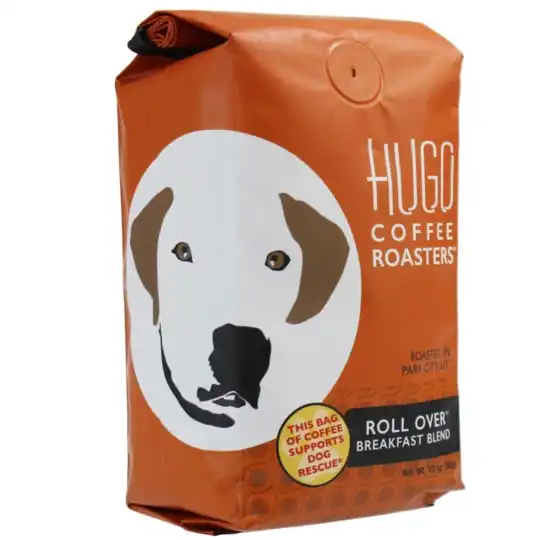 Hugo Coffee | Roll Over Breakfast Blend | 12oz
Tasting Notes: maple, milk chocolate, nuts
Getting out of bed in the morning is ruff. But there's no need to hit snooze on the alarm and roll over for extra sleep when you've got Hugo Coffee's Roll Over Breakfast Blend waiting to ease you into the day. This simple, smooth, easy-drinking coffee with a solid, sweet base will put a smile on your face all day.
Check Latest Price
Black Paw French Roast
You can get the Black Paw French Roast in 12oz or 5 lbs bags of whole beans, ground, or French Press grounds coffee. It's a classic, dark roast for coffee lovers who like their morning coffee bold and strong with a lingering taste.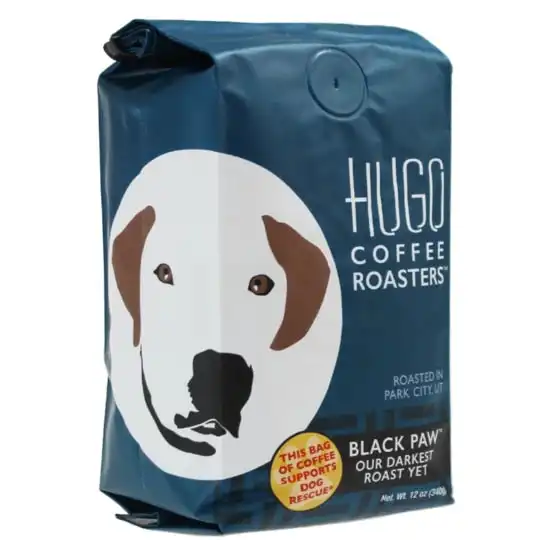 Hugo Coffee Roasters | Black Paw French Roast | 12oz
Tasting Notes: burnt sugar, dark chocolate, spice
Hugo Coffee Roasters Black Paw French Roast is a classic, dark roast for that bold, strong cup of coffee that lingers. Start your day or end your meal with a cup of this beloved, big-body coffee that wags French Roast fans' tails.
Check Latest Price
Dog Daze Cold Brew
The Dog Daze Cold Brew is the perfect coffee blend to bring when you walk your dog at the park or enjoy the scenery while on a camping trip with your furry buddies. You can get it either in a 16 oz bag, a 5 lb ground coffee bean, or in packs of compostable bamboo coffee bags. It's a refreshing cold brew with strong, bold, and rich cup notes.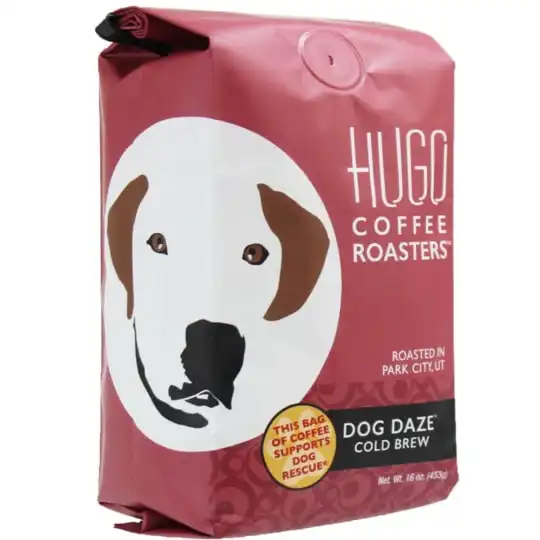 Hugo Coffee | Dog Daze Cold Brew | 16oz
Tasting Notes: chocolate, nut, spice
Bring the coffee shop experience straight into your kitchen and onto your campsite with Hugo Coffee's Dog Daze Cold Brew. These hand-selected and meticulously roasted beans make it easier than ever to whip up your own top quality, cold brew concentrate. Strong. Bold. Rich. Smooth. With this refreshing jolt at the ready, surviving the dog days of summer is a breeze.
Check Latest Price
Downward Dog Decaf
The Downward Dog Decaf is a sweet treat for coffee drinkers who want to avoid the jitters. It has the tasting notes of caramel, banana bread, and cocoa. It comes as a strong decaf with no smoky or chemical aftertaste. You can get it packed in 12 oz and 5 lbs coffee bags.
Hugo Coffee | Downward Dog Decaf | 12oz
Tasting Notes: banana bread, caramel, cocoa
Designed for those who love the taste and ritual of coffee, but are done with caffeine for the day. Thoughtful bean selection, Hugo Coffee's careful roasting, and a unique and natural decaffeination process yield a delightfully strong decaf without the burnt, smoky, chemical taste typical of other decaffeinated coffee. Relax, rejoice, repeat.
Check Latest Price
What the Community Says About Hugo Coffee
Alternatives
Support Animal Rescue & Adoption
Grounds and Hounds Coffee
Grounds & Hounds Coffee is not just a coffee company but a social enterprise that supports animal rescue and adoption. It is like a paradise for coffee and dog lovers. Not only that you will be able to buy delicious specialty coffee roasts, but with every purchase you make Ground and Hounds will donate a portion to an animal rescue initiative. They are also big supporters of organic and FairTrade coffee.
Check Latest Price
Full Review of G&H
Verdict
From this Hugo Coffee Review, we can learn so much from the Founder and CEO, Claudia McMullin. Hugo Coffee Roaster is such a huge inspiration if you want to make a difference. This Utah-based roastery aims to save dogs, offer the best tasting coffee, and promote sustainability through renewable energy use in roasting coffee beans.
From its foundation in 2015, this coffee roaster continues to be of service to the community, animals, and the environment. No wonder Hugo Coffee Shop in Park City is the haven for coffee and dog lovers.
Have you visited the Hugo Coffee Shop in Park City? What Hugo coffee have you tried? Please share with us your Hugo Coffee experience in the comments below.