De'Longhi Eletta Review 2023: A Good Deal? Not quite…
The DeLonghi Eletta is a super-automatic espresso machine manufactured by a Treviso-based appliance company, DeLonghi.
It makes a delicious brew and a perfect foam for any milk-based coffee drink. With its customizable drink options, one-touch recipes, and features available through the machine's touch-control LED panel.
But is this espresso machine a good value or just an overpriced toy? Find out the answer by reading through this De'Longhi Eletta review.
De'Longhi Eletta Review 2023 Summary
DeLonghi Eletta Review
Pros
Prepares a rich crema for any milk-based coffee drinks
Grinds finer coffee beans when tuned to the finest level
Programmable coffee machine for a morning brew
Cons
The machine is quite expensive
User profiles aren't available to save customized beverages
Has long cleaning time before and after use
Summary
The De'Longhi Eletta is one of the best automatic coffee machines with features that compare with high-end espresso machines used in cafes and restaurants.
Coffee Quality & Versatility
4
Product Overview
The De'Longhi Eletta is a fully automatic espresso machine that operates through the Sensor Touch control panel. It's an espresso machine that works best for any milk-based coffee drink as it uses the patented Latte Crema System. If you are craving a flat white, Macchiato, or Cafe latte, you can prepare these coffee drinks using the Milk Menu function, which automatically creates these drinks. Be sure to read our other DeLonghi reviews if you're having trouble picking the right model for your needs.
High Value
De'Longhi Eletta
FRESH ESPRESSO FOR EVERY CUP The integrated burr grinder with adjustable settings grinds fresh beans every time to ensure maximum freshness. You can also use pre-ground in the second chamber – your choice of regular, specialty, or decaf.
The De'Longhi LatteCrema System creates perfectly layered espresso beverages, with dense, rich, long-lasting foam in every cup from start to finish. Maximum cup height- 5.5 inches
CONSISTENT BREWING EVERY TIME Each cup is automatically brewed to the perfect temperature, richness, and density. And, you can customize the settings to ensure it's always just the way you like it.
MAINTENANCE: De'Longhi machines require half the cleaning time of other brands, unlike competitor machines, which require chemical cleaning tablets monthly.
Check Latest Price
Learn More
We earn a commission if you make a purchase, at no additional cost to you.
Key Features of the De'Longhi Eletta
Delonghi is a premium brand for fully automatic espresso machines and cappuccino makers. Every espresso machine model comes with unique, accessible features from customizable drink options to maintenance. Here are some impressive functionalities and details not to miss when you shop for a DeLonghi Eletta.
Programmable Functions
The Eletta espresso machine has special programmable features that make "one-touch cappuccino" music to the ears. Its 'coffee' options allow you to customize the espresso shots from a 1-ounce shot to a classic Doppio serving for a morning boost. Likewise, it gives you full control over coffee lengths from a ristretto to a lungo shot length. 
You can customize the settings at the "My Coffee" options through press-and-hold programming. So if you want to brew coffee twice the length, you no longer need to set up the coffee lengths as Eletta remembers it. When you select "Double My Coffee" from the option, it will pull twice the shots length,
Temperature Control
The Eletta Cappuccino maker has two independent heating systems. The Thermoblock heats the coffee while the other system warms the milk. Both methods work simultaneously, which makes it an ideal coffee machine for milk-based coffee drinks.
Coffee Brewing
Delonghi uses the Tubeless system, which allows you to brew the freshest coffee. This system reduces the number of coffee grounds left in the grinder. Thus, rest assured that there's no leftover coffee powder that will be mixed with your brew each time you brew espresso.
Easy Cleaning
Delonghi Eletta has removable parts, which makes cleaning easy. However, you have to wait before you brew your coffee because it takes too long to clean itself at startup and before shutting off. 
Yet, when it comes to the quality of cleaning, the Eletta is commendable because its "rinsing" functionality cleans the coffee spout and the hot water spout thoroughly. Likewise, its "clean" option washes the milk system rigorously. The next time you make a creamy foam for your flat whites, there'll be no trace of old, crusty milk left on the wand.
The LatteCrema system
Delonghi Eletta employs the LatteCrema system to produce creamy foam for your flat white, cappuccino, or macchiato. This patented system whips up smooth microfoam when you turn the dial. You can choose among the three intuitive icons regarding the texture of the foam that you prefer for your drink.
The LatteCrema system offers options to make classic drinks like latte macchiato, a flat white, or cappuccino. So if you want to impress your guest with your version of cappuccino, Eletta is your partner barista. Just twist the foam dial to its highest setting and tap the dedicated cappuccino button to produce that rich, creamy foam you'll love. 
Built-in Grinder
The Delonghi Eletta is an espresso cappuccino with a built-in burr grinder. Although this grinder has thirteen settings to choose from, the grinding with this automatic espresso machine is easy to configure. Since every coffee drinker has a preference for grinding fresh beans, Eletta is a perfect choice for those coffee snobs. So, tweaking your grinds is possible with this machine.
Design
The De'Longhi Eletta is a combination of full functionality and sophisticated design. You can get Eletta in black color, but if you prefer white to match your kitchen interior, you can opt for the ECAM45.760.W.
It's a great addition to your essential kitchen appliances because of its compactness. It has a narrow and lengthy body that allows you to store it in cabinets. It is a wee bit bigger than the similar model, the Magnifica. It offers a 10oz bean hopper and an abundant water tank that enables you to store more hot water and keep your milk at the perfect temperature.
Did you find your coffee or milk too hot? No problem! You can adjust the temperature settings on the menu. Alongside these menus are the options for the automatic descaling and rinsing features to ensure your Eletta is always clean before you make a coffee cup.
Warranty
When you use any Delonghi products, the products are warranted against faults and manufacture defects when used for domestic purposes within the specified period the warranty covers. If the espresso machines are for non-domestic use, the warranty is limited to 6 months only.
Accessories and Add-ons
The De'Longhi Eletta has accessories and add-ons to test the brewing capability. It includes:
Total Hardness Test indicator: It's an indicator paper to evaluate the hardness of the water you use in brewing coffee.
Water Softener Filter: This freebie is only available in Eletta models. It is used to remove the salts in your water that can cause damage to your machine.
Pre-ground coffee measure: This accessory is used whenever you use the bypass doser.
Cappuccino maker/hot water spout: This add-on has a release button for water and steam dispensing. Another purpose of this add-on is to use it as a manual frother if you're not comfortable making coffee with an automatic frothing system.
Specifications
Dimensions (l x w x h inches): 14.2 x 10.2 x 18.4
Weight: 24.5 lbs
Rated voltage/Frequency (V~Hz): 110/120~50/60
Input power (W): 1250
Color: Black
"LONG" coffee function: Available
Audio Signal: Available
Automatic cleaning: Yes
Auto shutOFF: Yes
Beans container capacity: 14.1 oz /400g
Cappuccino System cleaning indicator: Available
Coffee grounds container: 14 single/7 double espressos
Uses ground coffee: Yes
De'Longhi LatteCrema System: Yes
Descaling, cleaning and rinsing program: Available
Maximum cup height: 5.5 inches
Display: 2-line with icons
Energy-saving function: Yes
Extra cappuccino device: Yes
New silent grinder with 13 settings: Yes
Power supply switch: Available
Programmable switch-on: Yes
Programmable water hardness: Yes
Pump pressure: 15 bars
Removable drip tray with level indicator: Yes
Removable infuser unit: Yes
Removable water reservoir: Yes
Selection for 1 cup: Yes
Selection for 2 cups: Yes
Stand-by function: Yes
Water filter: Yes
About DeLonghi
DeLonghi is a small appliance manufacturing company in Treviso, Italy. It was founded in 1902 by the DeLonghi family as a small industrial parts manufacturing workshop. By 1950, the company was incorporated.
Historically, DeLonghi was a portable heater and air conditioning producer. They also ventured into producing small domestic appliances used for food preparation and cooking. Their products eventually extended to household cleaning and ironing accessories.
When DeLonghi managed to acquire the British appliance maker, Kenwood, in 2001, it gave DeLonghi a strong foothold in the domestic appliance industry. DeLonghi gained access to Kenwood's Chinese factory, from where most of the products are imported. Yet, the design and engineering of these appliances remain in Treviso, Italy.
In April 2012, DeLonghi acquired the perpetual rights to manufacture the Braun products of Procter & Gamble. An initial payment of €50 million was given, with another €90 million to be paid in the next 15 years. Another product that DeLonghi included in its offering are humidifiers that earned the Asthma and Allergy-Friendly certificate in October 2017.
What People Say About Delonghi Eletta
According to r/coffee on Reddit, this machine is a worthy investment, but you've got some tweaking to do to the machine.
Alternatives
If you find Delonghi Eletta too fancy for your budget, we recommend the following espresso machines as an alternative. Feel free to check out our budget espresso machine article as well.
Jura D6
The Jura D6 is an automatic coffee machine made from stainless steel. It is a cost-saving espresso machine as it can prepare professional cafe beverages for a fair cost in the comforts of your home.
Versatility: coffee maker, espresso maker, and cappuccino maker
Operation: Operates through Smart Connect App control or text display on the control panel
Customization: Freedom in adjusting water level, coffee strength and temperature
Grinder: Has built-in AromaG2 grinder for fast and precise grinding.
Technology: Uses the Pulse Extraction Process to optimize coffee flavor.
Low Price Jura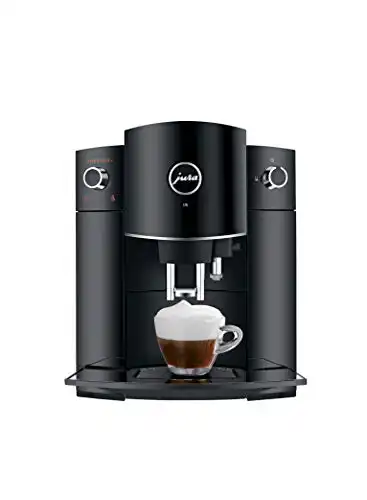 Jura D6 Automatic Coffee Machine, 1, Black
VERSATILITY: Cappuccino, espresso and coffee maker
OPERATION: Plain text display or Smart Connect App control
CUSTOMIZATION: Adjustable water level, coffee strength and temperature
GRINDER: Fast and precise AromaG2 integrated grinder
TECHNOLOGY: Flavor optimizing Pulse Extraction Process technology
Check Latest Price
Learn More
We earn a commission if you make a purchase, at no additional cost to you.
Magnifica ECAM23260SB
The DeLonghi Magnifica is a compact cappuccino maker with amazing features. It has programmable control panels, a large water tank, a direct-to-brew system, removable parts, and a descaling program.
Versatility: coffee maker, espresso maker, and cappuccino maker
Operation: Has a digital control panel with programmable settings.
Customization: Has coffee memory functions which allow the recreation of drink in the touch of a button
Grinder: Has built-in conical burr grinder.
Technology: Uses Patented Cappuccino System, Direct-to-Brew system, Double-Boiler system, and Instant Reheat system.
Double Shot Feature
De'Longhi Magnifica Smart Espresso & Cappuccino Maker, Black
The double shot feature makes your preferred drink, Just taller. It doubles the amount of Coffee and milk
Integrated STAINLESS steel burr grinder with 13 adjustable settings for whole beans and second chamber for pre-ground Coffee
Maintenance: de'longhi machines require half the cleaning time of other brands, unlike competitor machines, which require chemical cleaning tablets monthly.
60 ounce water tank with water level indicator and filtration system
Warranties may not apply to purchases from an unauthorized retailer
Utilize De'Longhi's specialized call center for help in setting up and maintaining your machine at 866 528 8323 (LatteBest)
Check Latest Price
Learn More
We earn a commission if you make a purchase, at no additional cost to you.
Saeco Philips PicoBaristo
The PicoBaristo by Saeco Philips is a must-have countertop automatic espresso machine that can brew 11 coffee varieties. It's a versatile espresso machine as it can prepare 5,000 cups of coffee without descaling.
Versatility: coffee maker, espresso maker, and cappuccino maker
Operation: Has a digital control panel with programmable settings to customize volume, temperature, strength, and aroma.
Customization: Allows the user to adjust and save individual brewing settings with Memo functions.
Grinder: Has built-in ceramic grinder to extract the full flavor of coffee beans
Technology: Uses Thermoblock system, and lattePerfetto system
Final Verdict
The De'Longhi Eletta is one of the best automatic coffee machines with features that compare with high-end espresso machines used in cafes and restaurants. It's an espresso machine that allows you to make gourmet coffee without going over the entire brewing process.
At the touch of a button, you can serve your family and friends with cafe-caliber coffee at a fraction of a cost. Best of all, it comes with a product warranty.