Our 12 Favorite Vegan Coffee Creamers for your Morning Coffee
A 2015 study revealed that veganism is becoming a healthy lifestyle choice for many people these days. There are around 0.4 to 3.4% US adults, 1 to 2% British adults and 5 to 10% German adults consume more plant-based products, like putting vegan coffee creamer in their morning cup. Google Trends even highlighted the growth in popularity of veganism from the searches charted from 2004 to the present.
Currently, the demand for plant-based food products continues to outpace the supply. In January 2020, the Veganuary campaign managed to launch new 1,200 vegan products. This includes meat-free burger patties, vegan steaks, and spaghetti with veggie balls.
With the constant demand for plant-based products, it's no longer a surprise if vegan coffee creamer would be on the list. That's because a lot of people consider drinking coffee a morning ritual.
So, if you're on the lookout for a healthy coffee creamer, check out our awesome list of vegan creamers we made for you.
Our Top 12 Picks for the Best Vegan Coffee Creamer
Califia Farms Almond Milk Creamers
If you're looking for a crafted non-dairy creamer, the rich and tasty creamers of Califia Farms is your best bet. You can pair your morning roast with Original Almond Milk, Pecan Caramel, Hazelnut, and Vanilla Creamer
Original Almond Milk
The Original Almond Milk is a vegan creamer best suited for people who want to keep in check with their caloric intake. It has 60 calories per serving, which makes drinking coffee with this variant guilt-free. You can find this indulging creamer in a 48 FL oz (1.4L) bottle size.
Pecan Caramel
The Pecan Caramel Creamer is also a great tasting, shelf-stable, non dairy creamer with a little hint of pecan and caramel flavors. It's a vegan creamer with fewer calories and fat. You can get this vegan coffee creamer in 2 bottle sizes of 32 FL oz and 25.4 FL oz.
Hazelnut
Amplify the taste of your coffee with this delicious Hazelnut creamer as it brings out the richness of hazelnut flavor. The fusion of almond and coconut cream made the Hazelnut thicker. In every 32 Fl oz bottle size, you'll get as low as 15 calories and 2g of sugar per serving. It's easy to store because it now comes in a pantry-stocking pack.
Vanilla Creamer
Vanilla is an all-time favorite flavor as it goes well with anything, even with your coffee. And what makes Califia Farms Vanilla creamer a real deal, is that it is plant-based and is trans-fat-free. The combination of real almond and coconut cream contains less sugar and fewer calories.
They offer 32 FL oz and 25.4 Fl oz bottle sizes to meet all your French Vanilla cravings.
Looking for the best coffee maker to use with your favorite creamer? Check out our Best Coffee Makers.
The Organic Dairy-Free Half & Half by The Forager Project is a rich and indulgent vegan creamer crafted from cashews and coconut cream. If you worry about the calories when you pair it with your favorite coffee, rest assured you're safe. It only contains 20 calories and has no added sugar.
You can get pure goodness of organic ingredients mixed in a 16 FL oz serving bottle size.
The Nutpods Dairy-Free Creamer is a must-try. It's an unsweetened coffee creamer with a genuine delicious taste of rich cinnamon. It's a good vegan coffee creamer, especially if you're on a low carb diet since it only contains 10 calories per 1 tbsp of the recommended serving. You can get it on shelf-stable containers of 3, 6 and 11.2 FL oz.
Sipping our best Cinnamon Swirl life ????☕️???? pic.twitter.com/wf8R2qbGeU

— nutpods (@nutpods) June 8, 2019
Silk has always been known for its popular Almond, Oat, and Soy milks. They've recently expanded their offerings of a variety of vegan coffee creamers. Their Half & Half Alternative and Heavy Whipping Cream Alternative are becoming a staple option at many cafes.
The Silk Creamer is 100% certified as non-GMO coffee creamers. It is dairy-free, lactose-free and casein-free. Thanks to the strict allergen protocols that govern the manufacturing of Silk products. It also does not contain any by-products or derivatives.
Looking for the best coffee grinder to use with your favorite creamer and bean? Check out our Best Coffee Grinders.
Looking for smooth, creamy and dairy-free vegan coffee creamers? So-Delicious guarantees vegan goodness in every cup of coffee. Your coffee goes well with their vegan coffee creamers: the Oatmilk Creamer and Coconut milk Creamer.
So Delicious Dairy-Free Creamers see to it that their coffee creamers have natural flavors and do not contain any allergens such as peanuts, tree nuts, soy, and wheat.
Ripple Foods' Original Half & Half is one of the recommended brands. If you need a versatile half & half that tastes perfect to any recipe and even with your morning roast, grab this. A 25.4 FL oz of this plant-based half & half contains pea protein and sunflower oil.
These main ingredients give every Ripple product that rich texture and velvety smoothness. It is lactose-free, nut-free, soy-free and gluten-free. So rest assured that you'll enjoy your joe completely allergen-free any time of the day.
When the @gatesfoundation and @RippleFoods partner up, good vegan things happen. >> https://t.co/H5Jibz8DMn pic.twitter.com/DiR2UDIIAu

— vegnews (@VegNews) February 14, 2019
Trader Joe's Vegan Creamer
Many will vouch for Trader Joe's Vegan Creamer. Whether you're starting your quest to be vegan or have been enjoying the sweet vegan life for years, you know TJs has your back. You can find Trader Joe's vegan coffee creamers sold in pint sizes and shelf-stable packs. If you want variety in your vegan coffee, you can choose between coconut and soy milk variants.
Wildwood Original Creamer
If you're looking for a soy creamer good for cooking also with your favorite roast, the Wildwood Original Creamer is a healthy, delicious choice. It has no added hydrogenated oils or tropical oils, no isolates or concentrates and has zero fat. This soy milk creamer is organically made, slightly sweet to the taste and has no after-taste.
Oatly
Oatly uses gluten-free oats and water to make a delicious plant-based oat milk. For their US Oatly oat milk patrons, they source their high-quality, gluten-free oats from US and Canadian farms, whose farming practices support environmental sustainability and renewable farming.
The goodness of Oatly products made best for your roast is not to create hype. They don't need it. The public has spoken about why Oatly products have become the leader in the oat milk industry.
NEW Full Fat Oatly!?!! (For developing young minds????) There's officially no excuse pic.twitter.com/hjBCTeoTx7

— earth queen (@momstrosityy) September 13, 2019
Compared to other oat milk companies, who attempted to replicate the taste of traditional dairy milk derived from animals. Oatly created their unique taste and texture. They remain true to their agenda to search for sustainable, healthy food that people can grow.
After 30 years (or so) of research at a university in Sweden, they perfected the formula to produce a great tasting oat milk. A better option which the people behind Oatly believe. Thus, Oatly patrons consider their oat milk products a true vegan commodity. Superior in taste. It has big flavorful options packed in environmental, shelf-stable pantry packs.
Original Barista Edition
Get a dose of soluble fiber with Oatly's Original Barista Edition every day. This Barista Edition of Oatly has the right sweetness and is not heavy to drink. Such allows you to make a latte like a pro by heating it in a container and make a whirl until foamy. Or you can pour it to your favorite joe. It's non-GMO and everything in this oat milk is plant-based.
Full Fat Oat Milk Chilled
Oatly has chilled full-fat oat milk that you can swap with your regular cow's milk. Compared to dairy milk loaded with 5g saturated fat, Oatly's Full Fat Oatmilk has only 1g of saturated fat. It's considered full-fat with the organic unsaturated fats it contains. It is also packed with DHA that helps in improving your heart, brain and eye health.
When you pair the creaminess of chilled 's Full Fat Oatmilk with your cuppa or your favorite recipes. You're not only relishing such luxury, but you're also taking good care of your body.
Don't want to pay for Oat Milk? Try making oat milk DIY at home. It's not that hard to do and you can control the sugar levels.
Low-Fat Oatmilk Chilled
If you want simpler chilled oat milk, but loaded with healthy goodness. You should get yourself a Low-Fat Oatmilk Chilled at Oatly's. It is non-dairy, soy-free, nut-free, gluten-free and non-GMO. It's healthy oat milk that contains soluble fiber from oats. It also has rapeseed oil (canola) for a rich texture, as well as vitamins and minerals.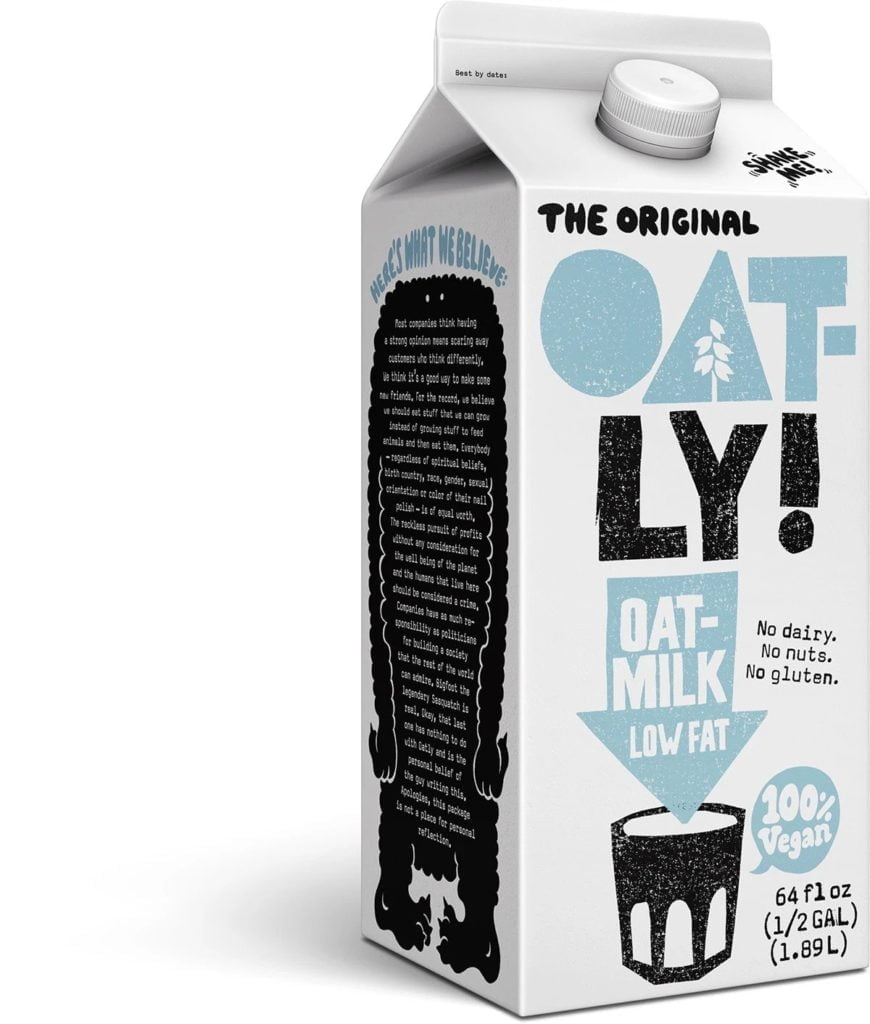 Elmhurst 1925
If you're conscious of the kind of milk or creamers that you want to put in your morning joe, you should check out Elmhurst 1925's collection of vegan products. The plant-based milk of Elmhurst 1925 uses the HydroRelease method introduced by Dr. Cheryl Mitchell in 2017.
Using this innovation, they derive and separate nutrients from nuts, seeds, and grains. Thus, the company produced a smooth and creamy plant-based beverage that does not need emulsifiers and thickeners. Elmhurst 1925 now offers a variety of flavors. They have French Vanilla flavored oat milk. Also, unsweetened milked variants of almonds, cashews, hazelnuts, walnuts, and oats.
New Barn Organics
On a search for the perfect almond milk creamer? New Barn Organics is worth a try. Whether you mix it in your hot cup of coffee or cold brew, the creamy decadence of their coffee creamers won't change.
The New Barn Organics offers their Barista Almondmilk. The non-dairy creamers are organic-made and source non-GMO almonds from a co-op in Spain. They are also dry-farmed which means less water consumption.
Coconut Cloud
A morning coffee with a hint of coconut milk flavor can help maintain your energy throughout your busy day. That's why Coconut Cloud offers its vegan coffee creamers rich in coconut milk flavor and goodness.
Similar to dairy, almond and soy milk, can have huge carbon prints. Coconut Cloud saw great sustainability in making creamers out of coconut milk with the goal of having the smallest carbon print. Also, coconut MCT oil can boost the all-natural taste of your roast compared to soy and almond alternatives. For a great tasting vegan coffee, you should try it.
Single packets
If you're looking for vegan creamers in powder form, Coconut Cloud has made it available. Coconut Cloud knows how frustrating it is to look for good vegan coffee creamers if you're a frequent traveler. Even bringing bottles or pantry packs can be a hassle, but not with single packets.
Coconut Cloud made an innovative solution by producing vegan creamers in packets. You can get them by sticks of 20s and these non-dairy creamers on sticks have different variants. These are original, vanilla, and salted caramel.
Best Portable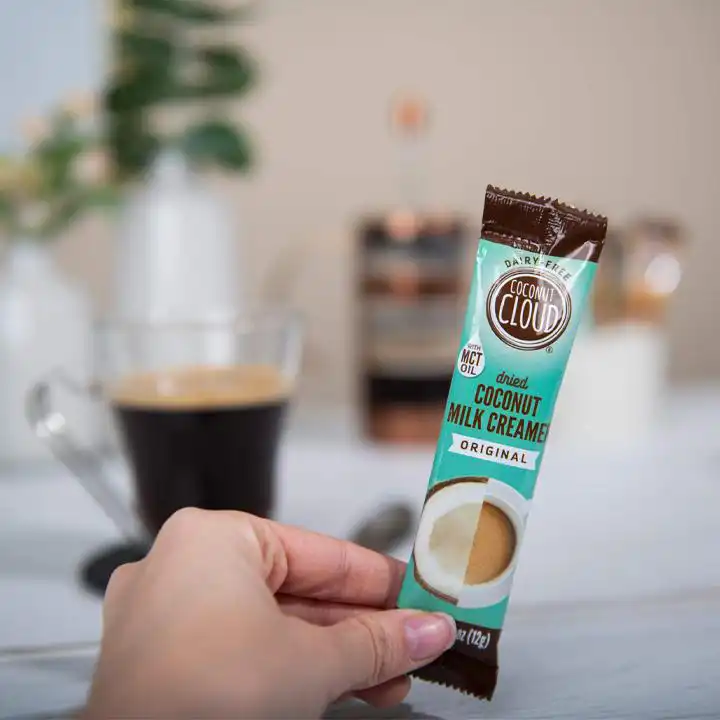 Coconut Cloud - Coffee Creamer Sticks
Coconut Cloud creamer is made from premium dried coconut milk.
Enhance your morning coffee with the light and delicious taste of our Coconut Cloud creamer and carry our sticks with you for on-the-go coconut fuel with MCT Oil all-day long! The perfect way to stay dairy free 24/7.
Read More
Conclusion:
Whatever is your preference in enjoying a morning cup of joe, there are plenty of vegan coffee creamer that will please your taste buds. Whether you're into coconut, almond, oats or soy creamer, there is something for you. Our top 12 picks of vegan coffee creamers gives you a worthy list of all different kinds of creamers that will boost your coffee flavor.
So if you enjoyed our list, kindly share the love with your community. Got a vegan coffee creamer in mind that you want to add on the list? Let us know in the comments below!
Have any vegan coffee creamer hacks you'd like to share? Please drop them in the comments section below as well.
---
And, if you're looking for a great coffee to pair with your vegan coffee creamer, check out our guide of the Best Coffee Beans.
You can even make your own dairy-free creamer at home with this recipe.