Pour Over Vs Drip Coffee: What's the Difference?
[et_pb_section admin_label="section"] [et_pb_row admin_label="row"] [et_pb_column type="4_4″][et_pb_text admin_label="Text"]
On a daily basis, Americans drink three cups of coffee on average, but what kind? How do Americans prepare their coffee? In this review, we'll differentiate between two of the most common and simple brewing methods: pour over vs drip coffee. Find out how you can master either of these methods and learn what makes a good cup of coffee.
What is Pour Over Coffee?
Choose from a range of sizes
CHEMEX Pour-Over Glass Coffeemaker - 8-Cup
All CHEMEX Coffeemakers are measured using 5 oz. as 1 cup
All CHEMEX Coffeemakers are made of the highest quality, non-porous Borosilicate glass which will not absorb odors or chemical residues
The patented CHEMEX pour-over design allows coffee to be covered and refrigerated for reheating without losing flavor
CHEMEX - simple, easy to use with timeless, elegant design
Use CHEMEX Bonded Filters FP-1, FC-100, FS-100, FSU-100
Images and Pricing from Amazon.com
A pour-over is one of the simplest coffee brewing methods . With this method, you make coffee manually. It requires great focus as it involves fresh, boiled water. Using this simple method guarantees a fresh cup of coffee with rich flavorful notes.
Check out our in-depth French Press vs Pour Over Article for more information.
How Does Pour Over Work?
When you brew coffee using this method, it's best to pay full attention to the process. Even the slightest mistake can affect the taste of the coffee. Here's how you brew coffee with pour-over the proper way.
Step 1: Boil a 20 oz water (600 grams) of water in a separate vessel.
Step 2: Grind 30 grams of coffee beans to a texture that resembles the sea salt. If you'll be using a single-origin coffee, decrease the amount of coffee to 23 grams.
Step 3: Place the filter atop the dripper. Soak the filter with hot water to adjust its temperature. Dump the water afterward.
Step 4: Add the ground coffee to the wet filter and tap the ground's surface. Put the brew on top of a cup or a carafe and place it on a digital weighing scale.
Step 5: Over the course of coffee preparation with pour-over, it will be four pours in total. That's why you'll need a timer. You'll start with pouring hot water slowly over the coffee beans from the outer rim to the center.
When you see the scale reach 60 grams, you should stop pouring. Check the grounds' saturation to see if there's a need to add a little water. When you pour the hot water it should take 15 seconds only. Another 30 seconds is for the coffee to drip before your move on with the second pour.
Step 6: The second pour starts with a steady spiral from the center of the grounds, to the outer edge back to the center. Make sure that you pour all the way out the edges, atop the coffee ripples in the filter. It is to remove the grounds and prevent them from getting trapped during the extraction.
From the second pour, 90 grams of water is roughly added. The goal of the second pour is to soak the entire grounds. This process creates turbulence which stirs the coffee for an even ground extraction. And it needs 45-65 seconds to extract.
Step 7: When the second pour goes to the bottom of the cup or the carafe, you'll need to pour another 100 grams of water. Use the same pattern of pouring from the second pour. The extraction in the third pour should take 15-20 seconds.
Step 8: Once the third pour reached the bottom of the carafe or cup, you can now complete the fourth pour. The final pour requires adding another 100 grams of water, which should take 20 seconds.
From the given ratio of coffee grounds, your final pour should be 350 grams of coffee in total.
A Kitchen Essential
Hario Pour Over Starter Set with Dripper, Glass Server Scoop and Filters, Size 02, Black
Everything you need for a professional, pour-over cup of coffee at home or work; just add coffee and water!
Kit includes: Hario V60-02 Coffee Dripper, Hario V60-02 Coffee Server, Hario coffee scoop and Hario V60-02 Disposable Paper Filters (40-pack)
Heatproof borosilicate glass server with BPA-Free handle, lid and measuring spoon
V60 Size 02 makes 1-4 cups
Made in Japan
Affiliate links / Images from Amazon Product Advertising API or Directly from the Manufacturer. #CommissionsEarned
What is Drip Coffee?
If you were to ask most American households about the appliances they use to make coffee, you'll get one answer: the drip coffee maker. It's a convenient alternative to percolators and it grew progressively more popular throughout the 20th century due to its efficiency in the American 9 to 5 lifestyle.
Cheapest, Most Basic Drip Coffee Maker
Mr. Coffee 12-Cup Coffee Maker, Black
On/off indicator light lets you know when your coffee maker is on or off
Grab a cup auto pause stops cycle if you need a cup before brewing is finished
Dual water window allows visibility as you fill no more overflows
Lift and clean filter basket for fast and easy clean up
Easy cord storage eliminates counter clutter. Watts: 900
Cord length: 26 inches
Height: 12.56 inches x width: 11.76 inches x depth: 8.43 inches. Weight: 3.6 pounds
Products and Prices are from amazon.com
Our Current Favorite Pick
Technivorm 59691 KB Coffee Brewer, 40 oz, Brushed silver
Manual-adjust drip-stop brew-basket with glass carafe. Watts: 1475 Watt
Simple to operate and quiet brewing process that brews a full carafe in just 6 minutes. Volume-1.25 Liters / 40 oz / 10 cups. Dimensions- Height- 14 H inch,Width-12.75 W inch, Depth-6.50 D inch
Unique, copper boiling element rapidly heats water to control brewing temperature between 196 to 205 degrees Fahrenheit which is important for coffee soluble extraction, then automatically switches off when the water reservoir is empty
Made with durable metal housings and BPA/BPS/BPF & Phthalate free plastics
The glass carafe maintains coffee quality, integrity and taste on a unique, independent hot-plate element engineered to hold coffee temperature between 175 to 185 degrees Fahrenheit for a maximum 100 minutes and then automatically shuts off
Images and Pricing from Amazon.com
How Does it Work?
Here is the step-by-step process of making coffee using the drip method.
Place the ground filter into the drip coffee machine.
Fill the water tank with the desired amount of water for your brew. The water will flow through the aluminum tube inside the machine.
Turn the switch "on". The aluminum tube heats the water to its boiling point. As the water boils, the bubbles rise to the second tube and flow into the drip area.
Once it reaches the drip area, the water disperses onto the grounds. The boiling water passes through and over the grounds and creates a tasty coffee.
The extracted coffee drips down the machine to your cup or carafe that sits in the hotplate. (More expensive machines will have an insulated, stainless steel carafe instead of a hot plate.)
Check out our in-depth Review of Best Coffee Makers for more information.
Is There Any Difference Between Pour Over vs Drip Coffee?
To help you choose which brewing method can help you make better-tasting coffee, we've broke down then features into simpler chunks of information.
Quality of Grounds
Good quality pour-over coffee is achievable when you use a medium ground coffee. This brewing method uses the infusion method, where coffee and water have a very short term contact. This prevents over extracting your coffee beans.
If you want to start your day with a drip coffee, the ideal ground depends on the type of filter you use in your drip machine. Most of the drip machines work best with medium ground coffee. This is because the contact time for coffee beans and the water is short. This prevents under or over extraction.
Which Coffees to Use?
Pour-over coffee tastes best when you use light roast coffee beans. They provide a genuine coffee flavor and aroma. The coffee is bright and acidic with the right caffeine kick. If you need an extra boost for the day, pour-over coffee is the best beverage to drink in the morning.
Though drip coffee maker enables you to brew coffee the easy way. The downside of the machine is that you don't have the full control when you brew the coffee beans. You can't control the temperature of the water that passes through and over the coffee beans.
The water temperature is essential as it affects the quality of the coffee. So if you'll be brewing coffee beans using this method, choose medium roast. It won't lose much flavor nor will it be too strong.
Types of Coffee Grounds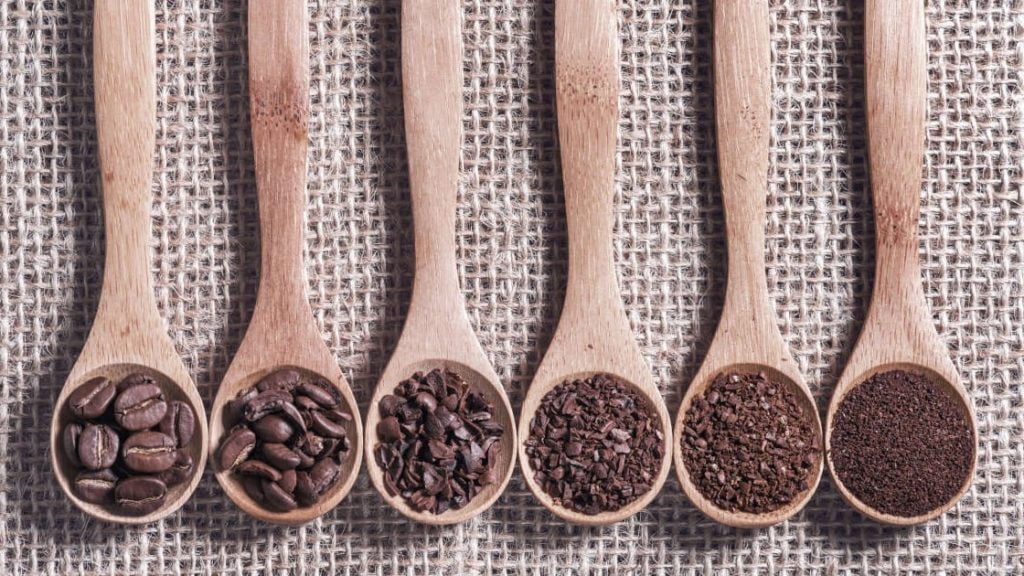 Pour-over coffee is best made with medium grind size. Yet, it requires tweaking to achieve the coffee quality that you prefer. Keep in mind that pour-over is an infusion method where the coffee and water contact has limits. If the coffee becomes watery and sour, you should try a finer grind and if the coffee is bitter or lacks tasting notes, try a coarser grind.
Consistency in grind size matters in drip coffee. Brewing coffee beans with uneven size greatly affects the taste of the coffee. So, if you're grinding the coffee beans for your drip coffeemaker, use a burr-style grinder. This grinder guarantees a uniform coffee grind that resembles sea salt.
Check out our in-depth Review of Grinders for more information.
Taste Differences
There's a big difference between pour-over coffee and drip coffee and it is most noticeable with taste. Pour-over coffee is more flavorful than drip coffee.
The contact time of the water and the coffee grounds in pour-over is longer than in drip coffee. With a pour-over method, you have full control over the contact of water and the grounds. Ultimately, this gives water enough time to extract all the desirable flavors and oils from the beans.
When you use the drip method, the coffee appears simple and well-bodied but it's not as vivid as with pour-over coffee.
Cleanliness
The cleanliness of the coffee is not always about the stains it creates on your teeth. Rather, it's more about the stains it leaves on your device after the brewing process.
Pour-over tools are most likely made of glass, ceramic, or stainless steel. To avoid stain and residue build-up, they need regular cleaning. Usually, the tools are a combination of any two materials, making it easy to clean. But the case isn't the same with a drip coffee maker.
Drip coffee machines can be a challenge to maintain and clean. If you read the process of how drip coffee makers brew coffee from above. It goes through the different parts of the machine before the finished product lands in your cup. That's why it's impossible to keep the machine spotless unless you disassemble it.
Drying the parts of the drip coffee maker is difficult as you use the machine regularly. And if you're not paying attention with it, constant moisture can result in yeast or mold build up. In a 2011 NSF study, 50% of the water reservoirs of coffee machines they tested became yeast or mold hot spots.
Brewing Time: Pour Over vs Drip
Every barista knows that a great tasting coffee is the product of a careful brewing process. It's not made instant. It's worth the wait. It's what real coffee tastes like.
When you brew coffee using the pour-over method, it takes a lot of preparation and attention. From measuring the ratio between the coffee beans and water to how long the extraction should be. In contrast, drip method coffee makers can be programmed and scheduled to brew before you get up. If convenience is important, drip coffee is the clear winner.
Durability
If you want a lasting coffee maker, the pour-over is a sure deal. The materials used to make the pour-over tools are glass, stainless steel, and ceramic. Regular cleaning can help the tools be stain-free. Best of all, it is easy to clean, especially since most of them are dishwasher safe.
Though some drip coffee makers come with removable parts, most of these parts are plastic. There isn't any guarantee that your coffee maker will last longer. The parts may not last and electrical malfunction can be problematic.
Control
If you want full control in brewing coffee, the ideal method is Pour-over. This method allows you to adjust the grounds, the water flow, and the length of time of the brewing process. To achieve a tasty coffee with pour-over, it's best to follow a controlled recipe/process. Full attention prevents over-extraction or under extraction of coffee beans. You wouldn't want a bad tasting coffee, right?
Quality of Coffee
The quality of coffee is subjective. Yet, people can describe it through their preferences. For instance, you love your morning cuppa dark and robust. Some people drink coffee medium roast for flavor and a little bit of caffeine kick.
Others prefer a vibrant cup of light roast to keep them going all day. Yet, these methods need skills and attention to brew a delicious coffee. Improper use of tools or lack of understanding can result in a coffee disaster or just bad tasting coffee at best.
When you choose between pour-over and drip, it's best to know your brewing priorities first. If you want to take a coffee brewing journey to better understand what goes in your cup go ahead and explore the brewing methods.
Cost
When it comes to cost, pour-over tools are cheaper than drip coffee machines. Most tools used for pour-over can go between $20 to $30. If you want to buy a drip coffee maker for a quick caffeine fix, you can find electric coffee makers ranging between $25 and $1000. Some include insulated carafes, grinders, the ability to brew espresso, etc.
Conclusion
Pour over and drip coffee method both offer a simple way to make coffee. The real differences come down to a level of skill, devices, time and preference.
To choose the best method for you, consider your brewing priorities. Once this is established you can easily find a coffee maker that works for you and your budget. Experimenting is a fun way to try new coffees and perhaps develop a coffee obsession of your own.
Have you tried any of these two simple brewing methods? Which do you prefer? What advantages and disadvantages did you encounter using these methods? Please share with us your brewing method ideas in the comments below
[/et_pb_text][/et_pb_column] [/et_pb_row] [/et_pb_section]