Gaggia Accademia Espresso Machine Review 2023 – Is The Old Version Good Enough?
There are tons of super-automatic espresso machines in all shapes and sizes, but one question that sets these machines apart is, "Does it work as promised?"
After hours of searching the internet, we've come up with the answers to why the Gaggia Accademia Espresso Machine lives up to its promise, maintains a truly Italian legacy, and pushes the limits of technology.
Gaggia Accademia Espresso Machine Review 2023 Summary
Gaggia Accademia Espresso Machine
Pros
Has plenty of customizations
Allows manual milk frothing
Has a built-in water filter system
Has automatic rinsing cycle
Cons
Has a default water temperature between 162 to 168 degrees Fahrenheit
A bit expensive
Summary
The Gaggia Accademia is a humble yet dependable, super automatic espresso machine. It's a well-balanced espresso machine because, despite its automation, it offers a lot of room for customization. In the touch of a button, you can prepare seven, fully customized drinks and operate the milk frothing system automatically.
Coffee Quality & Versatility
4.5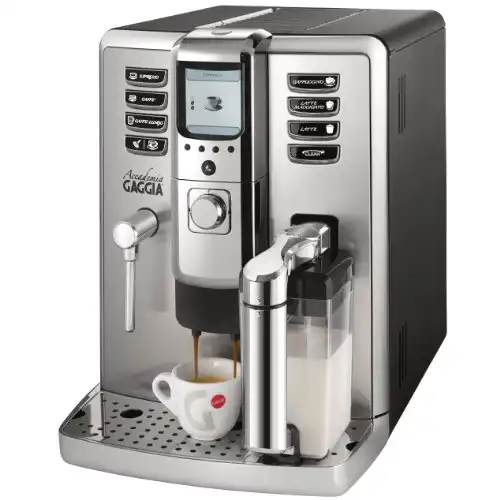 Gaggia Accademia Espresso Machine,Silver
Model Number: 1003380
Adjustable telescopic coffee dispenser with a maximum height of a little over 6-1/2-inch to accommodate a wide variety of cup sizes
Milk carafe capacity 0,6 L.Ceramic burr grinder with integrated bean hopper and double lid aroma saver
Integrated coffee grounds container, removable from the front
Programmable coffee quantity - from 7 to 10-cup
Pre-brewing system for maximum flavor extraction.Materials and finishing:metal painted/stainless steel
0.5 liter milk carafe for one-touch brewing of speciality beverages
Check Latest Price
Learn More
We earn a commission if you make a purchase, at no additional cost to you.
The Gaggia Accademia is an Italian-made super-automatic espresso machine inspired by the Accademia Gallery Museum's pristine beauty in Florence. Accademia Gaggia offers a wealth of options for quality coffee beverages.
Gaggia has been in the espresso machine business since the 1930s. Based on the pistons of Army Jeeps seen frequently during WW2, Gaggia patented a piston lever system pump in the late 1940s. This innovation combined with traditional aesthetics is what made Gaggia famous and made their designs synonymous with Italian style and culture. Federico Fellini featured these beautiful machines in his film, La Dolce Vita, and the Gilda was designed in honor of Rita Hayworth. 
Acquired in 1999 by Saeco Group, Gaggia moved into the high-tech world of super-automatic espresso machines and is now part of Royal Philips Electronics.
This espresso machine lets you adjust the strength, volume, temperature, and froth quality during the programming process. It has an active cup warmer that serves as its heat retention system to keep your espresso cups warm up to the last drop. It's easy to clean and maintain as its brew group is detachable to ensure that each cup you make is free from any previous brewing residues. 
Gaggia Accademia, likewise, is your on-the-go espresso machine as its boilers heat quickly so you can brew coffee within moments of pressing the power button. Another remarkable feature that makes Accademia a standout among other super-automatic espresso machines is that its brew spouts are removable to make room for travel mugs and taller cups.
Features & Benefits of Gaggia Accademia Espresso Machines
Shopping for the best superautomatic espresso machine can be tiring if all you can see are the same features with different names. Yet, what makes Gaggia Accademia special is that its features are tailor-made for coffee drinkers looking for a quick caffeine fix. Here's what makes Accademia an exception.
One-Touch Specialties
Whether you're a casual lone coffee drinker or a coffee-sharer, you can rely on Gaggia Accademia's one-touch programmable brewing capabilities. This superautomatic espresso machine can deliver tailor-made espresso drinks based on its seven fully programmable drink options.
You can prepare the following at the touch of a button:
Caffe lungo
Espresso
Latte
Macchiato
Cappuccino
Coffee
Hot water
Even though it is marketed as a superautomatic coffee machine, you're still the boss of this espresso maker. It allows you to pre-set your specifications for temperature, volume, and strength. You can also adjust your milk selections' settings, allowing you to choose from minimal and regular to no froth options.
Auto-Frothing Milk Carafe
It's a rare find for an espresso maker to have a detachable, auto-frothing milk carafe that allows you to prepare espresso and milk-based coffee drinks at the touch of a button. It's a hygienic, self-cleaning carafe with an external milk circuit that guarantees no excess milk will enter the machine. Best of all, this detachable carafe can be used to store unused milk in the refrigerator the next brewing.
The Gaggia Accademia automatically cleans itself, which includes rinsing the milk circuit after each use. So, every time you use this machine, you won't worry about clogs and contaminants. The machine got your cover.
Manual Frothing Wand
If you want to have full control in making a froth, you can also use the steam wand for manual frothing. The steam wand gives you the freedom to texture the milk any way you prefer – from latte art to airier micro froth for your cappuccino drinks. The steam wand can be rotated 360 degrees and has a length of 2.5 inches. 
Large Water Reservoir
The Gaggia Accademia is a party pleaser as it features a 1.6-liter water reservoir, enough to make generous cups of espresso. It has a four-water filter system called Intenza+, which improves the water quality by preventing scale build-up.
Adjustable Coffee Dispenser
Do you like drinking your latte macchiato in tall glasses? Or taking your favorite beans with you in a travel mug anywhere you go? With Gaggia Accademia, you can fit your coffee cups measuring from 3 inches to 6.5 inches tall into its coffee dispenser as this can be adjusted. 
Grinder
The Accademia espresso machine by Gaggia has a built-in ceramic burr grinder and a bypass doser. With this superautomatic espresso maker, you can brew either whole beans or pre-ground coffee. You can access the integrated burr grinder from the front panel of the machine. It can handle any grinding type while keeping a tight seal on the double lid aroma saver to ensure your coffee will stay fresh from bean to cup.
Pre-Brewing Cycle
The Gaggia Accademia has a unique pre-brewing cycle that optimizes the rate of coffee extraction with hot water. The flow adjustment dial gives you control over extraction by altering the brewing process settings to arrive at a creamy layer of crema.
Coffee Adjustments
You can make coffee real quick with Gaggia Accademia according to your taste preference by configuring the following settings of the Gaggia espresso maker:
Grind settings: Available in 8 selections
Aroma Strength: Available in 3 selections
Temperature control: Adjustable in 3 levels
Pre-brewing cycle: Adjustable in 4 levels
Milk Foam: Can be adjusted in 4 levels
Technical Specifications
Aside from the main features of this super-automatic espresso machine, it is also vital to consider the technical specification of Gaggia Accademia. It can help you decide if this espresso maker deserves a spot in your kitchen. Such specifications to see are:
Control panel: LCD and push-button display
Design: Both the front panel and drip tray & cover is made of stainless steel while the housing is made of black painted metal.
Volume Customization: Programmable cup volume control
Pre-infusion feature: Yes
Water temperature control: Yes
Opti-dose feature: From 7-10.5 grams
Bypass doser for ground coffee: Yes
Heating System: Stainless steel-lined aluminum boiler w/two Thermo blocks
15-bar pump: paired with two stainless boilers for more efficient brewing and frothing.
Bean hopper capacity: 12 oz. (removable from the front)
Seven grind settings: Yes
Removable 1.6-liter water reservoir: has also built-in water filter to prevent scaling.
Power: 1500 watts
Dimensions: 11″W x 15.2″H x 16.8″D
Weight: 43 lbs.
E-plus beverage strength system: Yes
Removable parts: Milk carafe, brew group, coffee grounds container
Drip Tray Capacity: 10 oz
Dreg Drawer Capacity: 15 Coffee pucks
Descale Cycle: Automatic
Rinsing Cycle: Automatic (after each use)
Carafe Cleaning Cycle: Automatic (quick clean)
Warranty: 1 year
What the Community Says
Alternatives
Suppose you find Gaggia Accademia Espresso Machines too advanced for you, or it's out of your budget. In that case, Big Cup of Coffee recommends the following alternative espresso machine that you can rely on espresso and milk-based drinks like cappuccino, latte, and cafe lungo. These are:
Breville Oracle Touch
The Oracle Touch is Breville's next-generation super-automatic espresso machine. It makes brewing any cafe-quality gourmet coffee as simple as grind, brew, and milk — simple steps that will make you fall in love with Breville Oracle Touch every time you brew coffee.
The Oracle Breville allows you to customize the coffee strength, temperature, and milk texture to satisfy your coffee preference. You can personalize each coffee setting you make by creating and saving up to 8 personalized coffees.
To learn more about the other feature of this superautomatic espresso machine, please read our Breville Oracle Touch review here.
Best in Class
Breville Fully Automatic Espresso Machine, Oracle Touch
SWIPE. SELECT. ENJOY: With automation at every stage, simply swipe and select for espresso, long black, latte, flat white or cappuccino and enjoy caf? quality coffee at home
DOSE AMOUNT: The integrated conical burr grinder automatically grinds, doses and tamps 22 grams of coffee, similar to the commercial machine in your favorite cafe
PRECISE WATER TEMPERATURE: The difference between an ashy or balanced tasting espresso can be caused by temperature change as little as 2?F. The Oracle Touch uses digital temperature control (PID) technology, this ensures the temperature is kept at its optimum range.
OPTIMAL WATER PRESSURE: The Over Pressure Valve (OPV) is a commercial feature included in the Oracle Touch. This limits the maximum pressure throughout the extraction, helping prevent bitter flavors in the coffee shot. It also has true low pressure pre-infusion, which gradually increases the pressure to gently expand the grinds for an even extraction.
SUFFICIENT STEAM PRESSURE: A cafe quality coffee is a delicate balance of espresso flavor and rich sweet milk with a micro-foam texture. The steam wand, powered by a dedicated steam boiler, automatically textures milk to your taste and preferred temperature, delivering barista quality silky micro-foam that enhances the flavor of coffee. Then it cleans itself!
TRIPLE HEAT SYSTEM: 1. Dedicated steam boiler with integrated Heat Exchange aids thermal stability. 2. Dedicated espresso boiler with Digital PID control delivers precise water temperature. 3. Heated group head? PID controlled embedded element maintains thermal stability.
WARRANTY: 2 Year Repair Warranty. Construction Materials: Brushed Stainless Steel, Stainless Steel Dual Boiler.
SETTING: Touch screen operation. 5 pre-programmed favorites. Create, save and name 8 customizable coffee settings. Adjustable Grind Control. Programmable Milk Temperature and Texture. One/Two Shots. Hot Water. Voltage - 110–120 Volts.
Check Latest Price
Read Our Review
We earn a commission if you make a purchase, at no additional cost to you.
JURA E8
The brews you can make with Jura E8 are fully customizable, which allows you to become a barista at home. When you program a brew setting for a single shot, you can also use the same customization for a double chance. You can pick the coffee strength from the available dose that ranges between 5 grams and 16 grams. Compared to other machines that can hold up to 10 grams, Jura E8 is quite impressive for customizing your coffee's strength.
Other customizable features that Jura E8 offers are personalized brew temperature, milk volume (for milk-based drinks), and shot size. You can also tweak the length of interval that you like between putting the milk into your cappuccino or latte and pouring espresso. Therefore, the range's size allows the milk to form layers of milk foam and steam milk.
To know what's in store for you with this superautomatic espresso machine, please read our Jura E8 Review here.
Burr Grinder + Automated
Jura E8 Piano Black Automatic Coffee Machine
ONE TOUCH: Make 16 different espresso drinks!
PERFECT ESPRESSO: JURA's exclusive Pulse Extraction Process allows you t make consistently perfect espresso
CONICAL BURR GRINDER: Fast and precise AromaG3 grinder
JURA lets you make real, fresh ground espresso. No capsules!
CAPACITY: 64 oz water tank, 10 oz bean container
Check Latest Price
Read Our Review
We earn a commission if you make a purchase, at no additional cost to you.
DeLonghi Magnifica ESAM 3300
Dēlonghi Magnifica allows you to become a barista at your own home. It gives you the confidence to serve cafe-caliber lattes, espressos, and cappuccinos your guests might love. This super-automatic espresso machine cuts the time spent waiting in queueing lines in coffee shops. With the touch of a button, you can prepare any type of coffee beverage you desire.
Despite its size, the Magnifica coffee machine shows a lot of useful features. These are digital control panels with programmable menu settings, a large water reservoir, a direct-to-brew system, easy-to-clean removable parts, and a descaling program.
If these fit your criteria for finding the perfect coffee machine for your kitchen, read more to know if DeLonghi Magnifica ESAM 3300 is worth your money.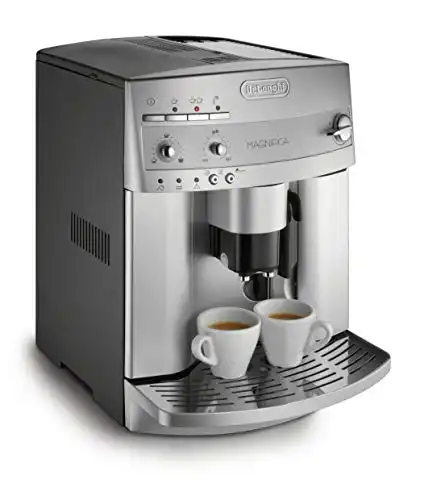 De'Longhi ESAM3300 Super Automatic Espresso/Coffee Machine
Capable of preparing espresso, coffee, cappuccino, latte drinks, and more, this super-automatic machine features a unique beans-to-brew system that grinds coffee beans right before brewing for exceptionally aromatic espresso. The appliance comes equipped with two stainless-steel boilers that provide excellent heat distribution, as well as an instant reheat function, which keeps the machine at an ideal temperature, no matter how long the interval between cups. In addition, its quiet burr grinder automatically grinds beans and can be set to a specific grinding level, but the unit can also be used with ground coffee if preferred.
Buy on Amazon
Read Our Review
We earn a commission if you make a purchase, at no additional cost to you.
If you're looking for more automatic espresso coffee makers that could be perfect for your kitchen, check out our guide on the 10 best automatic espresso machines in 2023.
Final Verdict
The Gaggia Accademia is a humble yet dependable, super-automatic espresso machine. It's a well-balanced espresso machine because, despite its automation, it offers a lot of room for customization. At the touch of a button, you can prepare seven, fully customized drinks and operate the milk frothing system automatically.
On the other side, you can be a budding barista with confidence as this super-automatic coffee maker allows you to adjust the brew strength, volume, and temperature for the perfect coffee. Likewise, you can texturize the milk foam at your heart's content. 
Suppose you bought your favorite beans as pre-ground by accident, no problem! Gaggia Accademia Espresso Machines have a bypass dozer. You can use your pre-ground coffee beans to make coffee as tasty as whole beans and use the milk in the detachable carafe that you'd store in the refrigerator. With all the features offered, without a doubt, Gaggia Academia keeps its promise.